Contract: #MHEC-12312022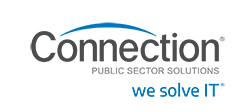 Connection has been awarded a contract after satisfying the criteria set forth in MHEC's End User Computing and Peripherals, Device Lifecycle Management, and Associated Services (MHEC-RFP-10282021). Connection is an authorized value-added reseller of original equipment manufacturers (OEM), with over 300,000 products from all major OEMs, who can combine technology solutions with certain other complementary products and services. The MHEC Connection contract offers significant discounts on many popular technology brands from a full catalog of technology solutions including computer products, peripherals, software, services, cloud based services, and financing options. Connection supports a variety of purchasing mechanisms to fulfill orders (including online marketplace), departmental billing, and shipment support documentation. See Connection Exhibit C – Product Selection for the full-catalog offering. To assist with your due diligence, solicitation documentation can be found under Computers.
Questions
Bobby Sears
Connection Senior Vertical Alliances Manager Higher Education
(310) 910-7262
Bill Fleckenstein
Connection Sales Director
(603) 341-3926
Nathan Sorensen
MHEC Director of Government Contracts
(612) 677-2767
This contract (MHEC-12312022) is effective December 31, 2022, through June 30, 2025, and may be renewed for four additional years.