Contract: #MHEC-01272014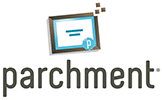 Parchment is the leader in education credentials technology, allowing learners, educators and employers to collect, analyze, use, and share credentials in simple and secure ways. More than 3 million people and thousands of schools and universities have used Parchment to exchange more than 10 million transcripts and other credentials.
Contact
Matt Sterenberg
Parchment Manager, K12 & Professional
(480) 719-1646 x1114
Nathan Sorensen
MHEC Director of Government Contracts
(612) 677-2767
The contract (MHEC-01272014) is effective January 27, 2014, through January 28, 2021.