Commissioner Spotlight: Kansas' Barbara Ballard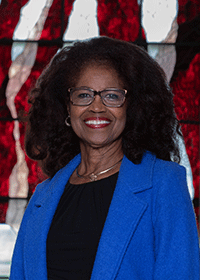 Barbara Ballard has served on the MHEC Commission for the last 18 years and recently was elected vice chair. She was elected to the Kansas House of Representatives in 1992 and recently was recognized as the longest-serving member of the Kansas legislature. As the Democratic Caucus Chair, she is the first African American to serve on the House Leadership Team. She is also the senior associate director of the Dole Institute of Politics at the University of Kansas (KU), where she coordinates numerous programs focused on youth leadership and civic engagement. Prior to her position at the Dole Institute, she served as associate vice provost for student success, associate dean for student life, and the director of the Emily Taylor Women's Resource Center at KU. She was also awarded MHEC's Phillip Sirotkin Award in November 2021.
What inspired you to run for public office?
I was serving on the school board in Lawrence and was nearing the end of my second term. I had said from the beginning I would only serve two terms. As it happened, the representative from District 44 was retiring at the same time. At first I said I wasn't interested, but when someone told me that an African American woman had never served in the Kansas Legislature, I thought, "It's time." I thought we needed a Black person's perspective, as well more women's perspectives. So, I ran and was elected and started racking up a whole lot of firsts.
What are you most proud of in your work in the Kansas legislature?
My work in social services and helping provide opportunities and help for the most vulnerable people in the whole state has meant a lot to me, especially mental health. Mental health doesn't discriminate; it crosses all demographics and finds its way into everybody's life.
I will add that earning the trust and confidence from the people in my district for over 30 years has been an honor and privilege. Articulating on the house floor for the needs of my constituents has been deeply rewarding.
Why were you interested in becoming a MHEC Commissioner?
Higher education is about economic development. Sometimes people put it into a different category, but education provides opportunity. MHEC makes it possible for us to do so much together, from insurance to mental health, and that means we're having a greater impact on the economy. I have developed such close working relationships with this caring organization. What we do together is not something you find in any other place. Besides that, we are a very fun and dedicated group!
What are you looking forward to in the coming year?
I want to empower our talented staff at MHEC to continue to make our programs and services the most effective they can be.