MHEC News summarizes key policy and research, convenings, programs, contracts, articles of interest, and updates for members of the Midwestern Higher Education Compact. We welcome your feedback and suggestions.
MHEC Annual Report Highlights Progress on Strategic Priorities
We are pleased to share with you MHEC's 2021-2022 Annual Report to the Member States, highlighting progress on our strategic priorities. The report also includes a financial overview. We look forward to working with you in this new year to improve career readiness and the Midwest's economic vitality by strengthening postsecondary education in our region.
Most Midwest States Met or Surpassed National Benchmark in College Enrollment
The latest update to MHEC's Interactive Dashboard shows that 68% of young adults in the Midwest were enrolled or had completed some college in 2021, compared to 67% nationally. This latest data looks at the percentage of all 18- to 24-year-old adults who are currently enrolled in college or have completed some college coursework/credits or a credential. Illinois, Iowa, Minnesota, Nebraska, and North Dakota ranked above both the national and Midwest benchmarks in college enrollment.
MHEC's Interactive Dashboard provides additional ways to visualize this data using bar charts, line graphs, maps, and tables. Selected enrollment indicators are also available for MHEC states in the report Higher Education in Focus.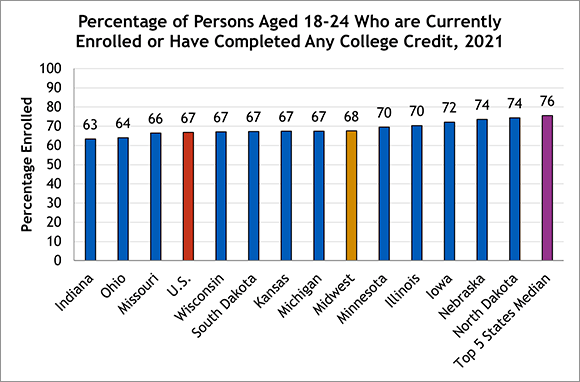 Source: U.S. Census Bureau. (2021). American Community Survey One-Year Public Use Microdata Sample. Top 5 States, 2021: MA, NY, CT, VT, RI.
New Contract Available with Connection
A new contract for end user computing and peripherals, device lifecycle management, and associated services has been awarded to Connection, after a competitive solicitation (MHEC-RFP-10282021). The contract is effective December 31, 2022, through June 30, 2025, with an option for a four-year extension.
Connection is an authorized value-added reseller of original equipment manufacturers with more than 300,000 products and can combine technology solutions with certain other complementary products and services. The MHEC Connection contract offers significant discounts on many popular technology brands including computer products, peripherals, software, services, cloud-based services, and financing options. Connection supports a variety of purchasing mechanisms to fulfill orders (including online marketplace), departmental billing, and shipment support documentation.
Access the list of available contracts and eligible entities on the MHEC website or contact Nathan Sorensen, MHEC director of government contracts, with questions.
Reappointed Ohio Commissioner
Senator Jerry Cirino
Chair, Senate Workforce & Higher Education Committee
Ohio Senate
Term: January 17, 2023 to December 31, 2024
Commissioner Alternate Appointment Process to Begin
[Susan Heegaard, MHEC president, and Rob Trembath, MHEC chief operating officer and general counsel, in collaboration with the MHEC officers, are working on implementing the MHEC commissioner alternate appointment process approved by the commission. Please look for communication in the near future as they gather input and perspective on how best to serve each member state.

MHEC Staff to Join Commissioners and Key State Leaders During Legislative Season
Susan Heegaard, MHEC president, will be joined by executive officers and MHEC staff at
upcoming state visits with state higher education, legislative, and executive branch
leadership. Visits will begin with Kansas on January 24, followed by South Dakota on January 30-31, where Ms. Heegaard will testify before the state's Joint Committee on Appropriations. Additional visits are scheduled for Minnesota on February 2 and Missouri on February 6.
ARTICLES AND RESOURCES OF INTEREST
Groups Seek Details on FAFSA Simplification Timeline
Inside Higher Ed | January 9, 2023
U.S. to Review Rules on Accreditation, Distance Education and More
Inside Higher Ed | January 5, 2023
The Great Resignation at Community Colleges
Inside Higher Ed | January 4, 2023
7 Higher Education Trends to Watch in 2023
Higher Ed Dive | January 4, 2023
Regional Public Universities and Colleges Have Become 'Invisible'
University Business | January 3, 2023
Higher Ed Has a Wicked Problem. Here Are 7 Solutions
University Business | December 21, 2022
State Systems Group Plans to Measure and Promote Higher Ed Value
Inside Higher Ed | December 9, 2022