Tanya Spilovoy honored with Outstanding Service Award from Midwestern Higher Education Compact
BISMARCK, ND; MINNEAPOLIS, MN — Tanya Spilovoy, director of open policy at the WICHE Cooperative for Educational Technologies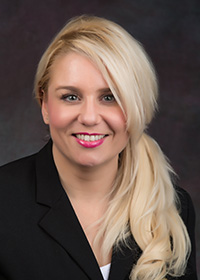 (WCET), received the Midwestern Higher Education Compact's (MHEC) Outstanding Service Award on November 9, during the commission's Annual Commission Meeting, held virtually due to the pandemic.
One of four regional higher education compacts in the United States, MHEC brings together midwestern states to develop and support best practices, collaborative efforts, and cost-sharing opportunities. Through these efforts it works to ensure strong, equitable postsecondary educational opportunities and outcomes for all.
Spilovoy was nominated for her contributions to North Dakota's participation in the Midwestern-State Authorization Reciprocity Agreement (M-SARA), which provides a voluntary, regional approach to state oversight of postsecondary distance education. She also helped to establish MHEC's robust open educational resources initiative. Also known as OER, they are textbooks and ancillary learning materials accessible via the Internet at little or no cost to students or institutions and openly licensed so that users can modify, share, and retain them.
"I am grateful for Tanya's leadership on these two initiatives and her collaboration with MHEC in bringing together the other regional compacts," stated Susan Heegaard, MHEC president. "She has helped to secure funding to continue this good work and is always sharing best practices, policy, and research to help reduce costs and provide access for college students."

Spilovoy has been providing her knowledge and support to MHEC about state authorization and open educational resources since 2014. Prior to her role at WCET, she served as a Regional Steering Committee member for the M-SARA and was instrumental in North Dakota becoming the second state to join M-SARA and the first state to have all institutions join this initiative.

"Thank you so much for this incredible award," said Spilovoy. "Working alongside the staff and state leaders in the MHEC region has been monumental for me personally and professionally because when everyone works together--we get things done! I'm thrilled to see the positive impact SARA and OER Initiatives are having on higher education and the students we serve, and I can't wait to work together on the next big challenges ahead."  

                                              ###
About MHEC
VISION: MHEC members collaborate to address the region's most pressing challenges in higher education and transform educational opportunities so that people and communities thrive.
MISSION: MHEC brings together midwestern states to develop and support best practices, collaborative efforts, and cost-sharing opportunities. Through these efforts it works to ensure strong, equitable postsecondary educational opportunities and outcomes.
HOW MHEC WORKS: MHEC's strategic approach highlights member states' strong desire for collaboration, effectiveness, and efficiency. MHEC believes that collaborative actions informed by research and best practices are the catalyst for improving quality, accessibility, relevance, and affordability of postsecondary educational opportunities. MHEC does this primarily through the following approaches: convenings, programs, research, and cost-savings contracts. Increasingly, MHEC looks to leverage these approaches in conjunction with each other to serve its strategic priorities.
MEMBER STATES: Illinois, Indiana, Iowa, Kansas, Michigan, Minnesota, Missouri, Nebraska, North Dakota, Ohio, South Dakota, and Wisconsin. www.mhec.org
Media Contact:
Mary Roberson
MHEC Director of Communications and Marketing
O: (612) 677-2765; C: (612) 805-3396
maryr@mhec.org