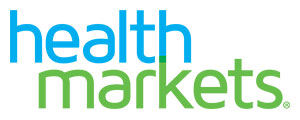 HealthMarkets Insurance Agency, Inc. offers institutions of higher learning an easy avenue for students and their dependents to find health insurance that meets their needs. As one of the largest health insurance agencies in the United States, HealthMarkets is licensed to market and sell health insurance in all 50 states and the District of Columbia. HealthMarkets partners with over 200 insurance carriers, bringing choice and convenience to the insurance buying process.
Institutions of higher education interested in offering access to this service will be provided an institution specific website that connects students, their dependents, and graduates searching for health insurance to HealthMarkets' services. Users will be able to shop online or receive personal assistance from a licensed insurance agent, at no cost to them.
HealthMarkets offers access to health insurance plans, injury and sickness plans, and supplemental plans like dental and vision. HealthMarkets can also help shoppers determine possible eligibility for premium tax credits and subsidies.
In addition, institutions can provide faculty and staff not eligible for employee benefits access to HealthMarkets where appropriate.
Questions
MHECinquiries@HealthMarketsHQ.com
HealthMarkets
HealthMarkets Insurance Agency, Inc. is licensed as an insurance agency in all 50 states and DC. Not all agents are licensed to sell all products. Service and product availability varies by state. Sales agents may be compensated based on a consumer's enrollment in an insurance plan. No obligation to enroll. HealthMarkets Insurance Agency, Inc. and the Midwestern Higher Education Compact are separate entities and are not responsible for each other's contractual or financial obligations.