MHEC News summarizes key policy and research, convenings, programs, contracts, articles of interest, and updates for members of the Midwestern Higher Education Compact. We welcome your feedback and suggestions.
Larger Share of Underrepresented Students Enrolled at Two-Year Colleges
MHEC's Interactive Dashboard now provides the latest data on the racial and ethnic distribution of public postsecondary enrollment. The indicator provides a comparison of the percentages of first-time, full-time degree-seeking students in multiple racial/ethnic categories who enrolled at public two- and four-year institutions. The figure below shows that 43% of Underrepresented Minority (comprised of American Indians, Latinos, and Native Hawaiians/other Pacific Islanders) students in the Midwest enrolled at public two-year institutions, compared to 20% of Asian students and 33% of White students. In contrast, 57% of Underrepresented Minority students enrolled at public four-year institutions, compared to 80% of Asian students and 67% of White students. Similar differences in enrollment by sector and race/ethnicity are seen across the nation.
MHEC's Interactive Dashboard provides additional ways to visualize this data using bar charts, line graphs, maps, and tables. Selected participation indicators are also available for MHEC states in the report Higher Education in Focus.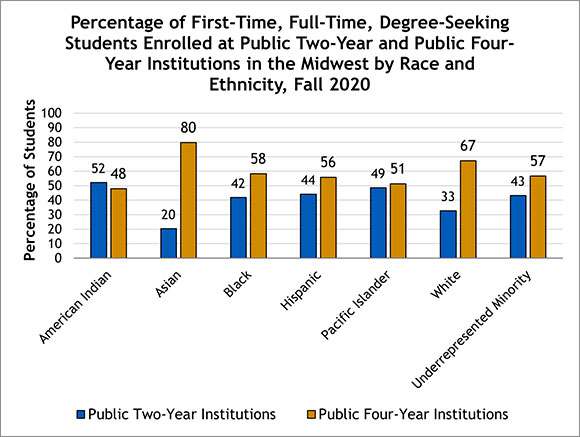 Source: NCES. (2020) IPEDS: Fall Enrollment.
Final Grant Report Summarizes Progress and Highlights Future of Open Educational Resources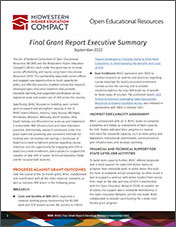 With colleges and universities across the Midwest increasingly seeking ways to reduce costs and enhance quality education for students, the Midwestern Higher Education Compact is stepping up its work to expand access to freely available, openly licensed educational resources that serve as alternatives to conventional textbooks. Read more about how MHEC is advancing the work of free educational resources to save students money and create efficiencies.
MHEC highlights the progress against grant outcomes, lessons learned, work products developed, and next steps in its final grant report executive summary.
Kansas Work on Credential Transparency Headlines Hybrid Convening
Kansas Board of Regents President and CEO Blake Flanders highlighted Kansas' success in making credential transparency a priority for the state during the hybrid convening of the Midwest Credential Transparency Alliance (MCTA). "I think it's going to be incredibly important that we're able to plug students into different pathways," said Dr. Flanders. "I really believe we've got to get more transparent with credentials. A transcript is like a lifelong learning account. It's a way to document that learning."
MHEC and Credential Engine hosted the event on October 10-11 and celebrated MCTA's accomplishments over the past 18 months. Mini-grant recipients from Kansas Board of Regents, Ferris State University (MI), Minnesota State Colleges and Universities, Miami University Regionals (OH), and Indiana Commission for Higher Education also shared progress on their work, each providing examples of different approaches to promote credential transparency in the Midwest. Roundtable discussions provided attendees the opportunities to network and collaborate on solutions for reducing barriers for students and families to access information needed for them to gain equitable access to the full range of learning, advancement, and career opportunities in the region. The meeting wrapped up with an update on individual state assessments, and the group collaborated on goals for the coming year. Resources from the meeting have been posted to the MHEC website, including recordings of the keynote and mini-grant showcase, and the brainstorming exercises.
Plan to join the quarterly MCTA meeting on November 17, at 2:00 p.m. CT. To stay informed, please indicate your interest by signing up for the MCTA list. View the MCTA's webpage for background on the initiative and materials from prior meetings.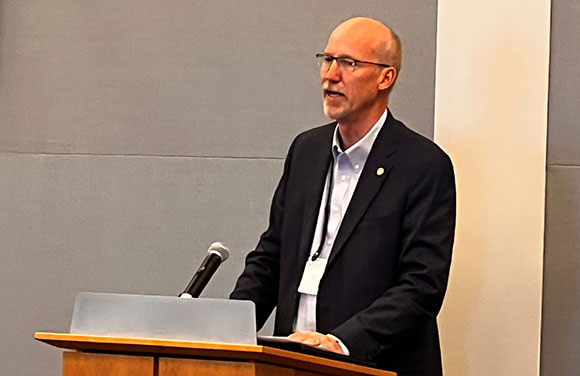 Blake Flanders, President and CEO, Kansas Board of Regents
Webinar: Elevate Your Credit for Prior Learning (CPL) Strategies with Trusted Tools October 20, 2022 1:00 p.m. CT
MHEC's Sara Appel, director of M-SARA, will moderate the Council for Adult and Experiential Learning (CAEL)'s webinar on Elevate Your CPL Strategies with Trusted Tools. Learner success means the call to action is now! Through CAEL's research, The PLA Boost, the data demonstrate increased credential completion rates by 49%. American Council on Education's national task force, Reimagining Transfer for Student Success, yielded six key recommendations to include prioritizing the award of credit for prior learning (CPL) to degree requirements and leveraging innovative technologies. How are you championing equity, access and completion with your CPL programs? Let's discuss measurable transformation to economic mobility and equity by focusing in on some key tools and strategies that make credit for prior learning processing easier.
MHEC to Connect with Colleagues at Regional Breakfast
NOTE: This event has reached full capacity. MHEC's Technologies Community will host a breakfast on October 26 at the EDUCAUSE Annual Conference in Denver.
Although, this event has reached capacity we'd still like to connect with you. For more information contact Deb Kidwell, director of technology initiatives. Learn more about MHEC's Technologies Community and the associated technology contract portfolio by reaching out to Nathan Sorensen, director of government contracts. .
 
Resources Available from Past Events
Elevate Vets: Advocacy and Support for Campuses Supporting Military-Connected Students
Guest presenters from Veterans Education Success - Will Hubbard, vice president for veterans and military policy, and Barmak Nassirian, vice president for higher education policy, discussed a free professional development resource that provides easy access to regulatory, administrative, and compliance information for campus officials serving veterans. Joshua Rider, executive director for Kent State University's Center for Adult and Veteran Services and chair of the Elevate Vets Advisory Board, demonstrated all of the information available.
MHEC Announces an Additional Award Resulting from the End User Computing and Peripherals, Device Lifecycle Management, and Associated Services RFP
A new contract has been awarded to Lenovo Technology Global (United States) Inc. #MHEC-09012022 after a competitive solicitation for end user computing and peripherals, device lifecycle management, and associated services (MHEC-RFP-10282021). The contract is effective September 1, 2022, through June 30, 2025, with an option for a four-year extension. The contract offers full catalog of tiered discount on servers and storage, enhanced services, peripherals and accessories, network and switches, software, software defined infrastructure services, and third-party products and software. Eligible entities in the MHEC region include colleges, universities, K‐12 districts and schools, cities, states and local government. The contract is also available to these same entities of MHEC's sister compacts in the New England Board of Higher Education (NEBHE), the Southern Regional Education Board (SREB), and the Western Interstate Commission for Higher Education (WICHE). Access the [list of available contracts on the MHEC website or contact Nathan Sorensen, MHEC director of government contracts, with any questions.
New Appointments
Kurt Dykstra
President & CEO
Independent Colleges of Indiana
Term: 9/16/2022 to 2/28/2024
Cynthia Lane
Board Member
Kansas Board of Regents
Term: 9/15/2022 to 6/30/2026
David Pearce
Executive Director for Government Relations
University of Central Missouri
Term: 10/5/2022 to 1/1/2026
Rebecca Larson
Senior Vice President for Advocacy
Wisconsin Association of Independent Colleges and Universities (WAICU)
Term: 9/23/2022 to 7/1/2023
Reappointment
Blake Flanders
President and CEO
Kansas Board of Regents
Term: 9/15/2022 to 6/30/2026
John Black
State Representative; Vice Chairman of the Higher Education Committee
Missouri General Assembly
Term: 10/4/2022 to 7/1/2024
Sara Appel, director of M-SARA, testified at the Nebraska Education Committee meeting on September 30. Sara, who has led MHEC's work on the Multi-State Collaborative on Military Credit initiative, provided testimony regarding MHEC's research of a 13-state scan on military policy. Earlier this year the Nebraska Legislature passed a resolution to study the feasibility of implementing a consistent statewide policy for awarding military credit (LR 373).

ARTICLES AND RESOURCES OF INTEREST
Pay Raises, Massages, and Free Food: Can Colleges Lift Employees' Morale?
The Chronicle of Higher Education | October 7, 2022
Responding to Criticism, Publisher Reinstates Blocked Ebooks
Inside Higher Ed | October 6, 2022
Sen. Bennett Addresses Higher Education Textbook Costs
YouTube-ILSenDems | Oct 5, 2022
Admissions to the Major
Inside Higher Ed | October 3, 2022
Study will consider ways to help military members pursue higher education in Nebraska
Omaha World Herald | September 30, 2022
GOP States Sue Biden Administration Over Student Loan Plan
AP | September 30, 2022
The 'Student List' Business Is Changing. Will That Make Student Recruitment Less Equitable?
The Chronicle of Higher Education | September 27, 2022

The Great Student Swap
The Brookings Institution | September 2022
Why Emporia State Axed 33 Employees
Inside Higher Ed | September 21, 2022