As part of our work with the National Consortium for Open Educational Resources (NCOER) and thanks to generous support from the Hewlett Foundation, the Midwestern Higher Education Compact (MHEC) has convened a national group of leaders in OER to help advise a study to identify recommendations for reporting cost savings and return on investment for OER. The purpose of this research is to assess the return on investment of OER for students, institutions, and states and to provide a framework that organizations can adapt to their own context to determine the return on investment of OER. During this webinar we will discuss the current progress of this group, what we have learned, and provide some initial findings from the research that will help inform the final release in early 2022.
Presenter: Katie Zaback, Zaback Consulting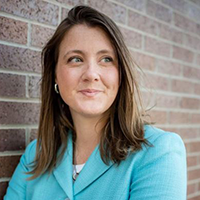 Katie Zaback has more than 20 years of experience working with states, postsecondary institutions, and non-profit entities to use data and research to maximize their impact. As a consultant, Katie  loves helping organizations transform the way they look at data and research so that it can support stronger policy and better execution.  Previously, Katie served as senior policy director at the Colorado Department of Higher Education where she used data and research to define and enact an ambitious policy agenda that will result in greater affordability, equity, and postsecondary success for all Coloradans. She also served as director of research at Complete College America, a senior policy analyst at SHEEO, and she started her career in institutional research. Katie is working with MHEC to facilitate the working group and synthesize the current research on cost savings and ROI for OER and help turn it into recommendations for policy-makers and practitioners.