Sign-up for Tour of TAO to learn about their latest interactive sessions to help students in their mental health learning journey.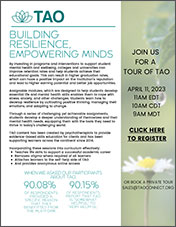 TAO provides access to 24/7 mental health support with the flexibility to use across many departments including student affairs, academics, healthcare, counseling, athletics, and more. It is available within MHEC's 12-state network and the other regional compacts. The agreement reflects a pre-negotiated, affordable rate created for public and private not-for-profit postsecondary institutions.
Examples of the new assignment series include:
First-Year Toolkit
De-Stress Success
Improving Your Focus
Learn more about TAO or contact MHEC to learn about additional student health solutions.