Commissioner Spotlight: Ohio's Rick Carfagna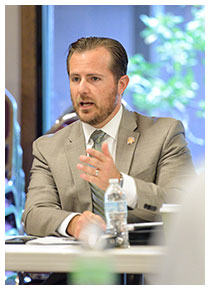 Rick Carfagna, District 58 and Assistant Majority Floor Leader, Ohio House of Representatives, was appointed a MHEC Commissioner in March 2019 and reappointed in January of this year. Carfagna is serving his second term in the Ohio House of Representatives. A native of the Columbus area, Rick earned his B.A. in Political Science from John Carroll University. He began his career as a legislative aide in the Ohio House of Representatives before becoming government relations manager for Time Warner Cable. In that position, he oversaw legislative and regulatory issues at the local, state and federal levels, an experience that influenced his current focus on expanding broadband for the nearly one million Ohioans who lack access to reliable high-speed internet and 300,000 households who have no internet.
You have said that our nation's recovery from this pandemic will be fueled by our workforce. What do you mean by that, and how is postsecondary education related to that recovery and workforce question?
This pandemic has changed how we do business as a country. The pandemic forced revolutionary technologies from tele-health services to online communications, commerce, and banking. We need to assess and evolve the workforce needs accordingly. In Ohio, for example, we are uniquely situated to capitalize on the surge in online commerce and the proliferation of cloud-based services with well over 120 data centers, a highway system that positions us within a 10-hour drive of about half of the U.S. population, and a variety of fulfillment centers and warehouses. The Central Ohio region is now the 11th largest distribution center in the U.S. Given these circumstances, we should make an Ohio-specific push for higher ed programs not just in logistics, computer science, mechanical engineering, but also short-term certificates and associates degrees in our skilled trades.
 
A good example in our recently passed state budget is the creation of Ohio's Commercial Truck Driver Student Aid Program. Nationally, the current driver shortage is more than 60,000. This new program provides a combination of a grant and loans to eligible students enrolled in a certified commercial driver's license program. Our budget provides $5 million over the biennium for this initiative.
 
Ultimately, it comes down to a long-term recalibration of focus on in-demand skills for the coming decade. And in the short run, we must help people who are out of work to acquire new abilities and enhance their marketability in this economy. Higher education is the key to doing all of this across the spectrum of post-secondary options.
 
You helped pass increased support for Ohio's colleges and universities with the most recently passed state budget. What do you think that increased support will make possible?
The hope is that we incentivize Ohioans to avail themselves of any one of the numerous post-secondary opportunities, from short-term certificates all the way up to our graduate schools. We want to plug the employment holes throughout Ohio's businesses and industries and establish a workforce of Ohioans that is prepared not just for today's job openings but for the jobs that have yet to be invented.
 
I'm especially proud of the affordability measures we've taken in Ohio. We increased individual student awards for the Ohio College Opportunity grant by $900 last cycle, and we're increasing them by another $500 in our latest budget. We also now have more tuition stability and predictability at our four-year public universities, where all incoming freshmen have their tuition and general fees frozen – guaranteed – so what they pay for their first year will be the same for their fourth year.
Another initiative that we devised post-pandemic is Ohio's Second Chance Grant Program, which incentivizes students to return to school and complete their degrees. We're doing all we can to empower individuals with knowledge and skills so they can find personal fulfillment and realize whatever their individual American Dream might be.
Why did you agree to serve as a MHEC commissioner?
I was appointed chair of the Ohio House Finance Subcommittee on Higher Education in 2019, so during that two-year budget cycle I ran point on funding and policy priorities as they related to higher education and job-training programs. So it made sense to come aboard in my new capacity. In Ohio, MHEC yields tremendous value to the tune of $6.64 million in FY20 cost savings, and more than $83.38 million since we joined the Compact in 1991. MHEC also provides great worth in the numerous ways it brings together Compact states to compare notes and share best practices, and I think having membership diversity across policymakers and academics allows for critical dialogue that perhaps gets lost elsewhere.
What are you most looking forward to in the coming year with MHEC?
I'm excited for the opportunities to bring commissioners back together in-person. Our compact thrives on the personal interactions across member states, and the pandemic was highly disruptive to this. It's going to be great for our staff and our leadership to re-engage with states about MHEC programs and our strategic plan.