Eisler Recognized by Commission as the Midwestern Higher Education Compact Sirotkin Award Recipient
Minneapolis, MN – Former Ferris State University President David Eisler of Big Rapids, Michigan, received the Midwestern Higher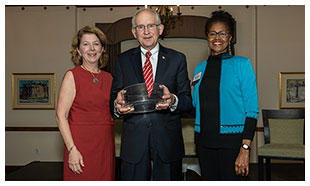 Education Compact's (MHEC) Phillip Sirotkin Award during their Annual Commission Meeting held in Columbus, Ohio. Eisler was also re-elected to serve as the MHEC past chair on MHEC's governing board.
One of four regional higher education compacts in the United States, MHEC brings together midwestern states to develop and support best practices, collaborative efforts, and cost-sharing opportunities. Through these efforts it works to ensure strong, equitable postsecondary educational opportunities and outcomes for all.
Dr. Eisler was originally appointed to the commission in 2004. He has been appointed by three different governors.
"MHEC is a very special and unique organization its collaborative approach creates partnerships throughout the Midwest to benefit students and their success," said Eisler. "I am truly humbled by this honor."
In the early 1990s, Dr. Sirotkin was the visionary behind the regional higher education compact in the Midwest. MHEC established the Phillip Sirotkin Award in his honor in 1999 and periodically confers the award upon individuals that have been voted upon by the entire commission.
"I'm extremely grateful to David for for his leadership over the last several years," stated Heegaard. "He has continued to step-up and support our organization in multiple ways and this award recognizes his many contributions to the Compact over the years. I've benefited greatly from his generosity and wise advice and counsel."
Dr. Eisler retired in June as president of Ferris State University, where he had served since July 2003. He now is a professor of community college leadership studies at Ferris.
MHEC's states are synonymous with the Midwest census region states. Member states are Illinois, Indiana, Iowa, Kansas, Michigan, Minnesota, Missouri, Nebraska, North Dakota, Ohio, South Dakota, and Wisconsin. Michigan has been a member since the Compact's creation, signing legislation in 1990 to join.
In addition to Dr. Eisler, Michigan commissioners are Rep. Ben Frederick, House Majority Floor Leader for the Michigan House of Representatives; Ms. Brandy M. Johnson, president of the Michigan Community College Association; Sen. Kimberly LaSata, committee chair of the Appropriations Subcommittee on Universities and Community Colleges for the Michigan Senate; and Dr. Bill Pink, president of Ferris State University. Dr. Daniel J. Hurley, chief executive officer of the Michigan Association of State Universities and Dr. Casandra Ulbrich, president of the State Board of Education, serve as commissioner alternates.
Contact
Mary Roberson
MHEC Senior Director of Communications and Marketing
maryr@mhec.org | (612) 677-2765 direct