Eisler Recognized as Outgoing Chair of Midwestern Higher Education Compact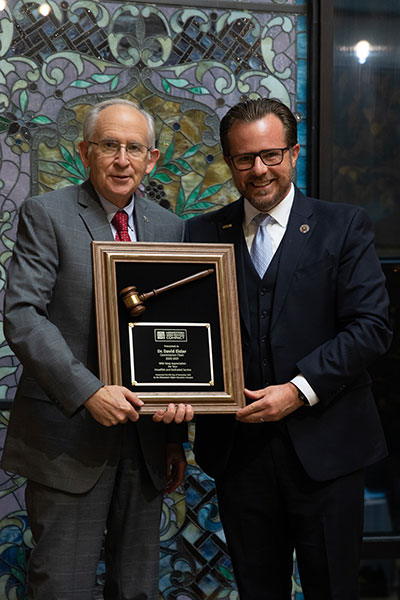 President David Eisler of Big Rapids was recognized for his leadership and contributions as commission chair of the Midwestern Higher Education Compact (MHEC) during their Annual Commission Meeting held in Grand Rapids, Michigan, November 8-10. Eisler presided over the meeting, and will now serve as the MHEC past chair as part of his four-year term on MHEC's governing board.
One of four regional higher education compacts in the United States, MHEC brings together midwestern states to develop and support best practices, collaborative efforts, and cost-sharing opportunities. Through these efforts it works to ensure strong, equitable postsecondary educational opportunities and outcomes for all.
Dr. Eisler was originally appointed to the commission in 2004. He has been appointed by three different governors, his latest reappointment was in January of this year.
"MHEC Is an extraordinary example of interstate collaboration in higher education. During this challenging time, MHEC's unique ability to convene, collaborate, partner, innovate and evolve has made a important difference.  Mhec brings great value to our states, institutions, students, and citizens," Eisler stated. "It has been an honor to serve MHEC as chair during this past year."
"Dr. Eisler's leadership has been essential to the Compact," said Susan Heegaard, MHEC president. "His long-standing experience as a university president and history with MHEC have been critical to our success as we continue to navigate this pandemic and the impact it's had on higher education and in guiding MHEC on the organization's next strategic plan. I value his role with me as a mentor, colleague, and friend."
Dr. David Eisler has served as president of Ferris State University since July 2003 and is the senior public university president in Michigan. On campus, Dr. Eisler has worked with faculty, staff and students to develop and implement a vision that focuses Ferris State University as a Career-Centered University. Under his leadership, the University has embarked on an ambitious program of curricular innovation, classroom renovation, cooperative programs with high schools and community colleges, and providing opportunity for students who may not otherwise attend college. Ferris was the first university selected to receive the Uncommon Greatness Award from the Center for Community Leadership Center of the Grand Rapids Chamber of Commerce.  At Ferris he leads the Now and Always comprehensive campaign for university students, facilities, and programs which has now surpassed its $115 million.  During his presidency the Ferris Foundation endowment has grown from $18 million to over $116 million.
President and Mrs. Eisler are committed to creating opportunities for foster youth and have established the Johnson Endowment, honoring Mrs. Eisler's adopted parents and providing scholarship support for students from the foster youth system.
MHEC's states are synonymous with the Midwest census region states, and Michigan has been a member since the Compact's creation, signing legislation in 1990 to join. MHEC's states are synonymous with the Midwest census region states. In addition to Dr. Eisler, Michigan commissioners are Rep. Mark Huizenga, chair of the Appropriations Subcommittee on Higher Education and Community Colleges for the Michigan House of Representatives, Ms. Brandy M. Johnson, special advisor for Sixty by 30 with the Michigan Department of Labor and Economic Opportunity; Sen. Kimberly LaSata, committee chair of the Appropriations Subcommittee on Universities and Community Colleges for the Michigan Senate; and Dr. Bill Pink, president of Grand Rapids Community College. Dr. Daniel J. Hurley, chief executive officer of the Michigan Association of State Universities and Dr. Casandra Ulbrich, president of the State Board of Education, serve as commissioner alternates.
Pictured L to R: Dr. David Eilser (left) and Rep. Rick Carfagna (OH).