Ken Sauer Receives Tribute from Midwestern Higher Education Compact
INDIANAPOLIS, IN; MINNEAPOLIS, MN — Dr. Ken Sauer, senior associate commissioner and chief academic officer for the Indiana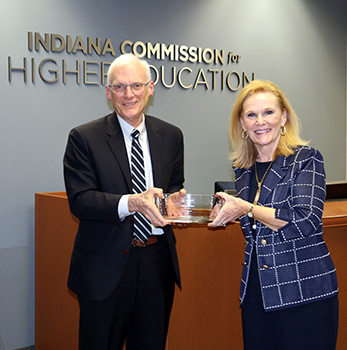 Commission for Higher Education, received the Midwestern Higher Education Compact's (MHEC) Phillip Sirotkin Award on November 9, during the commission's Annual Commission Meeting, held virtually due to the pandemic.
One of four regional higher education compacts in the United States, MHEC brings together midwestern states to develop and support best practices, collaborative efforts, and cost-sharing opportunities. Through these efforts it works to ensure strong, equitable postsecondary educational opportunities and outcomes for all.
Sauer was appointed in 2007 as a MHEC commissioner serving as the governor's designee. He has been appointed by three governors and has served as a MHEC executive officer, chairing the organization from 2018-2019.
"Ken is a well-respected thought leader and deeply committed to the work here at MHEC," said Susan Heegaard, MHEC president. "His passion for academic quality in higher education has not only benefitted the state of Indiana, but regionally and nationally."
In the early 1990s, Dr. Sirotkin was the visionary behind the regional higher education compact in the Midwest. MHEC established the Phillip Sirotkin Award in his honor in 1999 and periodically confers the award upon individuals that have been voted upon by the entire commission.
"I am quite humbled to receive this honor," said Sauer. "The exchange of ideas that are fostered by the Compact are just so valuable and we learn so much from one another. Incidentally, I worked at the Western Interstate Commission for Higher Education when Phil Sirotkin became a leader there. I am aware first-hand of Phil's leadership and wisdom and how critical he was to the founding of MHEC."
Sauer has served on multiple MHEC committees including the National Council for State Authorization Reciprocity Agreements (NC-SARA), Multi-State Collaborative on Military Credit (MCMC), e-Transcripts and Credential Engine.
MHEC's states are synonymous with the Midwest census region states, and Indiana has been a member of the Compact since 1996. In addition to Sauer, Indiana commissioners are Charles R. Johnson, president of Vincennes University; Rep. Jack Jordan; David W. Wantz, president and CEO of the Independent Colleges of Indiana; and Sen. Andy Zay. Teresa Lubbers, commissioner of the Indiana Commission for Higher Education, serves as a commissioner alternate.
ABOUT MHEC
VISION: MHEC members collaborate to address the region's most pressing challenges in higher education and transform educational opportunities so that people and communities thrive.
MISSION: MHEC brings together midwestern states to develop and support best practices, collaborative efforts, and cost-sharing opportunities. Through these efforts it works to ensure strong, equitable postsecondary educational opportunities and outcomes.
HOW MHEC WORKS: MHEC's strategic approach highlights member states' strong desire for collaboration, effectiveness, and efficiency. MHEC believes that collaborative actions informed by research and best practices are the catalyst for improving quality, accessibility, relevance, and affordability of postsecondary educational opportunities. MHEC does this primarily through the following approaches: convenings, programs, research, and cost-savings contracts. Increasingly, MHEC looks to leverage these approaches in conjunction with each other to serve its strategic priorities.
MEMBER STATES: Illinois, Indiana, Iowa, Kansas, Michigan, Minnesota, Missouri, Nebraska, North Dakota, Ohio, South Dakota, and Wisconsin. www.mhec.org