Last week, many of our staff participated in the State Higher Education Executive Officers (SHEEO) Higher Education Policy Conference in Denver, Colorado. We were especially pleased to present an update on our efforts with Open Educational Resources (OER). Here are some additional highlights from our work this month:
Policy & Research: ACT/SAT Test-taking Rates Vary Across Midwest; HLC Update
Convenings: Course Marking at U.S. Colleges & Universities
Contracts: New Award to SAS Institute
Programs: SARA Proposed Policy Modification
Commissioner News: MHEC officer update; Indiana appointment
As always, the Compact welcomes your feedback and suggestions.
ACT/SAT Test-taking Rates Vary Across Midwest
The latest update to MHEC's Interactive Dashboard shows that ACT/SAT test-taking rates among recent high school graduates varied significantly across the Midwest in 2022, though more than half of recent high school graduates took the ACT or SAT in most Midwestern states. High school students predominantly take the ACT in most Midwestern states, whereas the SAT is more widely used in Illinois, Indiana, and Michigan. States with relatively high test-taking rates typically have policies that facilitate or require test taking. For example, in 2021-22, Kansas required school districts to offer the ACT, while Minnesota required school districts to offer either the ACT or SAT. Other states required high school students to take the ACT (Nebraska and Wisconsin), the SAT (Illinois and Michigan), or either the ACT or SAT (Ohio). In North Dakota, the majority of school districts required high school students to take the ACT for state accountability purposes.
ACT test-taking rates are measured as the percentage of 2022 public and private high school graduates who took the ACT as sophomores, juniors, or seniors. SAT test-taking rates are measured as the percentage of 2022 public and private high school graduates who took the SAT at any time during high school.
MHEC's Interactive Dashboard provides additional ways to visualize this data using bar charts, line graphs, maps, and tables. Selected preparation indicators are also available for MHEC states in the report Higher Education in Focus.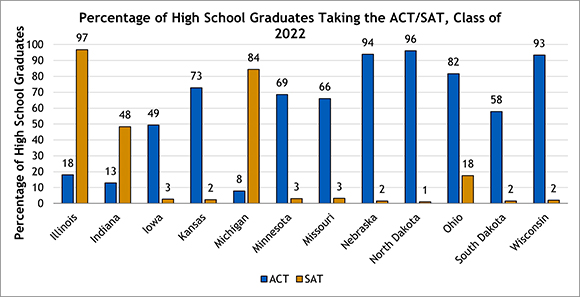 Source. ACT. The Condition of College & Career Readiness. College Board. SAT Suite of Assessments Annual Report. WICHE. Knocking at the College Door.
Proposed HLC Policy Changes Impact Faculty Qualifications; Public Comment Period Open
The Higher Learning Commission's (HLC) Board of Trustees issued proposed policy changes related to faculty qualifications. New proposed policy language was distributed in July and assigns responsibility to institutions for establishing and maintaining reasonable processes for determining instructor qualifications. In addition, the proposed policy allows instructors to be qualified based on a "variety of factors, including, but not limited to, academic credentials, progress toward academic credentials, equivalent experience, or some combination thereof." HLC invites public comment and questions to be submitted by September 18. The HLC Board will consider adoption of this policy at its November 2-3 meeting. MHEC is convening an advisory group that addresses the issue of instructor qualifications. Learn more and sign up.
Course Marking at U.S. Colleges and Universities
Join Jenny Parks, MHEC vice president, and Gina Johnson, principal and cofounder of Data EmpowerED, for Course Marking at U.S. Colleges & Universities on August 23, at 1 p.m. CT. Building on research focused on the development of a framework for assessing the value of OER for colleges and universities, MHEC and its NCOER partners have turned their focus to exploring ways in which student outcomes can be used to measure the value of OER.
As part of that work, MHEC conducted a landscape analysis to better understand how course marking related to OER is being conducted at U.S.-based colleges and universities. This webinar will share findings of the national landscape analysis, including data related to institutions' course marking processes, data validation processes, use of course marking data, technology use, and motivations for course marking of OER. Get a preview of the conversations with a national advisory group exploring the collection and use of course marking data related to OER.
MHEC Awards New Contract to SAS in Response to Public Solicitation for Data Analytics for Student Success, Institutional Efficiencies, & Integration RFP
SAS Institute presents a comprehensive solution to address the data analytics needs of member states. SAS was awarded contract #MHEC-07012023 after fulfilling all the requirements outlined in MHEC's request for proposal. The contract is effective from July 1, 2023, until June 30, 2026, with the option to renew for four additional years. This competitively bid contract is available to entities in the MHEC region including colleges, universities, K‐12 districts and schools, cities, states and local government, and is also available to the same entities in MHEC's sister compact member states. Contact Nathan Sorensen, director of government contracts, to learn more.
M-SARA Regional Steering Committee Continues Review of Proposed Policy Modifications
The Midwestern State Authorization Reciprocity Agreement (M-SARA) Regional Steering Committee (RSC) continues its voting on the 44 proposed policy modifications that might impact the National Council for State Authorization Reciprocity Agreements (NC-SARA) Policy Manual. On July 18, the M-SARA RSC voted on 14 proposed policies. Three additional meetings are scheduled in August to complete the review and process. Votes from each regional compact are due by September 1, and NC-SARA plans to share an update by September 2. The NC-SARA board of directors will vote on those proposed policy modifications during its October meeting. Contact Sara Appel, director of M-SARA, to learn more.
Kansas Representative Barbara Ballard Leads MHEC as Acting Chair
Kansas State Representative Barbara Ballard assumed the position as MHEC's acting chair on August 1, due to the retirement of former Minnesota State Chancellor Devinder Malhotra. MHEC is grateful for the leadership of its officers in guiding the work of the Compact. Representative Ballard has served on the MHEC Commission for the last 18 years and was elected MHEC vice chair in November 2022. She was elected to the Kansas House of Representatives in 1992 and was also recognized as the longest-serving member of the Kansas legislature. As the Democratic Caucus Chair, she is the first African American to serve on the House Leadership Team. She is also the senior associate director of the Dole Institute of Politics at the University of Kansas (KU), where she coordinates numerous programs focused on youth leadership and civic engagement. Prior to her position at the Dole Institute, she served as associate vice provost for student success, associate dean for student life, and the director of the Emily Taylor Women's Resource Center at KU. In November 2021, she received MHEC's highest honor, the Phillip Sirotkin Award.
Indiana
Jodie Ferise
Vice President & General Counsel
Independent Colleges of Indiana
Term: 8/7/2023 to 2/28/2024
2023 SHEEO Higher Education Policy Conference Jenny Parks, vice president, participated in a panel presentation "Open Education Across the Nation" on August 9, during the 2023 SHEEO Higher Education Policy Conference. She and fellow colleagues from each regional compact highlighted different strategies and approaches to advancing the awareness and use of open educational resources. They also provided an update on the National Consortium of Open Educational Resources collaborative work. Also in attendance at the conference were (left to right) Aaron Horn, associate vice president of research; Ms. Parks; Beth Ellie, associate director of policy initiatives; Rob Trembath, chief operating officer and general counsel; and Shaun Williams-Wyche, associate director of research and data analysis,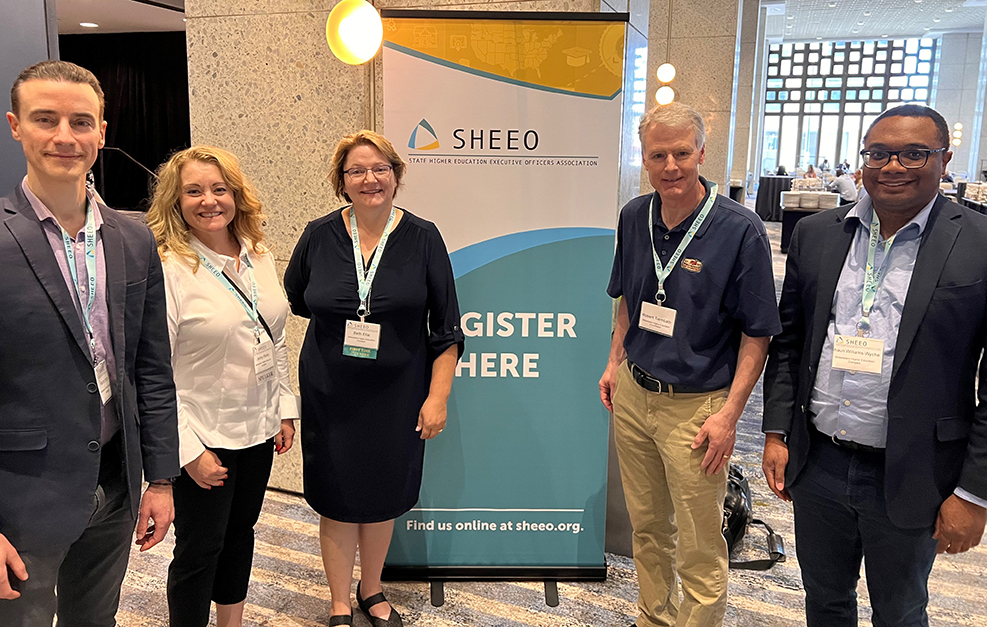 North Dakota 68th Legislative Interim - Higher Education Committee
Susan Heegaard, president, and Aaron Horn, associate vice president of research, presented to North Dakota's Interim Higher Education Committee on August 2 regarding student financial aid programs in other states, including Minnesota's North Star Promise program.
NIGP & NAEP Conferences
Nathan Sorensen, director of government contracts, will attend the NIGP Forum August 19-23, and the National Association of Educational Procurement (NAEP) Great Lakes Region Conference August 30-September 1.
Articles and Resources of Interest
A simpler FAFSA is coming for the 2024-25 school year. Here's what to expect.
U.S. Department of Education | August 2023
Which US workers are exposed to AI in their jobs?
Pew Research Center | July 26, 2023
Millions of Students a Year Are Required to Buy Courseware. Often, It Replaces the Professor.
Chronicle.com | July 18, 2023
Nearly 25 percent of Wisconsin high school students earn college credits through dual enrollment
Wisconsin Public Radio | July 26, 2023