MHEC News summarizes key policy and research, convenings, programs, contracts, articles of interest, and updates for members of the Midwestern Higher Education Compact. We welcome your feedback and suggestions.
Greetings,
While times continue to be challenging for higher education, I am encouraged by the examples of our states and region as a whole, working together to navigate this pandemic. Together, we are making great progress in the Midwest on the important work of our states, systems, and institutions. I'm also inspired by the work of MHEC's Strategic Planning Committee to advance innovation and efficiency and to develop collaborative solutions to regional problems and opportunities. MHEC will also continue to drive cost savings and produce business solutions for our member states.
I want to extend my deep gratitude to each of you who generously volunteer your time and offer great ideas and suggestions about how we can best serve you. It was rewarding to be together again in person this fall with some of our commissioners. I look forward to the day when we all can be in the same place at the same time!
Wishing you all a happy and safe holiday season and a wonderful New Year,
Susan G. Heegaard
President
 
Interactive Dashboard Highlights Young Adult College Enrollments
MHEC's Interactive Dashboard now provides the latest data on the percentage of all 18- to 24-year-old adults who are currently enrolled in college or have completed some college credit or a credential. The figure below shows that 69% of young adults in the Midwest had completed some college credit or a credential in 2019, compared to 68% nationally. MHEC's Interactive Dashboard provides additional ways to visualize this data using bar charts, graphs, maps, and tables. Selected college participation indicators are also available for MHEC states in the report, Higher Education in Focus.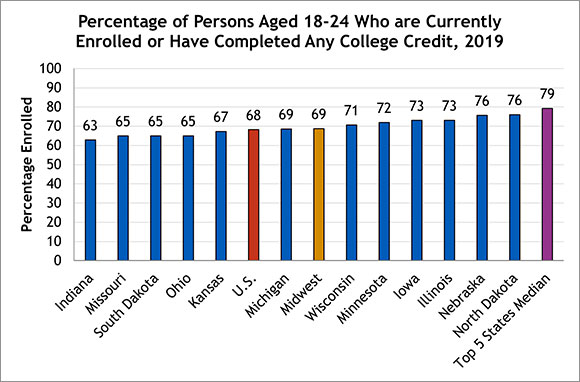 Source: U.S. Census Bureau. (2019). American Community Survey One-Year Public Use Microdata Sample. Top 5 States, 2019: RI, VT, MA, ND, NY.
 
MHEC and SHEEO Examine Public Funding's Impact on College Graduation Rates
This month, MHEC and the State Higher Education Executive Officers Association (SHEEO) released a report, The Effect of State Appropriations on College Graduation Rates of Diverse Students, which examines whether levels of state funding for higher education are associated with college graduation rates, particularly among underrepresented racial and ethnic groups. The analysis uses a 12-year dataset of freshman cohorts at most public four-year institutions in the nation. The companion brief, Linking State Appropriations and College Completion Among Diverse Students, concludes that adequate resources, effectively used, can help improve the graduation rates of students from underrepresented racial and ethnic groups as well as white students.
 
 
OPPORTUNITIES

 WEBINAR: Graduate Credit Quest – Here to help you meet accreditation requirements
 
Tuesday, February 8, 2022
1:00 p.m. CT REGISTER MHEC staff will present Graduate Credit Quest, a searchable database of graduate courses offered by Midwestern universities for current and aspiring high school concurrent enrollment instructors. Learn about multistate efforts underway to increase access to graduate courses for high school teachers who wish to meet the Higher Learning Commission's requirements for high school concurrent enrollment instructors. The website provides portals and tools for:
University staff who want to list their courses and access a wider pool of high school teachers seeking such opportunities;
 High school teachers seeking such courses; and
 Institutional concurrent enrollment coordinators with whom high school teachers are collaborating to chart the path toward instructor qualification compliance.
 Inquiries can be directed to gcq@mhec.org.
 
2022 Security Services Webinar Series: Save-the-Dates!
 
The following webinars are offered for IT professionals, risk managers, chief information officers, and others interested in best practices in cyber security. Here are the upcoming 2022 opportunities:
January 26, 11:00 a.m. CT, Improving Your Cybersecurity Posture
February 14, 11:00 a.m. CT, Educator's Guide to Outsmarting the Puppet Master
March 16, 11:00 a.m. CT, Ransomware Threat Briefing/ State of the Threat Landscape
April 12, 11:00 a.m. CT, Building a Culture of Information Security
May 3, 11:00 a.m. CT,  Security Awareness Training
 
 Resources Available from Past Events
Examples of Emerging Career Pathways Shared
Panelists shared examples of emerging career pathways that have been featured in states' work to advance credential transparency at the quarterly meeting of the Midwest Credential Transparency Alliance (MCTA). Examples of cybersecurity, autonomous vehicles, and advanced manufacturing careers were provided from RAND Corporation, Partners for Automated Vehicle Education, and the National Institute of Standards and Technology. MCTA is a regional alliance supported by a grant from Ascendium and is focused on advancing credential transparency for learners, workers, educators, employers, and policymakers across the Midwest. MCTA's focus is to maintain and share accurate information about credentials including diplomas, degrees, licenses, certificates, badges, and certifications. To participate and stay informed regarding future meetings please indicate your interest by [signing up for the MCTA list server..
ARTICLES AND RESOURCES OF INTEREST
Top 2021 Education Legislative Trends
Education Commission of the States | December 8, 2021
State Board of Education Asks Missouri to Study Open Enrollment, Raise Teacher Wages in '22
Springfield News Leader | December 8, 2021
G.R.O.W. Act Introduced to Help Ohio Retain Graduates, Grow Workforce
wdtn.com | December 6, 2021

Diverse Military, December 3, 2021 [Surge in Indiana High School Students Taking Career, Technical Education Classes
Indiana Public Media | November 25, 2021
Fall Enrollment a Mixed Bag for Missouri's Colleges and Universities
Missourinet | November 23, 2021
Student Veterans Face Huge Cuts in Housing Stipends if Congress Doesn't Act Soon
Military Times, November 22, 2021
VA to Target Military Medics for Open Health Care Jobs Under New Bill
Military Times, November 17, 2021