MHEC News summarizes key policy and research, convenings, programs, contracts, articles of interest, and updates for members of the Midwestern Higher Education Compact. We welcome your feedback and suggestions.

Holiday greetings,
As we approach the end of 2022, we want to express our deep gratitude to all of you who contribute so much to MHEC. Our collective work is made possible by many volunteers across the Midwest who give generously of their time.
Wishing you all a wonderful season with family and friends and a safe and productive 2023!
Susan G. Heegaard
President
College Enrollment Remains Less Affordable for Low-Income Students
MHEC's Interactive Dashboard now provides the latest data on the ability to pay by family income at public colleges and universities. The figure below shows that public two-year college attendance in the Midwest for students from median-income families requires 15 percent of family income, compared to 27 percent of income for students from low-income families. Public four-year college attendance in the Midwest for students from median-income families requires 23 percent of family income, compared to 38 percent of income for students from low-income families. Similar differences in college affordability are seen across the nation.
The ability to pay for college is measured by the percentage of family income needed to pay the net price of full-time enrollment at public two- and four-year institutions. The average net price is calculated as the total cost of attendance (tuition and fees, books, supplies, and room and board) minus the average institutional, local, state, and federal grant aid. In order to assess the degree of affordability for students of different income levels, this indicator is presented for families with median income (Midwest median of $79,518 and national median of $78,963 in 2020) and low income, which is defined as an income equal to the federal poverty level for a family of four ($26,200 in 2020).
MHEC's Interactive Dashboard provides additional ways to visualize this data using bar charts, line graphs, maps, and tables. Selected affordability indicators are also available for MHEC states in the report Higher Education in Focus.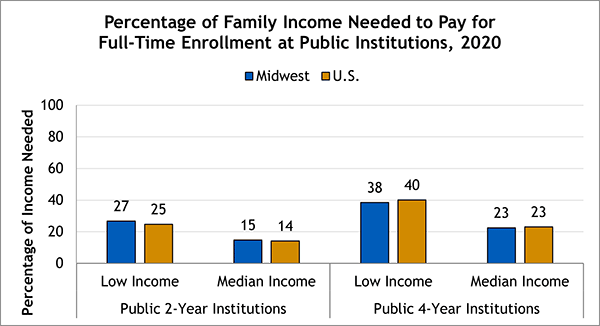 Source. NCES IPEDS. (2020). Net price. U.S. Census Bureau. (2019). American Community Survey One-Year Public Use Microdata Sample. Note. Due to sampling problems that occurred during the 2020 administration of the American Community Survey, the 2020 income levels represent 2019 income adjusted for inflation to 2020.
Resources Available from Past Events MHEC Annual Commission Meeting Presentations  Commissioners convened in Columbus, Ohio, November 14-16. Presentations and recordings are available from this meeting, including an update on higher education policy at the federal level; a regional recap and forecast for 2023 of legislative issues; bi-partisan discussions on higher education, workforce, and industry investments in Ohio; and supporting student mental health.
Illinois
Sen. Scott Bennett passed away December 9. He was appointed as a MHEC commissioner in May of this year.
Ohio
Dr. William Napier passed away November 17. He served as a MHEC commissioner from April 1997 until January 2017.
Carla Ahrens Retires from MHEC after 28 Years of Service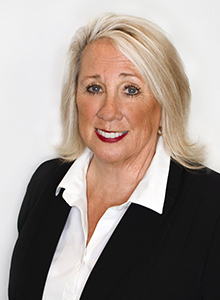 We would like to recognize Carla Ahrens, the associate director of MPP, who recently retired from MHEC after serving 28 years on the program, 22 as a volunteer and six as a MHEC employee. She was a valued colleague and friend to many at the Compact and across the country.
The Master Property Program (MPP), had been serving institutions since 1994 providing comprehensive property coverage and will sunset on July 1, 2023.
Ahrens previously served as the risk manager for the State of Missouri, working for the Risk Management office from 1988-2016. During her tenure at the state, she served on MHEC's Risk Management Committee prior to the establishment of the MPP.
She served on the MPP Leadership Committee representing a collection of Missouri state institutions where she provided guidance on the program's development and growth from its early beginning. In November 2015, Ahrens was recognized by MHEC's commission with the Outstanding Service Award. She also served as a member of the State Risk and Insurance Management Association (STRIMA) and as president of STRIMA's Executive Committee from 2013-2014, and treasurer from 2011-2013.
 
The MHEC team wishes Carla well and is grateful for her many years of service to the Compact.
Rob Trembath, chief operating officer and general counsel, presented to North Dakota legislators during their organizational session on December 5.
ARTICLES AND RESOURCES OF INTEREST
Internet providers to get $100M to expand coverage across Minnesota
Bring Me the News | December 9, 2022
The Economic Value of Community Colleges
CC Daily | December 4, 2022
Pandemic Stress Physically Aged Teens' Brains, a New Study Finds
Stanford News | December 1, 2022
Debt Relief Heads to Supreme Court
Inside Higher Ed | December 2, 2022
Six-Year Completion Rates Stall Across the Nation, Report Finds
Diverse | November 29, 2022
Completing College National and State Reports With Six- and Eight-Year Completion Rates Dashboards
National Student Clearinghouse® Research Center™ | November 29, 2022
The FCC Has Released Its Broadband Map — but Work Is Far from Over
Government Technology | November 18, 2022
Gut check: There's a difference between layoffs in tech and tech-sector layoffs
CIO Dive | Nov. 14, 2022