MHEC News summarizes key policy and research, convenings, programs, contracts, articles of interest, and updates for members of the Midwestern Higher Education Compact. We welcome your feedback and suggestions.
Latest ACT/SAT Test-taking Rates Vary Across Midwest
MHEC's Interactive Dashboard provides the latest data for ACT/SAT test-taking rates.
High school students predominantly take the ACT in most Midwestern states, whereas the SAT is more widely used in Illinois, Indiana, and Michigan. The figure below shows that ACT/SAT test-taking rates among recent high school graduates varied significantly across the Midwest, though more than half of recent high school graduates took the ACT or SAT in most Midwestern states. States with relatively high rates typically have policies that facilitate or require test taking. In 2020-21, for example, Kansas required school districts to offer the ACT. Other states required high school students to take the ACT (Nebraska, North Dakota, and Wisconsin), the SAT (Illinois), or either the ACT or SAT (Ohio). The Michigan Department of Education waived its SAT requirement for high school students in the spring of 2021 due to the COVID-19 pandemic.
ACT test-taking rates are measured as the percentage of 2021 public and private high school graduates who took the ACT as sophomores, juniors, or seniors. SAT test-taking rates are measured as the percentage of 2021 public and private high school graduates who took the SAT at any time during high school.
MHEC's Interactive Dashboard provides additional ways to visualize this data using bar charts, line graphs, maps, and tables. Selected college preparation indicators are also available for MHEC states in the report Higher Education in Focus.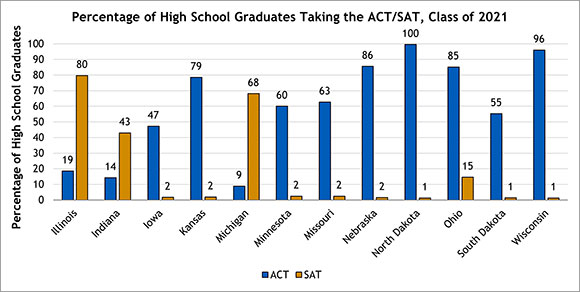 Source: ACT. The Condition of College & Career Readiness. College Board. SAT Suite of Assessments Annual Report. WICHE. Knocking at the College Door.
Higher Learning Commission Extends Dual Credit Faculty Qualifications Requirements Deadline
In the most recent issue of The Leaflet, the Higher Learning Commission (HLC) shared that the deadline for dual credit faculty qualifications requirements has been extended from September 1, 2023, to September 1, 2025. MHEC and its partners in the concurrent enrollment community will seek additional information and continue to support teachers and concurrent enrollment program coordinators.
A quarterly dual enrollment newsletter is sent by MHEC, and a list server will provide time sensitive correspondence. If you would like to join this dual enrollment list server, please complete the form and be sure to click on the link sent to your email to confirm your opt-in!
WEBINAR: Licensure Level-Set: Why Institutional Leaders Should Prioritize this Work
August 17, 2022
2:00 p.m. CT
MHEC is building upon its existing work in the practice areas of compliance and credentialing by participating in the Midwestern-State Authorization Reciprocity Agreement (M-SARA) and now, offering support for our stakeholders in the area of professional licensure. Through our participation and support of SARA, we provide resources to institutions and member states regarding compliance with state and federal rules pertaining to the authorization of distance education offerings. However, institutions must comply not only with state authorization regulations but also with regulations pertaining to professional licensure programs. As SARA does not fully address this aspect of compliance work, MHEC is supporting its compliance community with assistance from Higher Educational Licensing Pros, LLC (HELP). Please join us for a webinar on August 17 with Kris Maul, J.D., and Nan Kalke, Ph.D., principals of HELP, who will introduce the requirements and work required to comply with federal regulations pertaining to professional licensure and explain how this work is of critical importance to institutions.

QUARTERLY MCTA MEETING: Career and Technical Education Pathways Legislation to be Highlighted
August 18, 2022
2:00 p.m. CT

In August, MHEC and Credential Engine will highlight state examples of Career and Technical Education during the quarterly meeting of the Midwest Credential Transparency Alliance. This collaborative initiative focuses on advancing credential transparency across the Midwest. Additionally, findings will be shared regarding the Request for Information conducted in June to solicit information on education technology products pertaining to the credentialing life-cycle. Information will be previewed for the in-person convening on October 10-11.
If you would like to stay informed, please indicate your interest by signing up for the MCTA list. View the MCTA's webpage for background on the initiative and materials from prior meetings.


Resources Available from Past Events
TA SimplifiED: The stopgap to meet your Army tuition assistance challenges
This June 30 webinar demonstrated how to navigate the website, TA Simplified, which produces files to upload to ArmyIgnitED. Additional support resources were provided in addition to experiences shared by representatives from Kent State University and Youngstown State University.

Get Creative Commons Certified!
This June 28 webinar highlighted MHEC's contract with Creative Commons and provided an overview of their CC Certificate program, which offers in-depth courses about CC licenses, copyright, and open practices for their global, shared digital commons. Alumni from Emporia State University and the University of Minnesota shared their experiences completing the CC Certificate, and how they've used their knowledge.
Save-the-date for October 4, at 1:00 p.m. CT, for another webinar with Creative Commons. More information coming soon.

Concurrent Enrollment Coordinators on Graduate Credit Quest: A new tool to help coordinators help teachers find graduate courses
This June 21 webinar introduced concurrent enrollment program coordinators to MHEC's new portal created specifically for them on the Graduate Credit Quest website. The tool offers a way for program coordinators to connect with their teachers, recommend courses, and keep track of teachers' graduate credits and online communications with teachers. The site also contains information about concurrent enrollment work in each of MHEC's member states as well as concurrent enrollment news and research. Best of all, participation is free to universities, coordinators, and teachers! Help concurrent enrollment teachers find the graduate courses they need to meet instructor qualification expectations established by the Higher Learning Commission by signing up or contacting us today.
Rob Trembath, chief operating officer and general counsel, provided an update on the progress of MHEC's initiatives at The Council of State Government's 76th Annual Meeting of the Midwestern Legislative Conference on July 10-13, in Wichita. He also highlighted higher education policy issues state lawmakers are likely to face in ongoing legislative sessions, as well as presented data enrollment and graduation trends.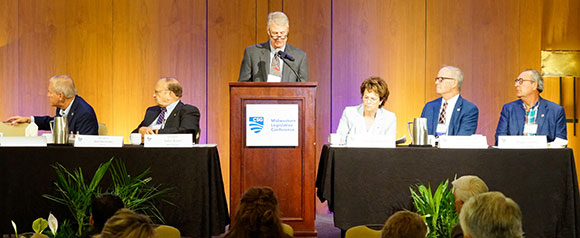 Rob Trembath, COO and general counsel, presents at MLC. Pictured (L to R): Senator Bill Reineke (OH); Senator John Bizon (MI); Trembath; Senator Carolyn McGinn (KS); Michael McCabe, Director, CSG, Midwest Office; and Senator Roger Victory (MI).

ARTICLES AND RESOURCES OF INTEREST
Ransomware Attacks Against Higher Ed Increase
Inside Higher Ed | July 22, 2022
Survey: More Than Half of Higher Ed Workers Plan to Leave
Inside Higher Ed | July 22, 2022
Midlands Voices: Affordability and the future of higher education
Omaha World-Herald | July 21, 2022
Congress is Starting to Tackle Student Mental Health
The Hechinger Report | July 8, 2022
How to Protect Faculty Members from Outside Attacks
The Chronicle of Higher Education | July 7, 2022
Pandemic Boost for Digital Course Materials
Inside Higher Ed | June 30, 2022
Potato/Potahto, Microcredential/Micro-credential…Finding and Providing Clarity in Defining Microcredentials
WCET Frontier Blog | June 30, 2022
Former longtime Columbia College President Gerald Brouder remembered as 'a thought leader'
Columbia Daily Tribune | June 27, 2022 (former MHEC commissioner and 2012 Phillip Sirotkin Award recipient
Colleges Share Lessons from HEERF Spending
Community College Daily | June 25, 2022
Unlocking Potential: A State Policy Roadmap for Equity and Quality in College in High School Programs
College in High School Alliance & Level Up | June 23, 2022
The Path Ahead for Community Colleges
The Chronicle of Higher Education | June 20, 2022
Americans Support Student Loan Forgiveness, but Would Rather Rein in College Costs
University Business | June 17, 2022
Within Reach A Policy Roadmap for Dual Credit in Indiana
Zinth Consulting | June 2022
Seventy-Five Institutions Selected to Participate in AAC&U Institute on Truth, Racial Healing & Transformation Campus Centers
AAC&U | May 31, 2022