MHEC News summarizes key developments in policy and research, convenings, programs, contracts, articles of interest, and updates for members of the Midwestern Higher Education Compact. We welcome your feedback and suggestions.
POLICY & RESEARCH
Interactive Dashboard Highlights College Graduation by Race/Ethnicity
MHEC's Interactive Dashboard now provides the latest data on institutional graduation rates by race and ethnicity. The figure below shows that graduation rates of underrepresented students (American Indian, Black, Hispanic, and Pacific Islander students) in the Midwest were lower than the graduation rates of White and Asian students across all types of institutions.
Institutional graduation rates are defined by the proportion of first-time, full-time students who graduate at their beginning institution. Specifically, graduation rates at two-year colleges are measured as the proportion of first-time, full-time certificate/degree-seeking students in the fall 2016 cohort who completed an associate degree or certificate at the first public two-year college or transferred to another institution within three years. Graduation rates at four-year institutions are defined as the percentage of first-time, full-time, bachelor's degree-seeking students in the fall 2013 cohort who completed a bachelor's degree at their first four-year institution within six years (without accounting for transfer to another institution). 
MHEC's Interactive Dashboard provides additional ways to visualize this data using bar charts, line graphs, maps, and tables. Selected college completion indicators are also available for MHEC states in the report Higher Education in Focus.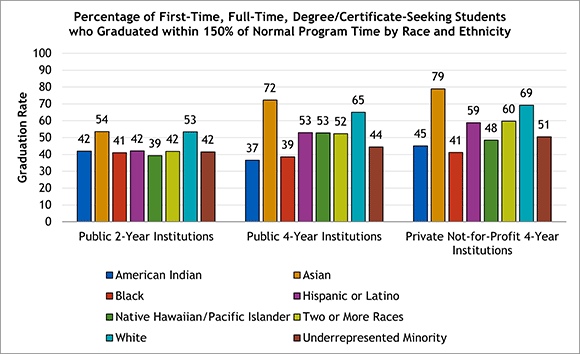 Source: NCES IPEDS. (2019). Graduation Rate. Note. The underrepresented minority category comprises American Indian, Black, Hispanic, and Native Hawaiian/Other Pacific Islander students. Some Asian subgroups are underrepresented in higher education (e.g., Hmong) but cannot be separated from the Asian category.
 
 
Midwest Credential Transparency Alliance Celebrates Year One; Highlights Microcredentials in Quarterly Meeting
The Midwest Credential Transparency Alliance (MCTA), an initiative led by MHEC and Credential Engine, is a regional alliance working to advance credential transparency in service of learners, workers, educators, employers, and policymakers across the Midwest. At its quarterly meeting on February 10, participants celebrated year one of accomplishments. In a recap of the year, Sara Appel, associate director for policy initiatives, highlighted the groups' documenting almost 700 unique credentialing pathways, promising practices in credentialing that members learned about from leading experts in the field, high-speed developments in cybersecurity and autonomous vehicles career pathways, and gaining awareness about legislation some Midwest states have related to pathways. Guest panelists provided a rich discussion around the role of microcredentials in credential transparency and employment. To participate and stay informed, please sign up for the MCTA list server. Visit the MCTA webpage for resources and additional background information.
Mental Health and Wellness
MHEC Enters Agreement to Offer Accessible Mental Health and Wellness Resources to University Student
The agreement provides students, faculty and staff at Midwestern institutions with 24/7, free online access to over 150 self-guided digital sessions on anxiety, depression, substance abuse and more.
 
MHEC has entered an agreement with TAO Connect to provide a suite of mental health and wellness modules, exercises, and resources to students, faculty, and staff at institutions within MHEC's 12-state network and in its sister compact states. The agreement reflects a pre-negotiated, affordable rate created for public and private not-for-profit postsecondary institutions. Institutions can leverage TAO's services in multiple ways across campus, including student affairs, academics, healthcare, counseling, and athletics. MHEC member institutions will benefit from TAO's more than 150 interactive sessions on anxiety, depression, sleep, sexual violence, substance abuse, and more, and can access various mental health exercises, such as a library of mindfulness meditations, exercises, and journal prompts.
To learn more about the newest MHECare program option, register for our upcoming Tour of TAO on February 17 or contact Jennifer Dahlquist.

Mental Health and Wellness
WEBINAR: MHECare - Tour of TAO
 
 
February 17, 2022
11:00 a.m. CT
 
As part of the Midwestern Higher Education Compact's MHECare offerings, the Compact has entered an agreement with TAO Connect to provide a suite of mental health and wellness modules, exercises, and resources to students, faculty and staff at institutions within MHEC's 12-state network and sister compact states.  Join the webinar for the live Tour of TAO and learn how to provide access to 24/7 mental health support to use within curriculum, training, academic advising, athletics, and more.
 
WEBINAR: Military-Connected Students - Education Policy Update 2022 .
 
February 23, 2022
1:00 p.m. CT
 
An overview of the U.S. Department of Education's 2021-2022 regulatory negotiations and recent legislative updates related to military-connected students will be addressed in the webinar Military-Connected Students - Education Policy Update 2022 . Guest presenter Will Hubbard, vice president for veterans and military policy with the Veterans Education Success, will address questions about negotiated rulemaking, the REMOTE Act and Army IgnitED. He also will cover topics related to the 90/10 Rule and Parity Act.
 
 
Resources Available from Past Events
Graduate Credit Quest – Here to help you meet accreditation requirements
This webinar provided an overview of MHEC's website Graduate Credit Quest. The website offers a searchable database of graduate courses offered by Midwestern universities for high school teachers. MHEC staff shared the multistate efforts underway to increase access to graduate courses for high school teachers who wish to meet the Higher Learning Commission's requirements for high school concurrent enrollment instructors. The website provides tools for: 1) universities that seek to offer these courses to a wider pool of high school teachers; 2) high school teachers seeking such courses; and 3) institutional concurrent enrollment coordinators with whom high school teachers are collaborating to chart the path toward instructor qualification compliance. Save-the-date for a webinar on March 10, that will be geared towards teachers. Inquiries can be directed to gcq@mhec.org.
 
 WEBINAR SERIES Security Services:  Ransomware / State of the Threat Landscape
 
 
 March 16, 2022
11:00 a.m. CT
 
In the webinar Ransomware / State of the Threat Landscape, guest presenter Noel Reynolds, senior security engineer for Secureworks, will talk about the threat level to businesses and how it globally remains high, especially as many organizations are rapidly pursuing IT transformation to support operations in a post-pandemic environment. Specific attacks against universities are up over 100 percent in 2020, over 2019. In this session, you will learn more about emerging threats facing higher education.
 
Save-the-dates for the additional webinars being offered in this series:
April 12, 11:00 a.m. CT, Building a Culture of Information Security
May 3, 11:00 a.m. CT, Security Awareness Training
Did you miss our first two webinars of the series? You can catch up on past events on the MHEC website and get the resources for Improving Your Cybersecurity Posture  and  Educator's Guide to Outsmarting the Puppet Master.
IT Security Services MHEC-RFP-14OCT2020
MHEC implemented a request for proposal process to establish a portfolio of contracts for security services (security threat intelligence products and services, security information and event management, managed security services, security consulting services, and security awareness training). Questions about the contracts or this webinar series may be directed to Deb Kidwell.
 
Representative Rick Carfagna Announces Departure from Ohio House
Representative Rick Carfagna and current MHEC chair [announced he will be resigning from the Ohio House of Representatives to accept a position with the Ohio Chamber of Commerce as senior vice president of government affairs effective February 28. We are very sad to see him go and are grateful for his contributions to the Compact and look forward to a continued relationship.
 
 
MHEC Testifies and Meets with Leaders in South Dakota and Missouri
Susan Heegaard, MHEC president, and Rob Trembath, MHEC chief operating officer and general counsel, testified before the South Dakota Joint Committee on Appropriations on January 24, and also with the South Dakota [Senate Education Committee on January 25. They traveled to Missouri on February 7-8. In both visits they met with state higher education, legislative, and executive branch leadership, including Missouri Governor Mike Parson. The next scheduled visit is in Iowa on February 22-23.
 
New Commissioner Appointment
Representative Ben Frederick
Michigan Legislature
House Majority Floor Leader
Term: 1/1/2021 to 12/31/2022
 
MHEC TEAM UPDATES 
Deb Kidwell has joined the MHEC staff as director of technology initiatives. Deb previously served as a consultant to MHEC. She also has many years of experience serving as a past committee member.
 
ARTICLES AND RESOURCES OF INTEREST
States Warm to FAFSA Requirements  Inside Higher Ed | February 9, 2022
Lubbers Delivers Her Final State of Higher Education Address
WBIW | February 9, 2022
Iowa's Coe College Sets the Mark for Organizational Impact and Transformation in Diversity
Diverse Issues in Higher Education | February 8, 2022
Whitmer Budget Proposes Teacher Bonuses, K-12 and Preschool Increases, and Student Mental Health Funds
Chalkbeat Detroit | February 7, 2022
Secretary's Vision and Priorities
Ed Review | February 4, 2022
Colleges Cope With IT Staff Flight in Wake of Pandemic
Inside Higher Ed| February 2, 2022
Introducing our Nation's Rural-Serving Postsecondary Institutions
Alliance for Research on Regional Colleges | January 31, 2022
BSC, Legacy High School Dual Enrollment Program a 'really good opportunity,' Student Says
KX News | January 21, 2022
More than 1 million fewer students are in college. Here's how that impacts the economy.
NPR | January 13, 2022