MHEC News summarizes key policy and research, convenings, programs, contracts, articles of interest, and updates for members of the Midwestern Higher Education Compact. We welcome your feedback and suggestions.
Interactive Dashboard Highlights On-Time College Graduation Rates
MHEC's Interactive Dashboard provides the latest data for on-time graduation rates at four-year institutions. The figure below shows that the percentage of students completing a bachelor's degree within four years at public institutions increased in all Midwestern states from 2015 to 2020. The figure also shows that the graduation rates in some Midwestern states were above the Midwest and national averages, including Illinois, Indiana, Iowa, and Minnesota.
On-time graduation rates are measured as the proportion of first-time, full-time bachelor's degree-seeking students in the 2010-11 and 2015-16 cohorts who completed a bachelor's degree at their first public four-year institution within four years (without accounting for transfer to another institution). Graduation rates by race and ethnicity can also be viewed on the dashboard for public two-year, public four-year, and private not-for-profit four-year institutions.
MHEC's Interactive Dashboard provides additional ways to visualize this data using bar charts, line graphs, maps, and tables. Selected college completion indicators are also available for MHEC states in the report Higher Education in Focus.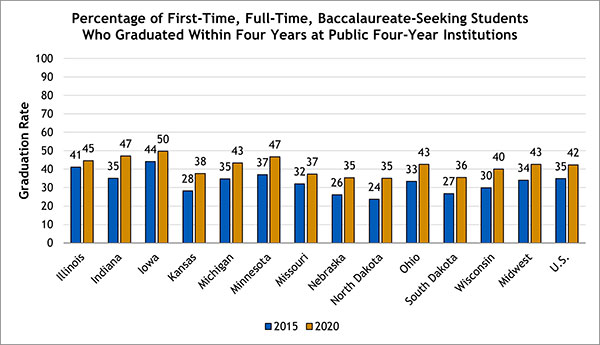 Source: NCES IPEDS. Graduation Rate.

Five Mini-Grants Awarded to Support Progress Toward Credential Transparency
In May, MHEC and Credential Engine announced five recipients of mini-grants during the quarterly meeting of the Midwest Credential Transparency Alliance, a collaborative initiative focused on advancing credential transparency across the Midwest. Recipients include Ferris State University (Michigan), Kansas Board of Regents, Indiana Commission for Higher Education, Minnesota State Colleges and Universities, and Miami Regionals University (Ohio). The awards of up to $20,000 will support work toward credential transparency goals, with awardees serving as examples for other participating states.
During the quarterly meeting, presenters from Indiana, Michigan, and North Dakota shared examples of how states are exploring the implementation of learner records to advance credential transparency. They also discussed the associated challenges with the work. Presenters expressed the importance of fostering dialogue within MHEC member states to avoid creating more silos. Resources from the meeting have been posted to the MHEC website.
If you would like to stay informed, please indicate your interest by signing up for the MCTA list. View the MCTA's webpage for background on the initiative and materials from prior meetings.
WEBINAR:
Concurrent Enrollment Coordinators on Graduate Credit Quest: A new tool to help coordinators help teachers find graduate courses
June 21, 2022 (Rescheduled Date)
1:00 p.m. CT

Join MHEC staff for the next webinar about Graduate Credit Quest (GCQ), our online platform to help concurrent enrollment teachers find the graduate courses they need to meet instructor qualification expectations established by the Higher Learning Commission (HLC).
The webinar, designed for concurrent enrollment program coordinators in schools, will introduce them to our new portal created specifically for them. The GCQ tool offers a way for program coordinators to connect with their teachers, recommend courses, and keep track of teachers' graduate credits and online communications with teachers. The site also contains information about concurrent enrollment work in each of the 12 MHEC member states as well as concurrent enrollment news and research. Best of all, participation is absolutely free to universities, coordinators, and teachers!

WEBINAR: Get Creative Commons Certified!
June 28, 2022
1:00 p.m. CT
Join us for our upcoming webinar Get Creative Commons Certified! Jennryn Wetzler of Creative Commons will provide an overview of its CC Certificate program, which offers in-depth courses about CC licenses, copyright, and open practices for their global, shared digital commons. Alumni from Emporia State University and the University of Minnesota will share their experiences completing the CC Certificate, and how they've used their knowledge.
MHEC has extended its contract with Creative Commons for existing and custom Creative Commons licensing for professional learning opportunities through June 2023. This contract offers a 15% discount to staff and institutional members of MHEC and its sister compacts: the New England Board of Higher Education (NEBHE), the Southern Regional Education Board (SREB), and the Western Interstate Commission for Higher Education (WICHE). Creative Commons is an international nonprofit organization dedicated to helping build and sustain a thriving commons of shared knowledge and culture. Through workshops, consultations and the Creative Commons Certificate, community members develop open licensing expertise and a deeper understanding of recommended practices for sharing.
WEBINAR: TA SimplifiED: The stopgap to meet your Army tuition assistance challenges
June 30, 2022
1:00 p.m. CT

Join us for our upcoming webinar TA Simplified: The stopgap to meet your Army tuition assistance challenges. Stephanie Kahne, Vantage Point Consulting, will navigate the website, TA Simplified to produce and upload files to ArmyIgnitED. She will share additional support resources. Joshua Rider, Kent State University, and Rick Williams, Youngstown State University, will share their experiences of using TA Simplified. Please note that Ms. Kahne is not Army staff and will not be able to answer questions about ArmyIgnitED. Questions may be directed to Sara Appel, MHEC associate director for policy initiatives.
Resources Available from Past Events
Mission Promise Kept - A Living and Learning Community for Women Veterans
This June 8 webinar highlighted Stephen College's comprehensive college program, Mission Promise Kept, designed to meet the needs of women veterans. Elizabeth Herrera, executive director of Mission Promise Kept, shared the features of this new program designed to empower women veterans to achieve educational, personal, and financial success.
New Contract Award for HP Inc., End User Computing and Peripherals, Device Lifecycle Management, and Associated Services
A new contract has been awarded to HP Inc. #MHEC-05162022 after a competitive solicitation for end user computing and peripherals, device lifecycle management, and associated services MHEC-RFP-10282021). The contract is effective May 16, 2022, through June 30, 2025, with an option for a four-year extension. The contract offers the full catalog of tiered discounts on end user computing and accessories, monitors, printing and imaging, PC lifecycle management, and implementation services. Eligible entities in the MHEC region include colleges, universities, K‐12 districts and schools, cities, states and local government. The contract is also available to these same entities of MHEC's sister compacts in the New England Board of Higher Education (NEBHE), the Southern Regional Education Board (SREB), and the Western Interstate Commission for Higher Education (WICHE). Access the list of available contracts on the MHEC website or contact Nathan Sorensen, MHEC director of government contracts, with any questions.
MHEC Commissioner Appointments
David Pearce
Executive Director for Government Relations
University of Central Missouri
Term: 5/24/2022 to 1/1/2026
Heath Mello
Vice President for External Relations
University of Nebraska System
Term: 6/6/2022 to 1/1/2023
MHEC Executive Committee Meets in Omaha
MHEC hosted its June Executive Committee meeting in-person in Omaha, Nebraska, June 6-7. Nebraska Senator Lynne Walz and Minnesota State Chancellor Devinder Malhotra, stepped in as the acting chairs to lead the meeting on Monday and Tuesday, respectively. Commissioners were welcomed by Nebraska's Governor Pete Ricketts. All 12 member states were represented for the meeting. Past Chair David Eisler, former president of Ferris State University (MI) was also present, serving as an executive officer.
Dr. Marysz Rames, president of Wayne State College, and Dr. Michael Keibler, executive director of the Cooperative Education and Industry Liaison for Wayne State College, shared an update on the Nebraska State College System's Growing Together Career Scholars Initiative. Commissioners also had the opportunity to tour the University of Nebraska Medical Center's (UNMC) Davis Global Center and hear from Dr. Jeffrey Gold, provost and executive vice president of the University of Nebraska System and chancellor of UNMC, and Dr. Pamela Boyers, associate vice chancellor of the Clinical Simulation, assistant professor of surgery at UNMC. Dr. Gina Ligon, director of the National Counterterrorism Innovation, Technology, and Education Center (NCITE), a U.S. Department of Homeland Security Center of Excellence, highlighted the importance of a midwestern metropolitan university winning this significant grant.

Commissioners approved the MHEC strategic plan, led by the work of Kathy Graves of Parenteau Graves. Updates will be provided in the upcoming weeks. Available resources from the meeting have been posted to the MHEC website. Commissioners also took action to approve the FY23 MHEC budget, as well as the approval of a two-year contract extension for Marsh, through October 31, 2024. MHEC is grateful to the Nebraska commissioners for hosting this meeting.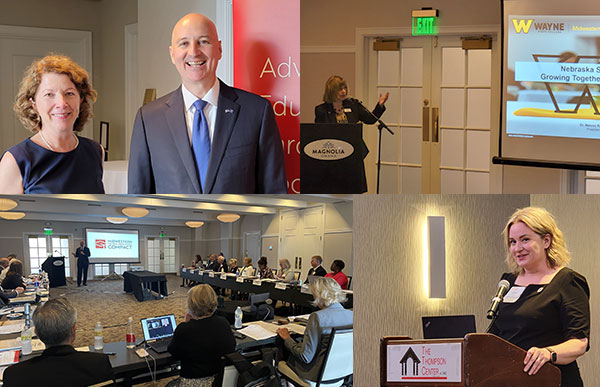 Pictured (top left, clockwise): MHEC President Susan Heegaard and Nebraska Governor Pete Ricketts; Dr. Marysz Rames, president of Wayne State College; Dr. Gina Ligon, director of NCITE; and Governor Ricketts speaking to MHEC's Executive Committee. More photos from the meeting are available on MHEC's Facebook page.
TEAM UPDATES
Jennifer Dahlquist, vice president, attended the American College Health Association (ACHA) 2022 Annual Meeting on Equity and Well-Being: The Future of College Health on May 31-June 4.
Nathan Sorensen, director of government contracts, attended the National Association of Educational Procurement (NAEP) 2022 Annual Meeting on June 5-8.

ARTICLES AND RESOURCES OF INTEREST
State Higher Education Finance (SHEF) Report
State Higher Education Executive Officers | June 14, 2022

Iowa's Public Universities Eye Expanding Online Education
The Gazette | June 5, 2022

North Dakota Public Colleges Drop Admissions Test Requirements Permanently
Higher Ed Dive | June 2, 2022
Governor DeWine Announces First Round of Collegiate Purple Star Awards
Office of Governor Mike DeWine | May 26, 2022
Credential Train Is Leaving the Station—Get on Board
Inside Higher Ed | May 25, 2022
Lawmakers Approve $93 Million for Mental Health Funding in Final Minutes of Legislative Session
Minnesota Reformer | May 25, 2022
Minnesota Legislature Approves Bill to Address 2021 Drought, Fund Broadband Infrastructure
MinnPost | May 23, 20233
Missouri is Expanding Access to Summer School this Year to Address Learning Loss
St. Louis Public Radio | May 23, 2022
A New Source for Mental Health Funds
Inside Higher Ed | May 20, 2022