NHEC News summarizes key policy and research, convenings, programs, contracts, articles of interest, and updates for members of the Midwestern Higher Education Compact. We welcome your feedback and suggestions.
College Graduates Less Likely to be Unemployed Across Midwest The latest update to MHEC's Interactive Dashboard shows that unemployment rates in the Midwest during the COVID-19 pandemic were typically lower among adults with at least some postsecondary education. For example, for adults with a bachelor's degree or higher, the unemployment rate in 2021 was 0.5 to 4.8 percentage points lower than the rate for adults with only a high school diploma. MHEC is awaiting data for 2022-23 to determine whether the employment benefits of a college degree have remained robust amidst significant labor shortages in various industries.
This indicator provides comparisons of the average unemployment rates among adults by educational attainment level. The unemployment rate is the average percentage (over a 12-month period) of persons aged 25 and older in the civilian labor force who are not employed, available for work (except for temporary illness), and have made specific efforts to find employment. The civilian labor force includes all people in the civilian noninstitutional population who are employed or seeking employment. Unemployment rates are available for all persons aged 25 and older and those who have attained less than a high school diploma; a high school diploma or equivalent; some college but no degree or an associate degree; and a bachelor's degree or higher. College certificates are included within the "some college/associate degree" category.
MHEC's Interactive Dashboard provides additional ways to visualize this data using bar charts, line graphs, maps, and tables. Selected benefits indicators are also available for MHEC states in the report Higher Education in Focus.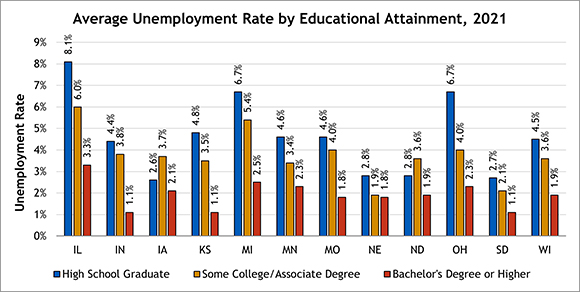 Source: Bureau of Labor Statistics. (2021). Employment status of the civilian noninstitutional population 25 years and older, by educational attainment .
WEBINAR
Creative Commons Certificate: Getting the Expertise You Need in Open Licensing
March 23, 2023
1:00 p.m. CT
Join MHEC and Jennryn Wetzler of Creative Commons (CC) for the webinar
Creative Commons Certificate: Getting the Expertise You Need in Open Licensing  Wetzler will provide an overview of the CC Certificate program, which offers in-depth courses about CC licenses, copyright, and open practices in its global, shared digital commons. Jessica Bastian of Illinois Central College will share her experience taking the CC Certificate, and how the training has impacted her work.
MHEC's contract with Creative Commons offers a 15% discount through June 2023 to staff and institutional members of MHEC and its sister compacts for existing and custom CC licensing for professional learning opportunities. Creative Commons is an international nonprofit organization dedicated to helping build and sustain a thriving commons of shared knowledge and culture. Through workshops, consultations and the Creative Commons Certificate, community members develop open licensing expertise and a deeper understanding of recommended practices for sharing. If you have any questions about this offering Jenny Parks, MHEC vice president.

WEBINAR
Tour of TAO
April 11, 2023
10:00 a.m. CT
Join TAO and learn about their latest interactive sessions to help students in their mental health learning journey in the upcoming webinar Tour of TAO. MHEC's contract with TAO  provides access to 24/7 mental health support with the flexibility for it to be used across many departments including student affairs, academics, healthcare, counseling, athletics, and more. Examples of the new assignment series include a First-Year Toolkit; De-Stress Success, and Improving Your Focus. If you have any questions about this offering or any of our additional student health solutions, please reach out to Jennifer Dahlquist, MHEC vice president.

Midwest Technology Leaders Convene to Consider Higher Education Changes Facing IT
MHEC's Technologies Community convened information technology (IT) innovators and specialists on February 23-24, for an annual conference focused on the theme of Tracing, Chasing, and Leading Change . Participants explored topics in leadership, the impact of the enrollment cliff, a Student Transformative Learning Record, human-ware, cybersecurity, and leveraging IT cooperative contracts. MHEC's Technologies Community discussed the changes, challenges, and opportunities in recruiting and retaining IT talent in the Midwest. Contact Deb Kidwell, director of technology initiatives, to learn more.
Resources Available from Past Events
Professional Licensure: Moving Beyond Minimal Compliance MHEC's recent webinar with Higher Education Licensure Pros, LLC (HELP) explains why an institution's courses and programs that lead to professional licensure need careful attention and monitoring for compliance purposes. HELP reviews current compliance requirements under current federal regulations, SARA policy, and potential future federal regulations. The webinar also covered processes and policies every institution needs to comply.
National Council for State Authorization Reciprocity Agreements Announces Presidential Search
The NC-SARA Board of Directors invites applications and nominations for the position of president. This opportunity will require a person of considerable experience, skill, and collaborative spirit. The board is looking for a capable leader, team builder, and manager of people, programs, and processes who can successfully engage constituencies across higher education community. The president reports to the board and works collaboratively with internal partners in the leadership, management, and strategic progression of the NC-SARA organization.
Commissioner Appointments
Indiana
Robert Behning
State Representative; Chair, Education Committee
Indiana General Assembly
Term: 7/1/2022 to 6/30/2024
Dennis Olson (reappointment)
Commissioner
Minnesota Office of Higher Education
Term: 2/17/2023 to 1/4/2027; Serves at the Pleasure of the Governor
Deborah A. Frison (reappointment)
Commission Member
Coordinating Commission for Postsecondary Education
Term: 1/2/2023 to 1/1/2027
Heath Mello (reappointment)
Vice President for External Relations
University of Nebraska System
Term: 1/2/2023 to 1/1/2027
Gary Cates (reappointment)
Senior Vice Chancellor
Ohio Department of Higher Education
Term: 3/10/2023 to 1/8/2027
Tom Young
State Representative; Chair, Higher Education Committee
Ohio Legislature
Term: 2/28/2023 to 1/1/2025
State Visits
President Susan Heegaard, MHEC president, will be joined by executive officers and MHEC staff at upcoming state visits with state higher education, legislative, and executive branch leadership in Indiana on March 28, Ohio on March 29, and Michigan on April 19. Over the last few weeks, staff have connected with commissioners and leaders in South Dakota, Kansas, Minnesota, Missouri, Wisconsin, Nebraska, Illinois, North Dakota, and Iowa.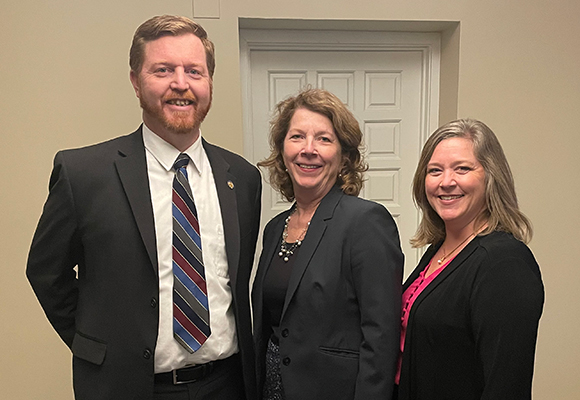 (L to R) Nebraska: Senator John Cavanaugh, MHEC President Susan Heegaard, and Treva Haugaard, Executive Director, Council of Independent Nebraska Colleges Foundation.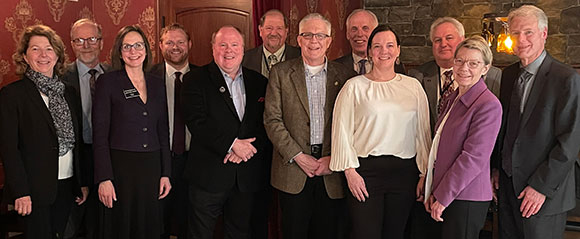 North Dakota state visit (L to R) North Dakota: Susan Heegaard, president of MHEC; Mark Hagerott, chancellor, North Dakota University System; Rep. Karla Rose Hanson; Jace Beehler, chief of staff for the North Dakota Governor's Office; Tim Flakoll, provost for Tri-College University; Rep. David Monson; Sen. Kyle Davison; Rep. Dennis Johnson; Rep. Brandy Pyle; Sen. Donald Schaible; Rep. Cynthia Schreiber-Beck; and Rob Trembath, COO and general counsel for MHEC.

(L to R) Iowa: Rob Trembath, COO/general counsel, MHEC; Mark Wiederspan, executive director, Iowa College Aid; Olivia Madison, governor's designee; Tim Fitzgibbon, governor's designee (alternate); Rep. Sharon Steckman, Emily Shields, executive director, Community Colleges for Iowa; Nancy Boettger, regent for Board of Regents, State of Iowa; Sen. Cindy Winckler; Susan Heegaard, president, MHEC; Derrick Franck, past board chair, Iowa Association of Community College Trustees; Rep. Jacob Bossman; and Dave Boettger.
MHEC is Hiring an Associate Director of Policy Initiatives
The Midwestern Higher Education Compact (MHEC) is currently looking for an
Associate Director of Policy Initiatives to join our team and help to further our mission of promoting excellence and access to higher education in the Midwest.
Open Educational Resources Work Highlighted at Southern Regional Education Board Conference
Jenny Parks, MHEC vice president, was a panelist for Making a Case for Student Success conference in Atlanta on March 2-3. The Southern Regional Educational Board focused on open educational resources and dual enrollment.
MHEC to Present at Higher Learning Commission Annual Conference
Jenny Parks, MHEC vice president, and Sara Appel, MHEC director of M-SARA, will present at the 2023 Higher Learning Commission (HLC) Annual Conference. Jenny will participate on a March 26 panel Holds on Student Records: Changing Dynamics. The presentation will examine how states and institutions are seeking ways to help students access their transcripts for use in furthering their education and seeking employment. Sara will co-present on a March 27 session Growing Awareness and Adoption of Comprehensive Learner Records (CLR). The presentation will focus on the expanding use of CLRs in postsecondary education and the workforce.

ARTICLES AND RESOURCES OF INTEREST
College students are struggling with the cost of textbooks. There's a push in Congress to make them free
Insider | March 3, 2023
Communities of Practice: Improving Equity and Opportunity Through Postsecondary Data
SHEEO | March 2, 2023
The U.S. Supreme Court Considers Student Debt Forgiveness
EdNote | February 28, 2023
Why Higher Ed Needs to Get on Board with Micro-credentials
University Business | February 23, 2023
Flagships Across the Country Prosper While Regional Colleges Wither
The Chronicle of Higher Education | February 13, 2023