POLICY & RESEARCH
Interactive Dashboard Highlights College Graduation by Family Income
MHEC's Interactive Dashboard provides the latest data on institutional graduation rates by family income. The figure below shows that graduation rates of lower-income students (specifically Pell Grant recipients) in the Midwest and nation were lower than the graduation rates of higher-income students across all types of institutions. However, the interactive dashboard shows that the graduation rates for lower-income students at public two- and four-year institutions in some Midwestern states were above the national average, including Iowa, Minnesota, and Wisconsin.
Institutional graduation rates are defined by the proportion of first-time, full-time students who graduate at their first institution. Graduation rates at two-year colleges are measured as the proportion of first-time, full-time certificate/degree-seeking students in the 2012-13 cohort who completed an associate degree or certificate at their first public two-year college or transferred to another institution within eight years. Graduation rates at four-year institutions are defined as the percentage of first-time, full-time, bachelor's degree-seeking students in the 2012-13 cohort who completed a bachelor's degree at their first four-year institution within six years (without accounting for transfer to another institution).
MHEC's Interactive Dashboard provides additional ways to visualize this data using bar charts, line graphs, maps, and tables. Selected college completion indicators are also available for MHEC states in the report Higher Education in Focus.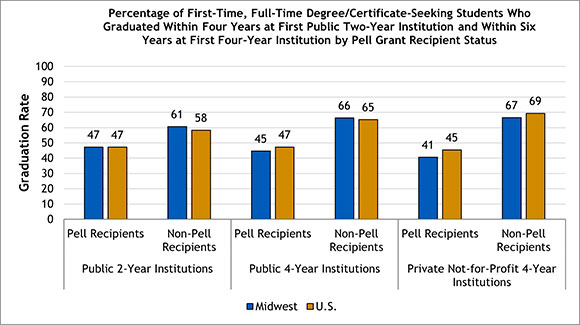 Source: NCES IPEDS. (2020). Outcome Measures.
Midwest Credential Transparency Alliance Panel Explores Successful Examples of Learning and Education Records in Member States; Recipients of Mini-Grants to be Announced
The Midwest Credential Transparency Alliance (MCTA), a collaborative initiative focused on advancing credential transparency across the Midwest, will meet May 19 to share examples of how states are exploring Learning and Education Records (LERs) or Comprehensive Learner Records (CLRs) to advance credential transparency.
Panelists include national experts and colleagues from the Midwest. Participants will discuss progress on establishing the cybersecurity credentials and pathways in the Midwest and learnings from a recent survey on legislation and policies that support career and technical education pathways.
MHEC and Credential Engine, who are partnering on the MCTA, will also announce the recipients of mini-grants. The awards of up to $20,000, will support progress toward credential transparency goals, with awardees serving as examples for other participating states. If you would like to stay informed, please indicate your interest by signing up for the MCTA list  server to stay informed. View the MCTA's webpage for background on the initiative and materials from prior meetings.
CONVENINGS
WEBINAR: Mission Promise Kept - A Living and Learning Community for Women Veterans
June 8, 2022
1:00 p.m. CT
Join MHEC staff for a webinar Mission Promise Kept - A Living and Learning Community for Women Veterans. Elizabeth Herrera, executive director of Mission Promise Kept, will highlight Stephen College's comprehensive college program designed to meet the needs of women veterans. She will share the features of this new program designed to empower women veterans to achieve educational, personal, and financial success.
WEBINAR: Concurrent Enrollment Coordinators on Graduate Credit Quest: A new tool to help coordinators help teachers find graduate courses
June 21, 2022 (Rescheduled Date)
1:00 p.m. CT
Join MHEC staff for the next webinar about Graduate Credit Quest (GCQ), our online platform to help concurrent enrollment teachers find the graduate courses they need to meet instructor qualification expectations established by the Higher Learning Commission (HLC).
The webinar, designed for concurrent enrollment program coordinators in schools, will introduce them to our new portal created specifically for them. The GCQ tool offers a way for program coordinators to connect with their teachers, recommend courses, and keep track of teachers' graduate credits and online communications with teachers. The site also contains information about concurrent enrollment work in each of the 12 MHEC member states as well as concurrent enrollment news and research. Best of all, participation is absolutely free to universities, coordinators, and teachers!
Resources Available from Past Events
Toward Convergence: Creating Clarity to Drive More Consistency in Understanding the Benefits and Costs of OER
This April 13 webinar highlighted MHEC's new report on methods for gauging the value and impact of Open Educational Resources (OER). Main graphics from the report are also now available on the MHEC website for download and remixing into presentations or for social media. Presenters: Tim Anderson, Minnesota State; Eddie Watson, American Association of Colleges and Universities; Katie Zaback, Zaback Consulting; and Jenny Parks, MHEC
CONTRACTS
Contract for Creative Commons Learning Opportunities Extended
MHEC has extended its contract with Creative Commons for existing and custom Creative Commons licensing for professional learning opportunities through June 2023. This contract offers a 15% discount to staff and institutional members of MHEC and its sister compacts: the New England Board of Higher Education (NEBHE), the Southern Regional Education Board (SREB), and the Western Interstate Commission for Higher Education (WICHE). Creative Commons is an international nonprofit organization dedicated to helping build and sustain a thriving commons of shared knowledge and culture. Through workshops, consultations and the Creative Commons Certificate, they help community members develop open licensing expertise and a deeper understanding of recommended practices for sharing. Contact Jenny Parks, MHEC vice president, with any questions.
MHEC Anticipated Technology Solicitations; Input on Data Analytics Survey Requested
MHEC is committed to providing notice of upcoming public solicitations. A list of anticipated upcoming Technology Solicitations for data analytics for student success, institutional efficiencies, and integration has been posted. We are seeking input from faculty, research, and administrative services on their use of data analytics solutions. To provide feedback on the type of solutions being used and regional interest in participating in this initiative, complete this brief data analytics survey. Solicitation announcements are formally published in the Minnesota State Register and on MHEC's news page. Contact Nathan Sorensen, MHEC director of government contracts, for more information.
New Contract Award for Dell End User Computing and Peripherals, Device Lifecycle Management, and Associated Services
A new contract has been awarded to
[Dell (MHEC-04152022) after a competitive solicitation for end user computing and peripherals, device lifecycle management, and associated services (MHEC-RFP-10282021). The contract is effective April 15, 2022, through June 30, 2025, with an option for a four-year extension. The contract offers the full catalog of Dell branded end user computing, peripherals, and device lifecycle management solutions. Associated services include Dell's professional services, APEX "as a service," flex on demand services, and managed services. Direct and indirect financing is available, including consumption options for purchases. Eligible entities in the MHEC region include colleges, universities, K‐12 districts and schools, cities, states and local government. The contract is also available to these same entities of MHEC's sister compacts in the New England Board of Higher Education (NEBHE), the Southern Regional Education Board (SREB), and the Western Interstate Commission for Higher Education (WICHE). Access the list of available contracts on our website or contact Nathan Sorensen, MHEC director of government contracts, with any questions.
PROGRAMS
May is Mental Health Month: MHEC Offers Virtual Options for Campuses to Serve Students' Needs
As many campuses recognize mental health awareness this month, MHEC reminds institutions that they can access providers that serve students' mental health needs through
MHECare Student Health Solutions. Services are offered virtually to alleviate institutional staffing and geographic constraints.
META Teletherapy for Student Mental Health Counseling Services
META Teletherapy provides mental health counseling services at a pre-negotiated, affordable rate. Institutions can access a nationwide network of licensed mental health providers. Institutions that implement META augment their mental health services by instantly improving their student-to-counselor ratio and expanding available times for counseling to include days, evenings, and weekends. META providers hold the industry's best response time, averaging a reply to initial messages from students in under six hours.
TAO Offers Accessible Mental Health and Wellness Resources
TAO Connect provides a suite of mental health and wellness modules, exercises, and resources to students, faculty, and staff at institutions. The agreement reflects a pre-negotiated, affordable rate created for public and private not-for-profit postsecondary institutions. TAO's services can be leveraged in multiple ways across campus, including student affairs, academics, healthcare, counseling, and athletics. MHEC member institutions will benefit from TAO's more than 150 interactive sessions on anxiety, depression, sleep, sexual violence, substance abuse, and more. Resources also include a library of mindfulness meditations, exercises, and journal prompts.
Both options are available to public and private not-for-profit postsecondary institutions in MHEC member states and its sister compact states the New England Board of Higher Education (NEBHE), the Southern Regional Education Board (SREB), and the Western Interstate Commission for Higher Education (WICHE). Contact Jennifer Dahlquist, MHEC vice president, with any questions.
COMMISSIONER NEWS
MHEC State Visits Conclude
MHEC President Susan Heegaard and MHEC Chief Operating Officer and General Counsel Rob Trembath closed out 2022 state visits on May 2, with a presentation to the North Dakota Higher Education Committee (3:18:41 PM). They also visited Minnesota, Michigan, and Wisconsin in April.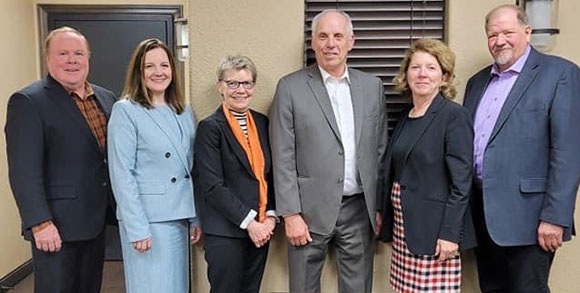 2022 North Dakota State Visit] Pictured (L to R) at the North Dakota State Visit: Provost Tim Flakoll, Tri-College University; Rep. Brandy Pyle; Cindy Schreiber-Beck; Rep. Dennis Johnson; President Susan Heegaard, MHEC; and Rep. David Monson. Flakoll and Pyle are MHEC commissioners, and Johnson is a former MHEC commissioner.
TEAM UPDATES
Shaun Williams-Wyche, associate director of research and data analysis, and Aaron Horn, associate vice president of research, gave a presentation of the MHEC Interactive Dashboard at the Association for Institutional Research Web Conference on April 21. A cohort of 30 higher education professionals who serve as IPEDS Educators attended the presentation on Leveraging IPEDS Data for MHEC's Interactive Dashboard.
ARTICLES AND RESOURCES OF INTEREST
Cybersecurity Has a Desperate Skills Crisis. Rural America Could Have the Answer
ZDNet | May 11, 2022
39M Students Have Left College Without Earning a Credential, Report Finds
Higher Ed Dive| May 10, 2022
Forty-one Institutions Selected to Participate in AAC&U's Institute on High-Impact Practices and Student Success
AAC&U | May 10, 2022
What Low FAFSA Applications Could Mean for the 2022-23 Academic Year
University Business | May 2, 2022
How CLRs can track skills to benefit students and universities
University Business | April 27, 2022
FAFSA Renewals Down 12%, Nearly 900,000 Students Through March 31
National College Attainment Network | April 27, 2022
Despite Stresses, Study Shows Students Value Higher Education
Public News Service | April 26, 2022
6 Principles for Measuring the Cost Savings of OER
Campus Technology | April 25, 2022
Workforce Development: Missouri Works Initiative Aims to Break Barriers, Help People Land Jobs
Springfield News Leader | April 23, 2022
Cyberattacks Pose 'Existential Risk' To Colleges—And Sealed One Small College's Fate
Forbes | April 19, 2022
© 2022 Midwestern Higher Education Compact