MHEC News summarizes key policy and research, convenings, programs, contracts, articles of interest, and updates for members of the Midwestern Higher Education Compact. We welcome your feedback and suggestions.
The Midwest has 36 Percentage Point Enrollment Gap between Low- and High-Income Families
MHEC's Interactive Dashboard now provides the latest data on college enrollment by family income. The figure below shows that 51% of young adults from low-income families in the Midwest had enrolled in college, compared to 70% of young adults from middle-income families and 87% of young adults from high-income families. Similar disparities in college enrollment are seen across the nation. The indicator shows the percentage of dependent 18- to 24-year-old residents who are currently enrolled or have completed some college or higher within family income quartiles of all households. Low income is delineated by the bottom quartile, middle income by the second and third quartiles, and high income by the top quartile.
MHEC's Interactive Dashboard provides additional ways to visualize this data using bar charts, line graphs, maps, and tables. Selected participation indicators are also available for MHEC states in the report Higher Education in Focus.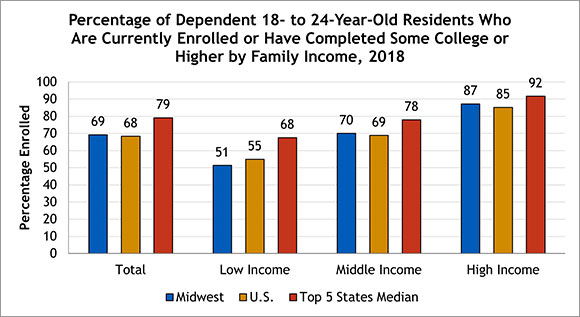 Source: U.S. Census Bureau. (2016, 2017, 2018, 2019, 2020). Current population survey. Five-year estimates. Top 5 States, 2016-2020: Total Population: NJ, IL, RI, NY, MD; Low Income: RI, NJ, NY, CA, IL; Middle Income: IL, NJ, NH, RI, MD; High Income: IL, KY, SD, MD, NJ.
Ohio Delegation Hosts Annual Commission Meeting on The Ohio State University Campus
MHEC commissioners convened in Columbus, Ohio, November 14-16. Commission Acting Chair Devinder Malhotra opened the meeting, and Past Chair David Eisler presided over the remainder of the meeting. All 12 member states were present. The following action items all passed by the member states and included:
Approval of ending the Master Property Program and helping the current members transition away from the program and assist where feasible in securing insurance coverage for the forthcoming policy year.
Approval of the FY 2022 audit report .
Approval of Commissioner Alternate Appointee Guidance.
Approval of MHEC bylaw amendment to Article III Section 1, which removed "The treasurer shall succeed to the office of vice chair upon completion of the vice chair's term of office."
Approval and Election of New Officers: Chair: Dr. Devinder Malhotra, Minnesota State Colleges and Universities; Vice Chair: Rep. Barbara Ballard, Kansas Legislature; Treasurer: Sen. Larry Tidemann, South Dakota Legislature; and Past Chair: Dr. David Eisler, Ferris State University
Guest presentations included:
During the business meeting, MHEC recognized Mr. McCabe for his long-time contributions to MHEC and for his upcoming retirement from CSG. Additionally, commissioners participated in optional tours of the OSU Stadium, Ohio Statehouse, and Wexner Center for the Arts. The meeting was held as the Pfahl Conference Center located on campus. Photos from the meeting and resources from the presentations are posted to the MHEC website.
New MHEC Leadership Elected for 2022-23
On November 15, commissioners elected new officers for the 2022-23 year: Dr. Devinder Malhotra, chancellor of Minnesota State, chair; Rep. Barbara Ballard, Kansas Legislature, vice chair; and Rep. Larry Tidemann, South Dakota Legislature and South Dakota governor's designee, treasurer. Dr. David Eisler, recently retired president of Ferris State University in Michigan, will serve as past chair. Dr. Malhotra has served as a MHEC commissioner since 2017, Rep. Ballard since 2005, Rep. Tidemann since 2019, and Dr. Eisler since 2004. Dr. Malhotra has also served as acting chair of the commission since February.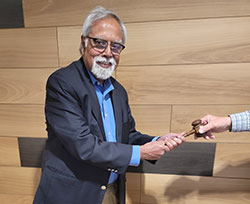 Chancellor Devinder Malhotra, Minnesota State
MHEC Commissioner Honored as MHEC's 2022 Phillip Sirotkin Award Recipient; Committee Members from Iowa and Ohio Receive Outstanding Service Award
During its November Commission Meeting, MHEC recognized three recipients  who approved by MHEC's Governance Committee and confirmed by the Commission.
Michigan Commissioner David Eisler, former president of Ferris State University and MHEC past chair, received the Phillip Sirotkin Award. Two Outstanding Service Awards were presented to Joseph Rayzor, director of risk management at the University of Northern Iowa, and
Jared Shank, senior director of military and apprenticeship initiatives and special projects for the Ohio Department of Higher Education's Articulation and Transfer Network.
Learn more about MHEC's awards and each of the recipients and their contributions to MHEC.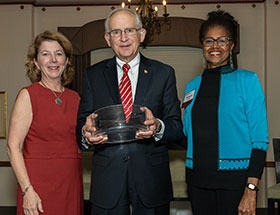 2022 MHEC Phillip Sirotkin Award (L to R): Susan Heegaard, MHEC; David Eisler, Ferris State University, and Barbara Ballard, Kansas House of Representatives.

Joseph Rayzor, University of Northern Iowa and Jared Shank, Ohio Department of Higher Education.
2022 MHEC Outstanding Service Awards (L to R): Joseph Rayzor, University of Northern Iowa; and Jared Shank, Ohio Department of Higher Education.
Resources Available from Past Events
Midwest Credential Transparency Alliance Quarterly Meeting
The quarterly meeting of the Midwest Credential Transparency Alliance (MCTA) was held on November 17. Guest presenter Nan Travers, director of the Center for Leadership in Credentialing Learning at SUNY Empire State College, shared details on the initiative "Credential As You Go."
This nationally recognized incremental credentialing system captures and validates uncounted learning to help individuals be recognized for what they know and can do. Participants also received an update on the hybrid convening held in October, and on consistent technical and business requirements from the work of the Pathways Action Team. View the MCTA's webpage for background on the initiative and materials from prior meetings.
Unlocking the Potential of Educational Resources: Creative Commons Certification
This November 9 webinar highlighted MHEC's contract with Creative Commons and provided an overview of its CC Certificate program, which offers in-depth courses about CC licenses, copyright, and open practices for their global, shared digital commons. Andrea Bearman of TrineOnline shared her experience in completing the CC Certificate.
Jenny Parks, vice president, co-presented with Jessica Espinosa, director of College Transitions for Minnesota State, at the 2022 NACEP National Conference. MHEC also co-hosted a booth to share information on MHEC's work in dual enrollment and share information about Graduate Credit Quest.
Shaun Williams-Wyche, associate director of research and data analysis, presented at the 2022 AIRUM Annual Conference on November 2-4.
MHEC hosted a regional networking session over breakfast at the EDUCAUSE Annual Conference on October 26. Attendees learned about MHEC's Technologies Community and the associated technology contract portfolio.
Deb Kidwell, director of technology initiatives, attended the MOREnet Annual Conference on October 17-20.

ARTICLES AND RESOURCES OF INTEREST
Infrastructure Investment and Jobs Act (IIJA) Implementation Resources
National Governors Association | November 10, 2022
The Nation's Report Card Is Back: What Do the Results Say? 
Education Commission of the States EDNote | November 3, 2022
The Edge: Putting 'Digital Equity' Into the Equation on EdTech Deals
The Chronicle of Higher Education | November 2, 2022
Top 10 IT Issues, 2023: Foundation Models
EDUCAUSE | October 31, 2022
MHEC Selects Dell APEX to Drive Digital Experiences in Higher Education
ecampus News | October 25, 2022
Academic Transfer Partnerships Designed to Meet Rural Student Needs
Inside Higher Ed | October 20, 2022
[Devinder Malhotra to retire as Minnesota State chancellor next year
Pioneer Press | October 19, 2022
[How Illinois Is Tackling the IT Talent Challenge
Government Technology | October 14, 2022