Hello,
Spring has officially arrived! From our headquarters in Minnesota, we've gone from record snowfalls to record high temperatures in just a week! While April is when we welcome warmer weather, it is also the month we celebrate the founding of MHEC – 32 years ago! We are close to wrapping our state visits and we are preparing for our Executive Committee Meeting in Madison, Wisconsin, this June. Here are other highlights:
Dashboard highlight: Participation Gap Indicator - Enrollment by Sex
Webinar Resources: NCOER and Creative Commons
M-SARA: SARA Policy Modification comment period and negotiated rulemaking
Commissioner Appointments: Illinois, Iowa, and Michigan
Our team has been busy participating in conferences and also presenting on our work. As always, we welcome your feedback and suggestions.
Policy & Research
Most Midwest States Outperform National Benchmark for College Enrollment by Sex
The latest update to MHEC's Interactive Dashboard shows that 70% to 79% of female and 56% to 73% of male young adults across Midwest states were enrolled or had completed some college in 2021, compared to an average of 73% of female and 62% of male young adults in the Midwest and 73% of female and 61% of male young adults nationally.
Illinois, Iowa, Kansas, Minnesota, Nebraska, North Dakota, and Wisconsin ranked above the national benchmark in college enrollment for both female and male young adults. The female-male enrollment gap was smaller than the national benchmark in Illinois, Kansas, Minnesota, Nebraska, North Dakota, Ohio, South Dakota, and Wisconsin. In addition, the online dashboard shows that enrollment rates recently declined more for male than female adults in several Midwest states.
Low male enrollment rates were frequently identified by MHEC commissioners as a concerning issue during recent state visits. Differential economic incentives for college enrollment appear to be a key factor underlying sex-based postsecondary enrollment disparities. Specifically, men with just a high school diploma generally have better job and wage prospects than do their female counterparts, which may lower the relative expected value of a college degree among men.1
This indicator shows the percentage of all 18- to 24-year-old adults in the state who are currently enrolled in college or have completed some college credit or a credential by sex. Respondents were instructed to report their sex as either female or male (intersex was not presented as an option). The data source does not include information about the respondent's gender identity (e.g., man, woman, non-binary, transgender). MHEC's Interactive Dashboard provides additional ways to visualize this data using bar charts, line graphs, maps, and tables. Selected enrollment indicators are also available for MHEC states in the report Higher Education in Focus.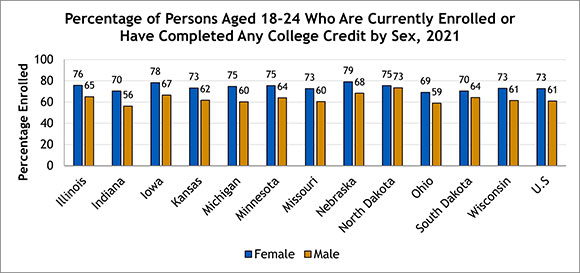 Source. U.S. Census Bureau. (2021). American Community Survey One-Year Public Use Microdata Sample.
1https://www.stlouisfed.org/on-the-economy/2022/mar/why-women-outnumber-men-college-enrollment
NCOER Webinar: Understanding Student Experiences of Renewable and Traditional Assignments
MHEC will host the National Consortium of Open Educational Resources (NCOER) webinar on May 10, to share how the New England Board of Higher Education (NEBHE) and its affiliated researchers recent study's finding show evidence of OER pedagogical benefits.

Resources Available from Past Events
Creative Commons Certificate: Getting the Expertise You Need in Open Licensing  MHEC's recent webinar with Creative Commons provides
an overview of the CC Certificate program, which offers in-depth courses about CC licenses, copyright, and open practices in its global, shared digital commons. Jessica Bastian of Illinois Central College shared her experience taking the CC Certificate. MHEC's contract with CC offers a 15% discount through June 2023 to staff and institutional members of MHEC and its sister compacts for existing and custom CC licensing for professional learning opportunities.
Public Comment Period Open on SARA Policy Modification Process
The proposed State Authorization Reciprocity Agreement (SARA) policy modifications are now open for public comment. Proposals on NC-SARA's policy modification can be viewed on the NC-SARA website. Please use the guidelines to ensure your comments move forward for consideration. The public comment will be made available after an initial review. The public comment period will close on May 17.

Negotiated Rulemaking Public Hearings Held
MHEC staff participated in the public hearings for Negotiated Rulemaking held on April 11-12, to monitor the discussions on defining distance education, third party servicers, and institution eligibility and how these issues might impact the Compact's work in the Midwestern-State Authorization Reciprocity Agreement (M-SARA). Written comments will be accepted until April 24.
Commissioner Appointments
Maureen Banks
Board Member
Illinois Community College Board
Term: 3/24/2023 to 3/24/2027
Michael Halpin
State Senator; Co-chair, Higher Education Committee
Illinois General Assembly
Term: 3/21/2023 to 1/2/2025
Pranav Kothari
Public Member
Illinois Board of Higher Education
Term: 3/15/2023 to 1/1/2027
Olivia Madison (reappointment)
Iowa Governor's Designee
Term: 5/1/2023 to 4/30/2025 Serves At the Pleasure of the Governor
Timothy Fitzgibbon (reappointment)
Iowa Governor's Designee (alternate)
Term: 5/1/2023 to 4/30/2025 Serves at the Pleasure of the Governor
Sean McCann
State Senator; Chair, Universities and Community Colleges Appropriations Subcommittee
Michigan Legislature
Term: 4/10/2023 to 1/8/2025
 
State Visits
Susan Heegaard, MHEC president, was joined by Rob Trembath, chief operating officer and general counsel at the final state visit in Michigan on April 19-20. Over the last few months, staff have connected with commissioners and leaders in all MHEC's member states.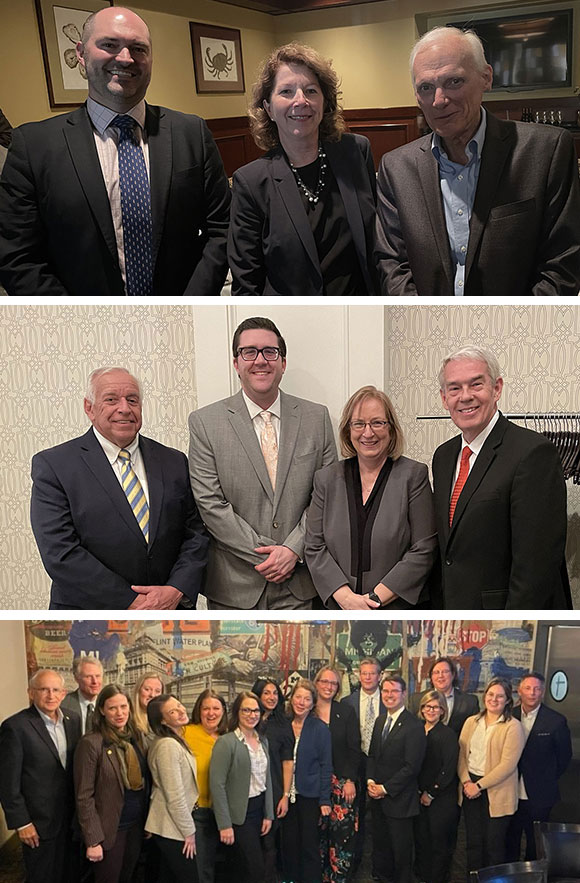 Pictured (Top L to R): Matt Butler, Senior Policy Advisor for Education & Workforce, Office of Governor Eric Holcomb; Susan Heegaard, President, MHEC; and Dr. Ken Sauer, Senior Associate Commissioner and Chief Academic Officer, Indiana Commission for Higher Education.
(Middle L to R): Gary Cates, Senior Vice Chancellor, Ohio Department of Higher Education; Nicholas Derksen, Director, Legislative and External Affairs, OHDE; and Laura Lanese, President, Inter-University Council of Ohio; Chancellor Randy Gardner, OHDE.
(Bottom L to R): Dr. David Eisler, Professor of Music and Former President; Ferris State University; Rob Trembath, Chief Operating Officer and General Counsel, MHEC; Rep. Carol Glanville; Jamie Jacobs, Deputy Director, Michigan College Access Network; Rep. Samantha Steckloff; Brandy Johnson, President, Michigan Community College Association (MCCA); Colby Spencer Cesaro, Vice President, Michigan Independent Colleges & Universities (MICU); Avazeh Atari, Program Administrator, Sixty by 30; Susan Heegaard, President, MHEC; Michelle Richard, Senior Education Advisor, Executive Office of Governor Gretchen Whitmer, Dr. Dan Hurley, CEO, Michigan Association of State Universities (MASU); Sen. Sean McCann; Erica Lee Orians, Vice President and Executive Director, Michigan Center for Student Success at MCCA; Bob Murphy, Chief Policy Officer, MASU; Rebecca McDonald, Budget and Policy Analyst, State
IPEDS Technical Review Panel
Shaun Williams-Wyche, associate director of research and data analysis, attended the Integrated Postsecondary Education Data System (IPEDS) Technical Review Panel (TRP) and the National Postsecondary Education Cooperative (NPEC) IPEDS meetings from March 21-23 in Washington, DC. IPEDS TRP meetings are held periodically to obtain peer review of IPEDS-related project plans and products from a selected panel of about 30 institutional researchers in the field. The NPEC panel is composed of about 15 institutional researchers who meet periodically to promote the quality, comparability, and utility of postsecondary data.
Northeast Regional OER Summit
Jenny Parks, vice president, co-presented at the Northeast Regional OER Summit on April 4. The session titled Open Education Across the Nation: The Regional Educational Compacts Weigh In provided an update on the collaborative work of the National Consortium of Open Educational Resources.
WICHE Academic Leadership Forum
Jennifer Dahlquist and Jenny Parks, vice presidents, will attend the Western Academic Leadership Forum on April 26-28, hosted by the Western Interstate Commission for Higher Education (WICHE). The forum's annual meeting theme is Higher Education: Creating Pathways for Brighter Futures.
NASASPS 2023 Annual Conference
Sara Appel, director of M-SARA, and Leah Reinert, policy and research manager, will attend the National Association of State Administrators and Supervisors of Private Schools (NASAPS) 2023 Annual Conference on April 30-May 1. The conference will highlight a variety of issues most relevant to higher education regulators and stakeholders.
NC-SARA Board Meeting
Susan Heegaard, president, and Sara Appel, director of M-SARA, will attend the NC-SARA Spring Board Meeting on May 9-11, in Kansas City. Additional details regarding the public session are posted to the NC-SARA website.
Articles and Resources of Interest
Hearings Kick Off Negotiated Rule Making
Inside Higher Ed | April 17, 2023
3 state budget trends to watch for higher education
HigherEd Dive | April 13, 2023
Federal Outsourcing Guidance Prompts Concern of Unintended Consequence
Inside Higher Ed | April 3, 2023
Governors Prioritize Postsecondary Education Pathways In 2023 State of the State Addresses
National Governors Association | March 27, 2023
Treating Farm Families Unfairly?
Inside Higher Ed | March 20, 2023
K-12 enrollment lagged projections by 2% in 2021, revealing college pipeline cracks
Higher Ed Dive | March 1, 2023
Why higher ed needs to get on board with micro-credentials
University Business | February 23, 2023