MHEC News summarizes key policy and research, convenings, programs, contracts, articles of interest, and updates for members of the Midwestern Higher Education Compact. We welcome your feedback mhec@mhec.org and suggestions.
Need-Based Grant Aid Increased in Several Midwestern States
The latest data available on MHEC's Interactive Dashboard shows that need-based grant aid per full-time equivalent (FTE) undergraduate student increased from 2018-19 to 2019-20 in eight states (Illinois, Iowa, Kansas, Michigan, Missouri, Nebraska, North Dakota, and Ohio). The need-based award per FTE decreased during this same period in three states (Indiana, Minnesota, and Wisconsin), and remained the same in one state (South Dakota). Average grant aid amounts in three states (Illinois, Indiana, and Minnesota) were higher than the regional and national averages. Need-based grant aid includes all grant aid distributed through state programs that have financial need as a criterion for student eligibility. This indicator also includes aid awarded through hybrid programs that combine financial need and merit criteria, but funding through programs based solely on academic merit or other factors is excluded.
Need-based grant aid programs generally define financial need in terms of a maximum income limit, an expected family contribution (EFC), or the difference between the EFC and cost of attendance. Grant aid amounts include awards to undergraduate students attending any eligible postsecondary institution, including public, private not-for-profit, and private for-profit institutions. An overview of state grant-aid programs and policy options is available online.
MHEC's Interactive Dashboard provides additional ways to visualize this data using bar charts, line graphs, maps, and tables. Selected finance indicators are also available for MHEC states in the report Higher Education in Focus.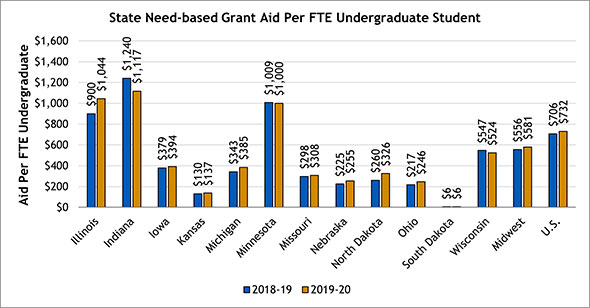 Source: National Association of State Student Grant and Aid Programs. (2019, 2020). Annual survey report on state-sponsored student financial aid. Estimates have been adjusted for inflation to 2020 dollars using the Consumer Price Index.
New Report in College Affordability and Finance Series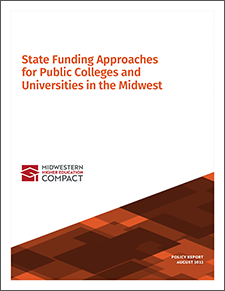 A new publication is available in the college affordability and finance series, State Funding Approaches for Public Colleges and Universities in the Midwest. The report details how Midwestern states provide operating revenue for public postsecondary institutions; provides an overview of some possible tradeoffs of funding approaches; and summarizes research on the effects of different funding mechanisms. Among the findings, the report shows that most states in the Midwest utilize a funding formula based on student enrollment, performance, and/or a percentage change from the prior year's funding level. These funding approaches come with some distinct tradeoffs that can affect funding volatility, equity, and state higher education goals. Moreover, a summary of outcomes research provided evidence that some funding models may be more effective than others. Performance-based funding models in particular have had limited positive and sometimes negative effects on the number of credentials completed. In contrast, a recent study suggests that funding based on student enrollment may be equally or more effective in producing degrees compared to other funding models. The report concludes with a set of policy options for guiding efforts to evaluate and improve state funding approaches, such as designing formulas to increase educational attainment, promote operational efficiencies, and support students who have been historically underserved in higher education.
MHEC and Credential Engine Preview Plans for October
Convening MHEC and Credential Engine provided a preview of the planned October 10 and 11 in-person convening. This collaborative advances credential transparency across the Midwest. Dr. Blake Flanders, CEO and president of the Kansas Board of Regents and a MHEC commissioner, will provide the keynote address. The quarterly meeting also included a summary of state examples of Career and Technical Education Pathways legislation that will be featured and shared in an upcoming report. If you would like to stay informed, please indicate your interest by signing up for the MCTA list. View the MCTA's webpage for background on the initiative and materials from prior meetings.
MHEC Advances Open Educational Resources with Advocates and Vendors
Over the past few months, MHEC has convened conversations to inform Open Educational Resources (OER) state advocates about the features, functions, and capabilities of the current technology tools on the market. These conversations also provided a forum between the Midwestern OER community and the marketplace to help vendors continue to develop new tools and improve existing ones. The working group used a Miro board to capture the areas where technology intersects with OER, challenges associated with OER and IT, and technology needs. This brainstorming activity brought to light the technology challenges around authoring and publishing OER, as well as the difficulties of navigating the current marketplace. MHEC organized a series of webinars to gain more insight into the features, functions, and capabilities of various tools and platforms that can be used for authoring and publishing OER.
Recordings and presentations from this series of meetings are available on MHEC's website.
WEBINAR: Unlocking the Potential of Educational Resources: Creative Commons Certification
October 4, 2022
1:00 p.m. CT
Join us for our upcoming webinar [Unlocking the Potential of Educational Resources: Creative Commons Certification. Jennryn Wetzler of Creative Commons will provide an overview of its CC Certificate program, which offers in-depth courses about CC licenses, copyright, and open practices for their global, shared digital commons. Alumna Andrea Bearman of TrineOnline will share her experience in completing the CC Certificate, and how she's used this knowledge. MHEC's contract with Creative Commons for existing and custom Creative Commons licensing for professional learning opportunities is available through June 2023. This contract offers a 15% discount to staff and institutional members of MHEC and its sister compacts: the New England Board of Higher Education (NEBHE), the Southern Regional Education Board (SREB), and the Western Interstate Commission for Higher Education (WICHE). Creative Commons is an international nonprofit organization dedicated to helping build and sustain a thriving commons of shared knowledge and culture. Through workshops, consultations and the Creative Commons Certificate, community members develop open licensing expertise and a deeper understanding of recommended practices for sharing.
Resources Available from Past Event
Licensure Level-Set: Why Institutional Leaders Should Prioritize this Work
This August 17 webinar highlighted support for stakeholders in the area of professional licensure. While institutions must comply not only with state authorization regulations, they also need to adhere to regulations pertaining to professional licensure programs. As the State Authorization Reciprocity Agreements (SARA) does not fully address this aspect of compliance work, MHEC is supporting its compliance community with assistance from Higher Educational Licensing Pros, LLC (HELP). Kris Maul, J.D., and Nan Kalke, Ph.D., principals of HELP, introduced the requirements and work required to comply with federal regulations pertaining to professional licensure and explained how this work is of critical importance to institutions.
New Contract Awarded to Lenovo (United States) Inc. for End User Computing and Peripherals, Device Lifecycle Management, and Associated Services
A new contract has been awarded to Dell Lenovo (United States) Inc. MHEC-06302022 after a competitive solicitation for end user computing and peripherals, device lifecycle management, and associated services MHEC-RFP-10282021.
The contract is effective July 1, 2022, through June 30, 2025, with an option for a four-year extension. It features a full catalog of tiered discounts on end user computing and peripherals, device lifecycle management, associated services, and financing. Eligible entities in the MHEC region include colleges, universities, K‐12 districts and schools, cities, states and local government. The contract is also available to these same entities of MHEC's sister compacts in the New England Board of Higher Education (NEBHE), Southern Regional Education Board (SREB), and Western Interstate Commission for Higher Education (WICHE). Access the list of available contracts on MHEC's website or contact Nathan Sorensen, MHEC director of government contracts, with any questions.
MHEC Seeks Competitive Solicitations for Data Analytics
MHEC is competitively soliciting proposals for innovative and cost-effective Data Analytics for Student Success, Institutional Efficiencies, and Integration (MHEC-RFP-08152022). MHEC believes that developing a region-wide acquisition strategy through one or more providers will benefit both the higher education community and the provider(s). MHEC is seeking competitive solicitations with the intent to negotiate master agreement terms and conditions, licensing, and pricing. The resulting master agreement will allow an institution to focus most of its energy on finding the technology solution that best fits its needs. The result of a master agreement facilitates a direct relationship between the technology provider(s) and institution(s) and contains discounted pricing as well as terms and conditions that are better than most higher education institutions can negotiate individually. Contact Nathan Sorensen, MHEC director of government contracts, for more information.
Appreciation for Service
Illinois
Ms. Suzanne Morris
Term Completion April 2022
Indiana
Dr. David Wantz
Retired June 2022
Ms. Teresa Lubbers
Retired April 2022
Minnesota
Senator David Tomassoni
Passed Away August 11, 2022
Nebraska
Dr. Susan Fritz
Retired June 2021, Term Completion June 2022
South Dakota
Senator V.J. Smith
Term Completion May 2022
Wisconsin
Dr. Rolf Wegenke
Retired August 2022
Members of MHEC's policy and research team attended the State Higher Education Executive Officers (SHEEO) Higher Education Policy Conference  on August 8-11: Jenny Parks, vice president; Sara Appel , associate director for policy initiatives; Aaron Horn, associate vice president of research; and Shaun Williams-Wyche, associate director of research and data analysis.
Members of MHEC's Policy and Research team at SHEEOed Conference.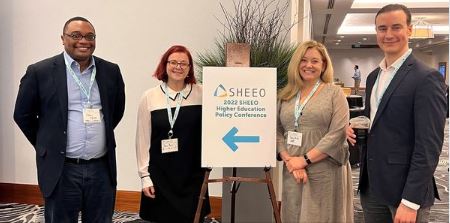 Pictured (L to R): Williams-Wyche, Appel, Parks, and Horn.
Members of MHEC's programs and contracts team attended the Vermont Captive Insurance Association Annual Conference  on August 8-11: Jennifer Dahlquist, vice president; and Carla Ahrens, associate director of MPP.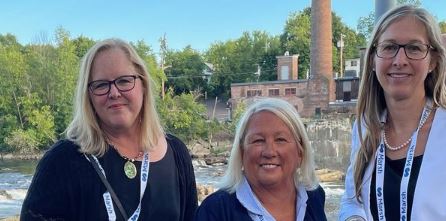 Pictured (L to R): Jennifer Pettengill of Marsh Captive Solutions, Ahrens, and Dahlquist.
ARTICLES AND RESOURCES OF INTEREST
Iron Range Sen. Tomassoni, diagnosed with ALS, dies at 69
MPR | August 12, 2022
A Best-Selling Textbook Is Now Free
Inside Higher Ed | August 11, 2022
Forget 4 Years: Colleges Struggle to See Students Complete Degrees in 5
University Business | August 2, 2022
A Growing Number of Americans are Questioning the Value of Going to College
NPR | July 26, 2022
NC-SARA Board of Directors Announces Leadership Changes
NC-SARA | July 25, 2022
A Street-by-street View of Digital Inequity in the United States
Microsoft On the Issues | July 14, 2022
How much federal coronavirus relief funding has gone to colleges in each state?
Higher Ed Dive | July 13, 2022
Business Officers Upbeat Despite Major Headwinds
Inside Higher Ed | July 13, 2022
The Great Attrition is making hiring harder. Are you searching the right talent pools?
McKinsey & Company | July 13, 2022
Deadline for Dual Credit Faculty Qualifications Requirements Extended to 2025
The Leaflet | July 2022
Research Priorities for Advancing Equitable Dual Enrollment Policy and Practice
CHERP, University of Utah | July 2022