Summer 2023 is in full swing with meetings and conferences picking up. MHEC welcomed its Technologies Executive Committee to Minneapolis in June. Compact staff were pleased to be part of the Midwestern Legislative Conference this month.
Latest News: MHEC Goodbye to Jennifer Dahlquist and Hello to Beth Ellie
Policy & Research: Dashboard - 8th Grade Achievement by Income
Convenings: Expanding Professional Licensure Responsibilities
Contracts: Ease Learning and Oracle Updates
Commissioner Appointments: Iowa, Missouri, and North Dakota
Since the MHEC Executive Committee Meeting last month, we have learned that the Post-Secondary Employment Outcomes (PSEO) Census has added new data from Minnesota and Wisconsin, and data is pending from Illinois.
As always, the Compact welcomes your feedback and suggestions.
Latest News
MHEC Says Goodbye to Jennifer Dahlquist and Welcomes Beth Ellie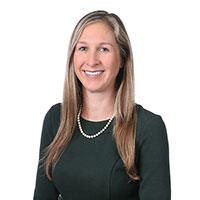 MHEC's long-time colleague, Jennifer Dahlquist, has announced her upcoming departure from MHEC. Ms. Dahlquist, who has been with the Compact for 24 years has seen her role evolve over the years. She was initially hired at MHEC during her time as a public policy master's student while completing her degree at the University of Minnesota's Hubert H. Humphrey School of Public Affairs.
Throughout the years she has served in a number of leadership roles concluding with her current role of vice president where she has overseen MHEC's risk management offerings and administered the Compact's technology portfolio. During her tenure, Dahlquist led the development of numerous key initiatives, such as the e-Transcript Initiative, MHEC's student health collective, MHECare, and the establishment of MHEC's single-parent captive, Stone Arch Insurance Company.
"I was honored to work with so many mission-driven individuals in my career at MHEC. MHEC has a unique capacity to bring constituents together, build strong relationships, and drive solutions," she said. "I am proud of my ability to help our member states think about new ways to address risk, especially with the creation of Stone Arch. I look forward to watching MHEC's continued success from afar."
Ms. Dahlquist's last day at MHEC is August 4. She will begin a position in the captive insurance industry. We will miss Jennifer's many valuable contributions to MHEC and wish her well in her new role!
MHEC welcomed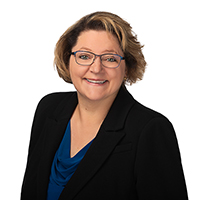 Beth Ellie this month as the Compact's new associate director of policy initiatives. Dr. Ellie will work with MHEC's Policy and Research team, initially leading the compact through the next phase of the Midwest Student Exchange Program. She will support concurrent enrollment efforts and facilitate ongoing work with credentialing.
"I am thrilled to be part of the MHEC team to collaborate with state education departments, higher education systems, and universities to drive innovation and collaboration in higher education," she said. "MHEC's initiatives are essential to expanding access, reducing costs, and informing evidence-based decision-making. By fostering these partnerships, we aim to enhance access to resources, boost graduation rates, and ensure every student's success aligns with the goal of improving individual career readiness and promoting regional economic vitality."
Dr. Ellie has served in leadership roles in accreditation, evaluation, program review, strategic planning, and institutional research for the Wisconsin Technical College System for the last 15 years.
8th Grade Achievement Declined After the Pandemic Across Income Groups in the Midwest
The percentage of students in grade 8 scoring at or above proficiency on the National Assessment of Educational Progress (NAEP) provides an early indicator of college readiness. The latest update to MHEC's Interactive Dashboard shows that proficiency rates in math and reading among 8th graders from both low- and higher-income families decreased in the Midwest between 2019 and 2022, marking the periods immediately before and after the height of the COVID-19 pandemic. The data also confirm that a much larger percentage of students from higher-income families were proficient in these subject areas, consistent with long-standing trends.
Family income in this indicator was determined by whether students qualified for free- or reduced-price lunch (FRPL) in the National School Lunch Program. FRPL students were classified as low income, and non-FRPL students were classified as higher income. Family income at or below 130 percent of the federal poverty level qualifies students for free lunch, and family income between 130 and 185 percent of the federal poverty level qualifies students for reduced-price lunch.
MHEC's Interactive Dashboard provides additional ways to visualize this data using bar charts, line graphs, maps, and tables. Selected preparation indicators are also available for MHEC states in the report Higher Education in Focus.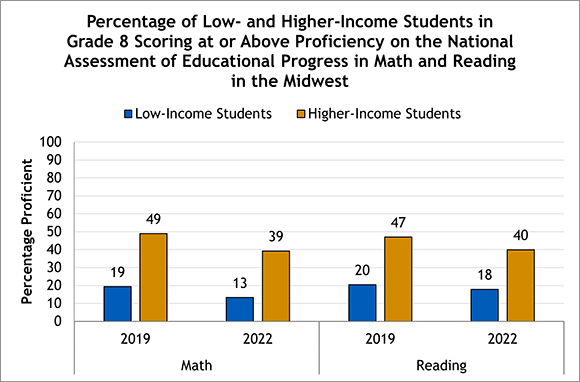 Source. National Center for Education Statistics. (2022). National Assessment of Educational Progress.
Resources Available from Past Events
MHEC's recent webinar Expanding Professional Licensure Responsibilities: What the Department of Education's Proposed Changes Mean to Your Institution reviewed the proposed Title IV Certification Procedures regulations released May 19. MHEC invited the Higher Education Licensure Pros, LLC (HELP) to share how the proposal's expansion of professional and occupational licensure-related responsibilities will impact institutions. The webinar covered how best to influence the final regulations and how best to prepare. The recording and additional resources from HELP are available on the MHEC website.
Ease Learning Contract Extended to 2025
MHEC's addendum for instructional design and instructional training services with Ease Learning (Contract #MHEC01292021) has been extended until August 1, 2025, with with two options to renew the contract under the same terms and conditions for a period of twenty-four months. This contract was competitively bid and is available to higher education institutions (public and private not-for-profit) in the MHEC region.
Oracle Extends Contract to K-12 District and Schools
MHEC's contract with Oracle (#MHEC US-OMA-1164550) offers information technology solutions for complex enterprise resource planning (ERP) administrative systems. The competitively sourced contract is available to all public and not-for-profit higher education institutions and now also includes K-12 districts and schools in the MHEC region and within MHEC's sister compact regions.
M-SARA Regional Steering Committee and State Portal Entity Staff Convene
The Midwestern State Authorization Reciprocity Agreement (M-SARA) annual meeting of Regional Steering Committee (RSC) members and State Portal Entity (SPE) staff met on July 18-20. The meeting included representatives from all participating states and from the National Council for State Authorization Reciprocity Agreements. Highlights of the meeting included updates on negotiated rulemaking, the proposed 2024 policy modification process, action on three state renewals, best practices for federal responsibility composite scores, and technology updates.
Iowa
Joanna Hofer
Board Chair
Iowa Association of Community College Trustees
Term: 7/24/2023 to 7/1/2025
Mark Wiederspan (reappointment-alternate)
Executive Director
Iowa College Aid
Term: 7/1/2023 to 7/1/2025
Missouri
Samantha Dickey
Interim Assistant Commissioner for Postsecondary Policy
Missouri Department of Higher Education & Workforce Development Term: 7/17/2023; Serves At the Pleasure of the Governor
North Dakota
Kyle Davison (reappointment)
State Senator, Member, Appropriations Committee
North Dakota Legislative Assembly
Term: 8/1/2023 to 7/31/2025
Mark Hagerott (reappointment) Chancellor
North Dakota University System
Term: /1/2023 to 6/30/2027
Brandy Pyle (reappointment)
State Representative; Member, Appropriations Committee
North Dakota Legislative Assembly
Term: 8/1/2023 to 7/31/2025
Connect with MHEC Staff at SHEEO Higher Ed Policy Conference
Jenny Parks, vice president, will co-present on Open Education Across the Nation: The Regional Education Compacts Weigh In August 9 at the State Higher Education Executive Officers (SHEEO) Higher Education Policy Conference. Connect with her, Rob Trembath, chief operating officer and general counsel, and other members of MHEC's policy and research team in Denver: Beth Ellie, associate director of policy initiatives; Aaron Horn, associate vice president of research; and Shaun Williams-Wyche, associate director of research and data analysis.
Midwestern Legislative Conference
Susan Heegaard, MHEC president, presented to the Midwestern Legislative Conference in Detroit July 9-12. She shared data about our region and had an opportunity to interact with Midwest legislators and hear the challenges and issues they are facing in their states.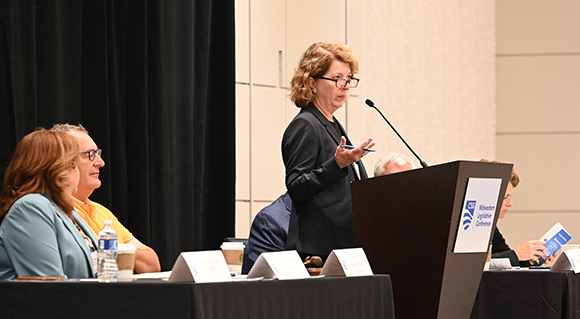 MHEC President Susan Heegaard presents during the business meeting of the Midwestern Legislative Conference.
SHEEO Annual Meeting
Susan Heegaard, MHEC president, participated in the State Higher Education Executive Officers (SHEEO) annual meeting July 17-20, in Portland as a past SHEEO and compact leader where she enjoyed connecting with higher education and other leaders from across the country.
Articles and Resources of Interest
Public Trust in Higher Ed Has Plummeted. Yes, Again.
The Chronicle of Higher Education | July 11, 2023
Consumer Awareness: Curating Information About Higher Education
Higher Learning Commission | July 2023
Supreme Court decision on student debt forgiveness leaves Midwest students disappointed and worried
U.S. Department of Education | June 30, 2023
U.S. Supreme Court says colleges that consider race in admissions violate Constitution
The Star Tribune | June 29, 2023
The Hollowing Out of Higher Education
The Chronicle of Higher Education | June 28, 2023
Here's how University of Nebraska system plans to fix its $58M shortfall
Higher Ed Dive | June 23, 2023
Many Student Veterans Must Borrow or Work to Cover Housing Costs
Pew Charitable Trusts | June 20, 2023