Hello,
This time of year brings a flurry of activity for campuses as they close out another school year and hold graduation ceremonies. And while the daily news reminds us of the challenges our member states and higher education are facing, MHEC remains committed in its service to support you, regardless of your role on campus or in your state, so that students reach their postsecondary goals.

Check out this month's resources and activities:
Policy and Research: Dashboard highlight on FAFSA Completion Rates and OER course marking survey
Convenings: Expanding professional licensure responsibilities and research on the role of open pedagogy in increasing student engagement
Contracts: Upcoming Technology Solicitations [Programs <#Programs>] : SARA Policy Modification Public Forum[Commissioner Appointments
Commissioner Appointments: Iowa and Missouri.
As always, we welcome your feedback and suggestions.
FAFSA Completion Rates Declined in Most Midwest States During the COVID-19 Pandemic
During the recent round of MHEC state visits, great interest was expressed in FAFSA related policies. MHEC is excited to share the latest update to MHEC's Interactive Dashboard that shows rates of completing the Free Application for Federal Student Aid (FAFSA) among high school seniors decreased in the Midwest from an average of 58% in 2019 to 52% in 2022, compared to a similar decline nationally from 59% to 52%. Declines in specific Midwest states ranged from three to nine percentage points. Illinois is the only Midwest state with an increase in the FAFSA completion rate between 2019 and 2022. Beginning with the 2020-21 academic year, high school seniors in Illinois have been required to complete the FAFSA or the Alternative Application for Illinois Financial Aid to be eligible for a high school diploma.1
This indicator measures the percentages of high school seniors who completed the FAFSA by June 30 of the specified year to obtain aid for the following academic year. The filing rates in 2022, for instance, represent the percentages of high school seniors in the class of 2022 who completed a FAFSA by June 30 of 2022 to receive financial aid during the 2022-23 academic year. The dashboard also allows users to view the percentage of high school graduates who completed the FAFSA.
MHEC's Interactive Dashboard provides additional ways to visualize this data using bar charts, line graphs, maps, and tables. Selected affordability indicators are also available for MHEC states in the report Higher Education in Focus.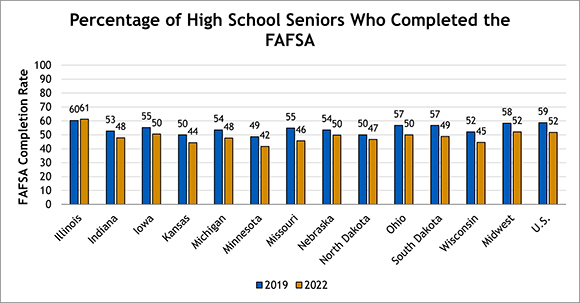 Source. NCAN. FAFSA Completion Rates for High School Seniors and Graduates. 1Illinois Student Assistance Commission. (2023). Illinois financial aid application requirement: Training and support. Illinois Student Assistance Commission. https://www.isac.org/pd/fafsa-mandate.html
MHEC Launches Survey on OER Course Marking Landscape
MHEC invites persons with oversight for the course marking process at the institution or system level to participate in a survey designed to assess the landscape of course marking of open educational resources (OER) in postsecondary institutions and systems in the United States. The survey is a collaborative effort of the National Consortium of Open Educational Resources (NCOER), a partnership of the four higher education regional compacts - MHEC, New England Board of Higher Education, Southern Regional Education Board, and Western Interstate Commission for Higher Education - focused on increasing access, affordability, and equity of OER.
By completing the survey, you will be contributing knowledge to assist in communication and development of promising practices related to the collection, sharing, and analysis of course marking related to OER. These practices will help institutions and students. The survey may take 15-20 minutes to complete fully and a copy of the questions is available. Respondents to the survey can share their email addresses to receive a summary of the results. The survey will close at 11:59 pm MDT on Friday, June 16. Contact OER@mhec.org with any questions.
Webinar - Expanding Professional Licensure Responsibilities: What the Department of Education's Proposed Changes Mean to Your Institution
Wednesday, June 28, 2023
1:00 p.m. CT
The U.S. Department of Education is expected to release proposed Title IV Certification Procedures regulations in May. The proposal will likely include an expansion of professional and occupational licensure-related responsibilities for institutions, with the possible need for institutions to ensure their programs meet all educational requirements for licensure. MHEC will host the Higher Education Licensure Pros LLC in the upcoming webinar Expanding Professional Licensure Responsibilities: What the Department of Education's Proposed Changes Mean to Your Institution. Learn about the proposed changes, the impacts on your institution, how to best prepare for the proposed changes, and your opportunities to influence the final regulations.
Resources Available from Past Events
Understanding Student Experiences of Renewable and Traditional Assignments The recent National Consortium of Open Educational Resources (NCOER) webinar provides an overview of the recent study's finding on the role of open pedagogy in increasing student engagement. The study was conducted by New England Board of Higher Education (NEBHE) and its affiliated researchers.
Contracts
MHEC Technology Solicitations: Stay Informed about Upcoming Opportunities
MHEC is committed to notifying the public about upcoming technology solicitations. These solicitations will include:
Next-Generation Higher Education Enterprise Resource Planning (ERP) systems
Managed Document Services (MDS) and Enterprise Document Management Solutions (EDMS)
MHEC will conduct thorough research to define the solution objective and identify potential providers that meet the requirements of the higher education community. Over the next few months, MHEC will seek a diverse group of individuals who are knowledgeable about technology and its impact on higher education to provide insights. Formal solicitation announcements will be published on MHEC's news page and in the Minnesota State Register. For more information, please contact Nathan Sorensen, MHEC's director of government contracts, at (612) 677-2767.
Register for the SARA Policy Modification Process Public Forum The National Council for State Authorization Reciprocity Agreements (NC-SARA) will host the second SARA policy forum on June 7, from 11:00 a.m. to 3:00 p.m. CT. [Registration to view the forum is now open. This session will be a livestream event only and will not be recorded. Individuals or organizations who submitted proposals to modify SARA Policy will have the opportunity to present their proposals publicly. NC-SARA will post the final schedule of presentations on the SARA Policy Announcements page in early June.
Commissioners to Convene in Wisconsin
The Executive Committee will convene June 12-13, in Madison, Wisconsin. All commissioners are being invited in this meeting which will highlight the open educational resources work of Chippewa Valley Technical College and its Open RN initiative. The meeting will also include an update on the study being conducted by the Iowa Board of Regents that tracks migration and outcomes of college graduates using U.S. Census Data. Business items include a strategic plan review, FY24 budget approval, and a Governance Committee report.
Jacob Bossman (reappointment)
State Representative; Member, Appropriations Committee
Iowa Legislature
Term: 5/3/2023 to 1/12/2025
Sharon Steckman (reappointment)
State Representative; Ranking Member, Education Committee
Iowa Legislature
Term: 5/11/2023 to 1/12/2025
Brad Christ
State Representative; Member, Budget Committee
Missouri General Assembly
Term: 5/12/2023 to 7/1/2024
Karla Eslinger
State Senator; Majority Caucus Whip
Missouri General Assembly
Term: 5/11/2023 to 12/31/2024
Advisory Committee Recognition
MHEC's Technologies Community mourns the loss of Ruth Ginzberg, enterprise I.T. procurement manager for the University of Wisconsin System, who passed away this month. Ruth served on MHEC's Technologies Committee (renamed Community) beginning in 2008, and served on the Technologies Executive Committee from 2008 to 2018, where she also served a term as vice chair. Ruth was acknowledged by commissioners in November 2014 as a recipient of MHEC's Outstanding Service Award. She was known by her peers for her leadership, depth of knowledge, using her experiences to mentor others, and she always had a quick wit.
NC-SARA Holds Spring Board Meeting
Susan Heegaard, president, attended the NC-SARA Board Meeting on May 10-11, in Kansas City. A key item of the agenda focused on the SARA Policy modification process. President Heegaard serves on the NC-SARA Board of Directors. Also in attendance were Sara Appel, director of M-SARA, and Leah Reinert, policy and research manager.
Future of AI and Data Analytics Explored
Deb Kidwell, director of technology initiatives, attended the SAS Innovate conference May 8-10, focused on the future of artificial intelligence (AI), data, and analytics.
Articles and Resources of Interest
Improving college access through financial aid transparency and FAFSA simplification
Brookings | May 4, 2023
Department of Agriculture is loaning millions to rural colleges
The Hechinger Report | April 27, 2023
The Number of U.S. Adults With Some College but No Degree Keeps Growing
The Chronicle of Higher Education | April 25, 2023
Quantum Computers: What Is Q-Day? And What's the Solution?
Govtech.com | February 12, 2023