MHEC News summarizes key policy and research, convenings, programs, contracts, articles of interest, and updates for members of the Midwestern Higher Education Compact. We welcome your feedback and suggestions.
Interactive Dashboard Update: College Enrollment by Race/Ethnicity
MHEC's Interactive Dashboard now provides the latest data on college enrollment by race and ethnicity in the Midwest and across the nation. Enrollment is defined as the percentage of all 18- to 24-year-old adults in the state who are currently enrolled in college or have completed any college credit or credential. The data show disparities in college access. For example, in the Underrepresented Minority category comprised of American Indians, Latinos, and Native Hawaiians/other Pacific Islanders, about 58 percent of 18- to 24-year-olds in the Midwest gained access to college in 2018, compared to 89 percent of Asians and 71 percent of Whites. Similar disparities in college access are seen across the nation.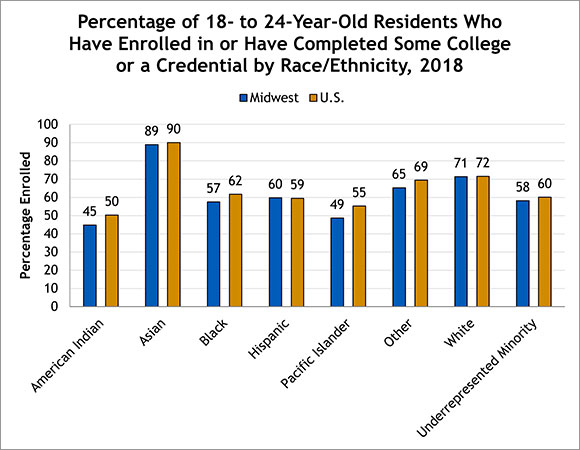 Source: U.S. Census Bureau. American Community Survey One-Year Public Use Microdata Sample: 2017, 2018, 2019. Estimates are pooled over three years.
For additional ways to visualize this data or view other indicators, see MHEC's Interactive Dashboard. An earlier version of this indicator is available for MHEC states in the report, Higher Education in Focus.
Three Midwest States Join Initiative to Make Career Pathways Clearer for All
Iowa, North Dakota, and Wisconsin join a growing number of states to map their states' credential, skill, and competency data to the Credential Registry to make information on credentials leading to careers more transparent and consistent.
The Midwestern Higher Education Compact and Credential Engine announced this week that Iowa, North Dakota, and Wisconsin signed agreements to participate in work to deliver current, consistent, accessible, and comprehensive information on all types of credentials leading to job opportunities. With the commitment from Iowa, North Dakota, and Wisconsin, there are now 27 state and regional partners across the country who are actively working toward credential transparency. READ MORE
MHEC Demonstrates Graduate Credit Quest to Northeast Wisconsin High Schools
Superintendents from 38 school districts in Northeast Wisconsin's Region 7 of the Cooperative Educational Service Agency (CESA) reviewed a demonstration of the Graduate Credit Quest (GCQ) platform on September 10. Feedback from participants and their respective teachers continues to improve the website's offerings.
Interest in the GCQ site is growing as steady demand for dual credit coursework offerings leads to questions from high school superintendents about how to facilitate teacher interest and compliance with the Higher Learning Commission (HLC) credentialing requirements. Student and parent demand for dual credit coursework is also growing as they recognize the demand exceeds the supply of HLC accreditation compliant instructors.
MHEC launched the website in March in collaboration with the Northeast Wisconsin Educational Resource Alliance (NEWERA) to help concurrent enrollment teachers in their quest to be qualified to teach college-level courses. MHEC is actively promoting and recruiting graduate schools throughout the Midwest to utilize the site by listing appropriate graduate course offerings. Concurrently, high school teachers who are searching for graduate course content in their field of study are being encouraged to use the site. MHEC welcomes the opportunity to present on the platform's utility and benefits to others. Please complete the contact us form to indicate interest.
MHEC Collaborates with Open Education Network (OEN) for Seminars in Illinois, Indiana, and North Dakota
As part of a generous grant from the William and Flora Hewlett Foundation to promote the use of open educational resources across the Midwest, MHEC is collaborating with the Open Education Network (OEN) on a Senior Leaders Seminar on Open Education in September and October 2021 for three member states: Illinois, Indiana, and North Dakota. The Senior Leaders Seminars give higher education decision-makers across each state (board of regents, provosts, board of governors, presidents, associate vice presidents, deans) an overview of open education, why it matters, and to whom. The seminar will describe ways to align open education with strategic priorities, and strategies to support and sustain open education's growth. During the Senior Leaders Seminar, we will:
Demystify open education and clarify rationales for open initiatives with an emphasis on accessibility, affordability, and inclusivity, and their urgency in the COVID-19 environment.
Offer best-practice examples of connecting open education initiatives with strategic priorities.
Provide models for allocating resources needed for growing and sustaining open education initiatives.
Give examples of successful open education initiatives.
Provide time for leaders to discuss and collaborate with colleagues.
Equip senior leaders with resources to take back to their institutions.
Identify individual action areas and resources needed for a follow up call one month after seminar.
MHEC looks forward to bringing more awareness of open education to senior academic leadership across the Midwest and hopes that this will support and further the work of the OER State Action teams. To learn more contact oer@mhec.org.
MHEC Participates in Group Examining Temporary Changes to Benefits for Veteran's Seeking Online Degrees
In March 2020, Congress enacted the Student Veteran Coronavirus Response Act of 2020 (H.R. 6322), which focuses on postsecondary education for student servicemembers and veterans during the pandemic. The Act included a change in how Monthly Housing Allowance (MHA) and subsistence allowances are calculated for these students. The Act permits all GI Bill students to receive a housing allowance based on the higher in-person rate even though most students have taken their courses online due to the pandemic. On December 21, 2021, this legislation is slated to end. A group of postsecondary education leaders including Student Veterans of America; MHEC's associate director for policy initiatives Sara Appel; and other representation from across the country have begun to examine this difference in benefits.
The Monthly Housing Allowance Calculator demonstrates these differences. The group hopes to meet with the Veteran Benefits Administration about the disparity, and the upcoming change, which may prevent or slow the progress of student servicemembers and veterans in meeting their educational goals.  
WEBINAR: Student Reciprocity Programs and MSEP in the 21st Century October 7, 2021 1:00 p.m. CT Join the Midwestern Higher Education Compact's staff as they share findings, conclusions, and recommendations from the report Student Reciprocity Programs and MSEP in the 21st Century. The MHEC Policy and Research team spent two years researching the history of the Midwest Student Exchange Program (MSEP), as well as looking at student exchange programs in other compact regions. The team also researched the decline of the out-of-state tuition model, and the increase in number of non-traditional and traditional underserved populations.
Resources Available from Past Events
Creating More Consistency in Cost Savings and ROI Metrics to Build the Case for OER
This webinar shared the progress of a national group of leaders in Open Educational Resources (OER) who are exploring recommendations for reporting cost savings and return on investment of OER for students, institutions, and states. Learn about initial findings from the research that will help inform the final release in early 2022.
MHEC and META Teletherapy Demonstration
MHEC shares highlights of its new agreement with META Teletherapy which provides institutions affordable access to a mental health provider marketplace. In this marketplace, students can connect with school counselors or META teletherapists through a mobile app for private, secure video, audio, and chat therapy sessions. Contact META Teletherapy if you would like to see a demonstration or learn more.
Register for Upcoming Creative Commons Learning Opportunities MHEC has a contract with Creative Commons  (CC) for existing and custom CC licensing for professional learning opportunities. This contract offers a 15% discount to staff and institutional members of MHEC and its sister compacts: the New England Board of Higher Education (NEBHE), the Southern Regional Education Board (SREB), and the Western Interstate Commission for Higher Education (WICHE). This contract is effective through June 2022.
CC is an international nonprofit organization dedicated to helping build and sustain a thriving commons of shared knowledge and culture. Through workshops, consultations and the CC Certificate, CC helps community members develop open licensing expertise, and a deeper understanding of recommended practices for sharing.
New Contract in Virtualization and Data Center Modernization
Presidio is a digital system integrator and authorized reseller supporting all types of hyper-converged infrastructures. Presidio has been awarded a contract for network, wireless, and server and storage related equipment and components. Presidio services include initial assessments, strategy and consulting, implementation and deployment, managed services, and financing and consumption options. Manufacturer discounts are available. This contract is available to entities in the MHEC region and its sister compacts: the New England Board of Higher Education (NEBHE), the Southern Regional Education Board (SREB), and the Western Interstate Commission for Higher Education (WICHE). Contact Nathan Sorensen, MHEC director of government contracts, with any questions.
MHEC Commission to Hold Hybrid Annual Meeting in Grand Rapids, Michigan
Commissioners will meet in-person in Grand Rapids, Michigan, on November 8-10, for their Annual Commission Meeting. A virtual meeting experience will also be available. Chair David Eisler, president of Ferris State University in Michigan, will preside over the meeting, with Vice Chair Rick Carfagna, Ohio state representative and assistant majority floor leader; Treasurer Devinder Malhotra, chancellor, Minnesota State; and Past Chair Olivia Madison, Iowa governor designee.
Highlights of the meeting will include a report and recommendations from the MHEC Strategic Planning Committee, led by consultants Kathy Graves and Brigitte Parenteau of Parenteau Graves. The meeting will also include a national update from Dr. Tom Harnisch, State Higher Education Executive Officers, and a Midwestern legislative recap and 2022 session preview from Mike McCabe, Council of State Governments, Midwest Office. Commissioners will hear updates on pressing topics related to student migration and data trends, demographic changes and the implications to higher education, collaboration between higher education and workforce, and credential transparency.
MHEC is currently seeking nominations  for its Phillip Sirotkin and Outstanding Service Awards to be presented at this meeting. Nominations are due by September 30.
Sara Appel, associate director for policy initiatives at MHEC, will co-present an education session with sister compact colleagues at the  2021 National Association for College Admission Counseling (NACAC) National Conference scheduled September 23-25. The session  We're All Winners Here: How Regional Tuition Reciprocity Programs help Students, Institutions, and States Achieve their Goals will provide details on each of the respective programs, and how they save students and families thousands of dollars per year in tuition savings, attract and retain out-of-state students, and foster program sharing and cost savings for the participating states.
Shaun Williams-Wyche, MHEC associate director of research and data analysis, recently participated on a panel about careers outside of academia. The event was hosted by the University of Minnesota's Department of Political Science where Dr. Williams-Wyche received his doctorate. The event was geared to the department's current PhD students and featured a panel of graduates who are working in careers outside of the traditional tenure-track path taken by PhD students.
ARTICLES AND RESOURCES OF INTEREST  
Here's how the Air Force rates public education services at your base
Military Times | September 10, 2021
Gartner: 4 Key Trends Speeding AI Innovation
Campus Technology | September 8, 2021
How Eastern Michigan Filled Its Class (and Then Some)
Inside Higher Ed | September 7, 2021
Rolf Wegenke: College is definitely still worth it
Wisconsin State Journal | September 3, 2021
Minnesota Future Together Grants to provide tuition-free pathways for high need careers
Hastings Star Gazette | September 3, 2021
No, out-of-state students don't always bring in more revenue, new research suggests
HigherEd Dive | September 3, 2021
Teresa Lubbers: Clock is ticking for Indiana to meet 2025 goal
Kokomo Tribune | September 2, 2021
A 2017 Follow-up: Six-year Withdrawal, Stopout, and Transfer Rates for 2011–12 First-time Postsecondary Students
National Center for Education Statistics | August 27, 2021
Higher Education COVID-19 Relief Funding—Who Got What and What Went Wrong? 
GAO | August 26, 2021

ACE Pilot Program Helps Apprentices Turn Their Training into College Credit
American Council on Education | August 23, 2021
U.S. Department of Education Grants Interest Rate Benefit to More Than 47,000 Service Members
U.S. Department of Education | August 20, 2021
Infosec Institute and MHEC Bring Leading Cyber Education Resources to Higher Education
Infosec | August 19, 2021
Solving for Transfer: Looking Inward While Building Outward
Inside Higher Ed | August 19, 2021
AAC&U Survey: Higher Ed Leaders Share Top 5 Concerns, Priorities
University Business | August 17, 2021
The Landscape of State Funding Formulas for Public Colleges and Universities
InformEd States | August 2021