MHEC News summarizes key policy and research, convenings, programs, contracts, articles of interest, and updates for members of the Midwestern Higher Education Compact. We welcome your feedback and suggestions.  
Interactive Dashboard Details 8th Grade Achievement by Income
MHEC's Interactive Dashboard now provides the latest data on 8th grade achievement by family income . The indicator shows the percentage of low- and higher-income students in 8th grade scoring at or above proficiency on the National Assessment of Educational Progress (NAEP) in math and reading. Students who qualified for free- or reduced-price lunch were classified as low-income, while students who were not eligible to participate in the National School Lunch Program were classified as higher-income.
The figure below shows that proficiency rates in math and reading increased in the Midwest between 2009 and 2019, though proficiency rates remain below 50 percent for both income groups. In addition, a much larger percentage of students from higher-income families were proficient in these subject areas than were students from low-income families. MHEC's Interactive Dashboard provides additional ways to visualize this data using bar charts, line graphs, maps, and tables. Selected academic preparation indicators are also available for MHEC states in the report Higher Education in Focus.
Source: National Center for Education Statistics. National Assessment of Educational Progress.
MHEC Commissioners Convene in Grand Rapids, Michigan, for Annual Commission Meeting
MHEC commissioners gathered in Grand Rapids November 8-10, to conduct commission business. Commission Chair David Eisler, president of Ferris State University, presided over the meeting. All 12 member states were present. The commission took action on the following:
Approval of the FY21 audit report as recommended by the Finance and Audit Committee;
Approval for delaying the 1.5% state commitment increase to FY23;
Approval of commissioner alternates to the full commission with terms of three years with no term limits with no voting rights but full participation rights;
Approval of Executive Committee member terms to be three-years with no term limits;
Approval of MHEC officer elections: Rep. Rick Carfagna (OH), chair; Dr. Devinder Malhotra (MN), vice chair; Sen. V.J. Smith (SD), treasurer; and Dr. David Eisler (MI) past chair.
New MHEC Leadership for 2021-22
On Tuesday, November 10, commissioners elected new officers for the 2021-22 year: Rep. Rick Carfagna, assistant majority floor leader for the Ohio Legislature, chair; Dr. Devinder Malhotra, chancellor of Minnesota State, vice chair; and Sen. V.J. Smith, member of the Education Committee for the South Dakota Legislature, treasurer. Dr. David Eisler, president of Ferris State University in Michigan, will serve as past chair. Rep. Carfagna has served as a MHEC commissioner since 2019, Dr. Malhotra since 2017, Sen. Smith since 2019, and Dr. Eisler since 2004.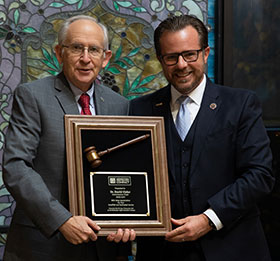 David Eisler Recognized as Outgoing Chair
L to R: Dr. David Eisler is recognized as outgoing chair. Pictured with Rep. Rick Carfagna.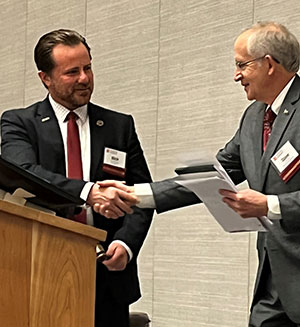 Rep. Rick Carfagna (OH) receives gavel from Dr. David Eisler (MI), outgoing chair.
L to R: Rep. Rick Carfagna receives the MHEC gavel from outgoing chair Dr. David Eisler.
Kansas Representative Barbara Ballard Recognized as MHEC's 2021 Phillip Sirotkin Award Recipient; Two Committee Members Receive Outstanding Service Awards
Rep. Barbara Ballard, of Lawrence, Kansas, received the Midwestern Higher Education Compact's (MHEC) Phillip Sirotkin Award on November 9, during the commission's Annual Commission Meeting. Ballard has served as a MHEC commissioner or commissioner alternate representing Kansas since 2005. Over the years, she has contributed to numerous MHEC committees. She currently serves on the Executive Committee and is chair of MHEC's Governance Committee. "As the longest-serving member of the Kansas House, Barbara is a well-respected leader," said Susan Heegaard, MHEC president. "MHEC benefits greatly from her dedication to higher education and her commitment to public service."
READ MORE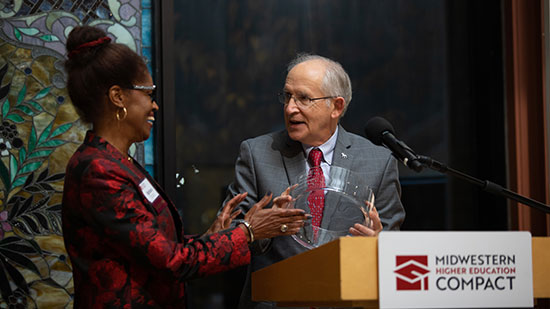 Rep. Barbara Ballard receives Phillip Sirotkin Award
L to R: Dr. David Eisler presents the Phillip Sirotkin Award to Rep. Barbara Ballard.
Shellie Haut and Tracy Korsmo each were honored with MHEC's Outstanding Service Award at MHEC's Annual Commission Meeting.
Ms. Haut is the executive director of Licensure, Regulatory Services and Human Capital for Central Michigan University. She was nominated for her contributions to MHEC's Regional Steering Committee of the Midwestern-State Authorization Reciprocity Agreement which she has served on as a state appointed member since 2015. The SARA program provides a voluntary, approach to state oversight of postsecondary distance education. The National Council for State Authorization Reciprocity Agreements (NC-SARA) is the national entity that coordinates efforts of the four regional SARAs housed at the regional higher education compacts.
Mr. Korsmo is the enterprise architect for the Statewide Longitudinal Data System (SLDS) and BI program manager for the North Dakota Information Technology. He was nominated for his contributions to MHEC's Midwest Credential Transparency Alliance (MCTA). MCTA is a regional alliance focused on advancing credential transparency in service of learners, workers, educators, employers, and policymakers across the Midwest. Credential transparency refers to making public — in formats people can read and systems can act upon — essential information about credentials, such as their competencies, quality, costs, pathways, transfer value, and connections to jobs.
MHEC Hosts Multiple Guest Presenters for Policy Discussions During MHEC Annual Commission Meeting
The Annual Commission Meeting began and ended with policy presentations. Resources from each of the presentations are available and include the following sessions:
Higher Education and its Relevance to Economic Development  — Mr. Quentin Messer, Chief Executive Officer, Michigan Economic Development Corporation
News from Inside the Beltway — Dr. Thomas Harnisch, Vice President of Government Relations, State Higher Education Executive Officers
Perspective from the Midwest: A Legislative Recap and 2022 Session Preview - Mr. Mike McCabe, Director, Council of State Governments, Midwest Office
Student Migration and Data Trends in the Midwest — Ms. Sara Appel, Associate Director for Policy Initiatives, MHEC; Dr. Aaron Horn, Associate Vice President of Research; Ms. Jenny Parks, vice president, MHEC; and Dr. Shaun Williams-Wyche, MHEC Associate Director of Research and Data Analysis
Building a Common Agenda and Regional Cooperation — Talent 2025 - Mr. Mike Jandernoa, President, 42 North Partners; Mr. Kevin Stotts, President, Talent 2025; and Mr. Sean Welsh, Regional President, PNC Bank
Partnership with Intentionality: The Grand Rapids Community College/Ferris State University Transfer Collaboration —  Dr. David Eisler (MI), President, Ferris State University, and Dr. Bill Pink (MI), President, Grand Rapids Community College
MHEC Strategic Planning Discussion - Kathy Graves, Partner, Parenteau Graves
Midwest Credential Transparency Alliance — Video Presentation: Ms. Carolynn Lee, Senior Program Officer, Ascendium; Panelists: Ms. April Henry, Director, Workforce Development, Kansas Board of Regents; Ms. Paula Nissen, Lead Education Program Consultant, Iowa Department of Education; and Dr. Ben Passmore, Associate Vice President for Policy and Research, University of Wisconsin System; and Moderator: Ms. Jenny Parks, MHEC Vice President
Commissioners Connections in Member States
Special thanks to Iowa Commissioner Alternate Timothy Fitzgibbon and Iowa Commissioner Olivia Madison for working closely with MHEC staff in sharing MHEC's newest student health solution offering, META Teletherapy, with Iowa institutions. META Teletherapy provides institutions of higher education with access to a nationwide network of licensed mental health providers. MHEC Commissioners are key in opening doors by helping share opportunities with constituents in their states. We welcome opportunities for Commissioner engagement where interest and time allows.
Midwest Credential Transparency Alliance Panel to Discuss Examples of Emerging Career Pathways The Midwest Credential Transparency Alliance (MCTA) will hold its quarterly meeting on November 18. The MCTA, a regional alliance supported by a grant from Ascendium is focused on advancing credential transparency in service of learners, workers, educators, employers, and policymakers across the Midwest. MCTA's focus is to maintain and share accurate information about credentials including diplomas, degrees, licenses, certificates, badges, and certifications. MCTA also has established a charter to guide the work being done in MHEC member states.
At Thursday's meeting, panelists will share examples of emerging career pathways that have advanced credential transparency. Panelists are Megan Andrew, full social/behavioral scientist for the RAND Corporation and an assistant professor of sociology for the University of Notre Dame; Tabitha Colter, director of operations for Partners for Automated Vehicle Education; and Rodney J. Petersen, director of the National Initiative for Cybersecurity Education at the National Institute of Standards and Technology. Attendees will have an opportunity to discuss and share about state policies that support credential pathways as well. To participate and stay informed please indicate your interest by signing up for the MCTA list server. View the MCTA resources for additional background information.
Resources Available from Past Events
Questions about Navigating ArmyIgnitED?
This webinar shares insights and tips on how to better serve military-connected students and postsecondary institutions utilizing the new tuition assistance application, ArmyIgnitED. ArmyIgnitED is the platform used by Army students (including active-duty Army, Army Reserve, and Army National Guard soldiers) to request tuition assistance. Many military-connected students and postsecondary institutions are finding it challenging to use ArmyIgnitED which replaced GoArmyEd earlier this year. While the Army is dedicated to supporting postsecondary institutions with this change in platforms, many students, colleges, and universities across the country have raised questions about how to engage with the new system. Joshua Rider, executive director for the Center for Adult and Veteran Services at Kent State University, and Rick Williams, associate director for the Office of Veterans Affairs at Youngstown State University, are the key presenters.
MHEC Solicitation Seeks to Address Higher Education Infrastructure Challenges Related to Delivering Digital Experiences
On October 28, MHEC published a Request for Proposals for End User Computing and Peripherals, Device Lifecycle Management Solutions, and Associated Services MHEC-RFP-10282021. This competitive open market solicitation is re-bidding the current end user computing contracts with Dell, HP Inc., and Lenovo, which are set to expire in June 2022. The intent of the solicitation is to enter into a master agreement with a framework that allows providers to write orders and institutions to acquire products and services through a defined fulfillment channel with a starting price point. This process is designed to minimize the burden on administrative resources for institutions in the region, saving both time and money. Proposals are due December 14, and evaluations are anticipated to run through February 2022. Contact Nathan Sorensen, MHEC director of government contracts, with any questions. 
Aaron Horn, associate vice president of research at MHEC, presented a paper at the annual conference of the Association for the Study of Higher Education. The presentation summarized the findings from a report examining the impact of public funding on college graduation rates. The report will be available next month.
Mr. Horn was also acknowledged for his ten years of service to MHEC during the MHEC Annual Commission Meeting.
Rob Trembath, vice president and general counsel for MHEC, was acknowledged for his 25 years of service during the MHEC Annual Commission Meeting.
ARTICLES AND RESOURCES OF INTEREST
Moving From Random to Intentional Acts of Dual Credit
Inside Higher Ed | November 18, 2021
Update on Issues Affecting Veterans Benefits
WCET Frontiers | November 11, 2021
Rising Inflation and the Impending Tuition Squeeze
Robert Kelchen | November 11, 2021
How Colleges Are Bridging the Digital Divide
Yahoo Entertainment | November 10, 2021
Commissioner Zora Mulligan Recognized Nationally Among Higher Education Leaders
Ozark Radio News | November 9, 2021
2022 Top 10 IT Issues
EDUCAUSE | November 1, 2021
Seeking Submissions for The Academic Minute
Association of American Colleges & Universities | November 2021
MCTA Pathways Action Team: A Brief
MHEC | October 18, 2021