The latest policy and research, convenings, programs, contracts, articles of interest, and updates for members of the Midwestern Higher Education Compact.
Last week we hosted our commissioners in Saint Paul, Minnesota, for a productive annual meeting with many interesting and timely presentations. All presentations have been posted to the Compact's website. We are grateful to our Minnesota commissioners for hosting. See below for additional highlights from November and upcoming opportunities:
Policy & Research: Changes in Higher Ed Funding Per Student in the Midwest
Commissioner News: Annual Meeting Recap and MHEC Awards
Commissioner Appointments: Nebraska
Convenings: Building Pathways, Licensure Regulations, and Community College Finance
Programs: Student Health - TAO Connect Success and Wellness Library
Career Opportunity: MHEC is hiring - Vice President, Programs and Services
We wish you a wonderful Thanksgiving and hope you come back refreshed to finish out this year.
As always, the Compact welcome your feedback and suggestions.
Latest News
Officers Elected for 2023-24
On November 14, MHEC commissioners elected new officers for the 2023-24 year.
State Representative Barbara Ballard, of Kansas was elected chair. Representative Ballard has served as a MHEC Commissioner since 2005.
State Senator Joan Ballweg, of Wisconsin was elected vice chair. Mr. Larry Tidemann, former legislator who serves as the Governor's designee for South Dakota, was elected treasurer.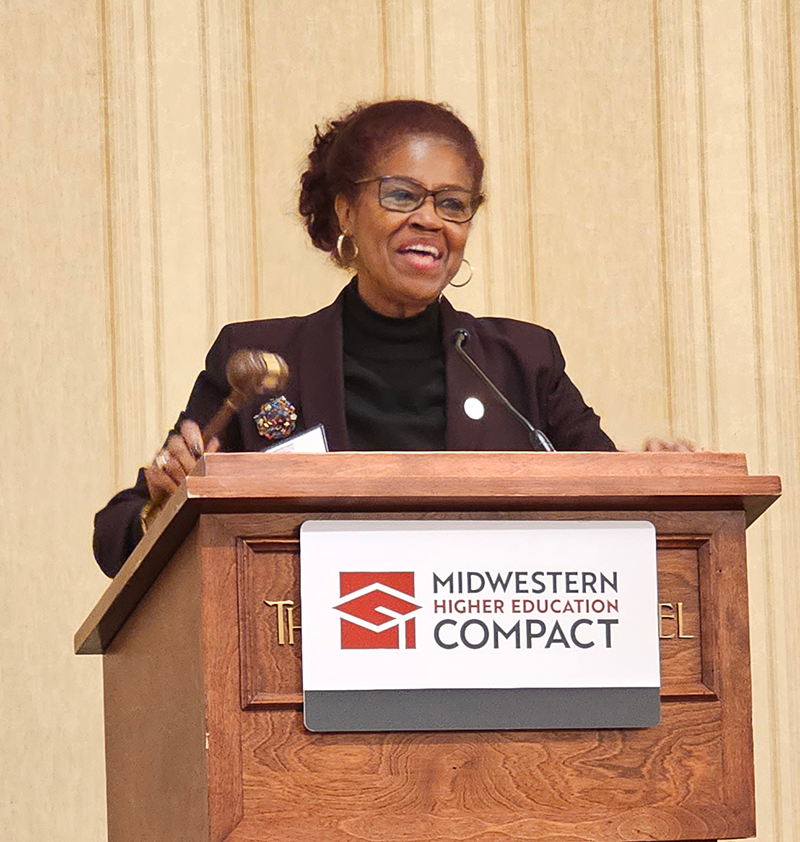 Kansas Rep. Barbara Ballard

Policy & Research
Changes in Higher Ed Funding Per Student in the Midwest
The latest update to MHEC's Interactive Dashboard shows that state and local appropriations for public higher education per full-time equivalent (FTE) student increased between 2020-21 and 2021-22 in five Midwestern states (Illinois, Indiana, Michigan, Missouri, and Nebraska) and decreased in the other seven Midwestern states when adjusted for inflation. However, appropriations in current dollars (not adjusted for inflation) increased in nine Midwestern states over the same period. In addition, funding levels in Illinois, Missouri, and Nebraska remained higher than the regional and national averages.
State and local educational appropriations for higher education include funds for public institutional operating expenses and financial aid for students attending public institutions. These appropriations exclude funding for research, agriculture-related programs, medical education, capital outlays (e.g., buildings, land, equipment), and debt service, as well as support for private institutions or students attending them.
MHEC's Interactive Dashboard provides additional ways to visualize this data using bar charts, line graphs, maps, and tables. Selected finance indicators are also available for MHEC states in the report Higher Education in Focus.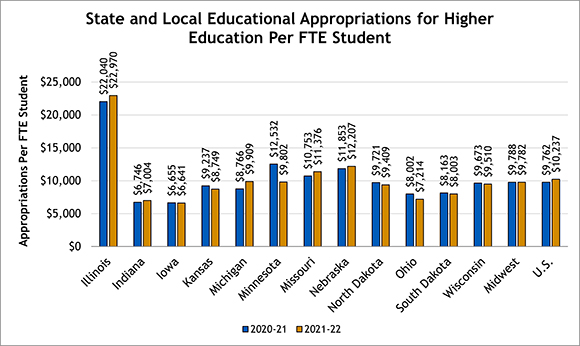 Source. SHEEO. (2023). State Higher Education Finance: FY 2022. Note. Estimates have been adjusted for inflation to 2022 dollars using the Higher Education Cost Adjustment. Educational appropriation estimates for Illinois include legacy pension payments.

Commissioner News
MHEC Hosts Commissioners in Minnesota for Annual Meeting
MHEC commissioners convened in Saint Paul, Minnesota, November 13-15, for their annual meeting. Acting Chair Barbara Ballard presided over the meeting. All 12 member states were present. The following action items passed:
Approval of the updated Roles and Responsibilities of the MHEC Commissioner
Approval of the MHEC officer nomination process
Approval to increase the size of the Finance and Audit Committee to one representative from each of the 12 member states
Approval and election of new officers
Guest presentations included:
Social and Economic Realities of Demographic Shifts in the Midwest , Dr. Susan Brower, Minnesota State Demographer, Minnesota State Demographic Center
Federal Update, Dr. Thomas Harnisch, Vice President of Government Relations, State Higher Education Executive Officers
AI and its Impact on Higher Education, Mr. Daniel Schwarcz, Fredrickson & Byron Professor of Law, University of Minnesota Law School
Higher Education and Workforce, How Does the Midwest Respond, Mr. Kurt Zellers, CEO, Minnesota Business Partnership
Facing Change: How Can Higher Education Adapt and Move Forward in our Midwest Regiond, Dr. Nathan Grawe, Professor of Economics, Carleton College
State Update, Dr. Thomas Harnisch, Vice President of Government Relations, State Higher Education Executive Officers
What's Coming Next with the FASFA, Dr. Thomas Harnisch, Vice President of Government Relations, State Higher Education Executive Officers
Commissioners participated in an optional tour of the Minnesota State Capitol building and had the opportunity to experience the Bell Museum on the University of Minnesota campus. Photos from the meeting are posted on the Compact's Facebook page.
Resources from the presentations are being posted to the MHEC website as they are available.
MHEC Awards
MHEC Treasurer Receives 2023 Phillip Sirotkin Award; Committee Members from Michigan and Nebraska Recognized for Outstanding Service
Three individuals were recognized for their service at the Commission's annual meeting. MHEC Treasurer Larry Tidemann, governor's designee and former South Dakota legislator, received the Phillip Sirotkin Award.
Outstanding Service Awards were presented to Aric Kirkland, director of desktop and classroom technology for Eastern Michigan University, and Dr. Kathleen Fimple, academic programs officer for the Nebraska Coordinating Commission for Postsecondary Education. Learn more about MHEC's awards and each of the recipients and their contributions to MHEC.
MHEC volunteers play a significant role in guiding the committee work of MHEC programs and services. The Compact is grateful to those who give of their time to support work across the organization.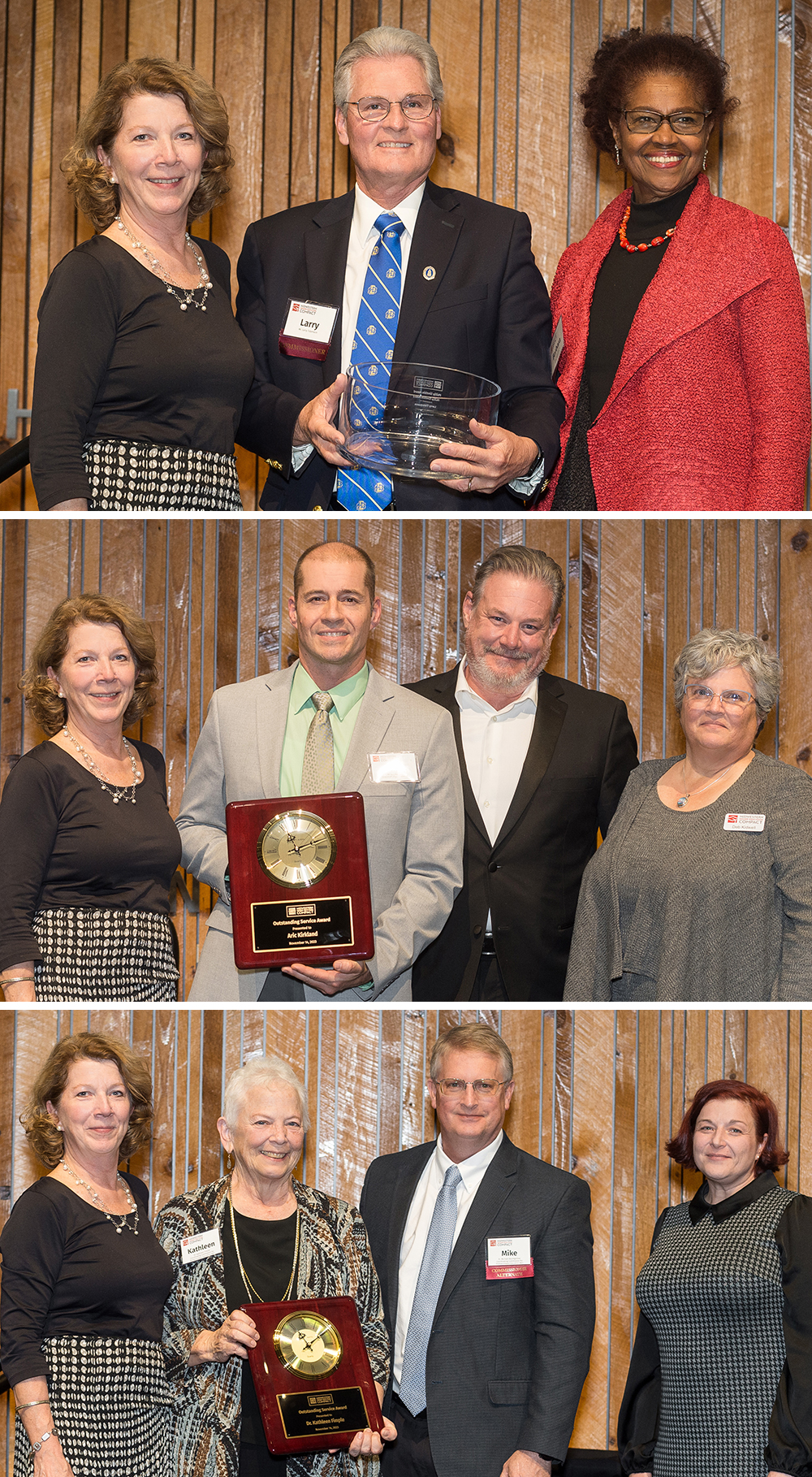 [20 MHEC Awards ceremony <https://www.facebook.com/mhec12/posts/pfbid02G35gPKbfR1nAAAirQqP5XMxTiXFZBxfCpe7mt8V2zJEYQuv6rKkJv7qe3r6iboAnl?__cft__[0]=AZWknpayIuY6T2bZAqgaY8s99e1-8GCBiXfKzrCy8PMpSdUsTxxY8nESm8rhneYTMBeFyqrjhkXLuZ2r3SFLSf93U3j-fle1AOc7quskRl6L5licgD99qwpsSqpt_sw1JTKE5Vdmr2HNRVkfIQg4D45dg80ZgmiGXKexFplBAGpBCTR6Lvv4GtKqvzCf9HRx6uI&__tn__=%2CP-R>]
Top L to R: Susan Heegaaard, MHEC; Treasurer Larry Tidemann (SD); Chair Barbara Ballard (KS)
Middle L to R: Susan Heegaard, MHEC; Aric Kirkland, Eastern Michigan University; Nathan Sorensen, MHEC; and Deb Kidwell, MHEC.
Bottom L to R: Susan Heegaard, MHEC; Dr. Kathleen Fimple, Coordinating Commission for Postsecondary Education (CCPE); Commissioner Alternate Mike Baumgartner (NE), CCPE; and Sara Appel, MHEC

Commissioner Appointments
Chris Kabourek
Senior Vice President for Business & Finance, CFO & Chief Sustainability Officer
University of Nebraska System
Term: 10/16/2023 to 1/1/2027
*Recommended as University of Nebraska (NU) interim president, to be confirmed at the NU System Board of Regents meeting on December 1.

Grant Latimer
Policy Advisor to Governor Jim Pillen
Nebraska Governor's Designee
Term: 10/16/2023 to At the Pleasure of the Governor

Convenings
WEBINAR
Midwest Credential Transparency Alliance: Building Pathways for States and Regions
Wednesday, December 6 | 1:00 p.m. CT
Through the Midwest Credential Transparency Alliance (MCTA), MHEC and Credential Engine are collaborating to promote credential transparency within Midwestern states and across the region. The Pathway Builder tool, offers a user-friendly interface that allows stakeholders to construct pathways, incorporating data from the Credential Registry and accommodating pathways of varying complexity. During this webinar, a live demonstration will explore this tool and identify potential applications for streamlining the existing manual processes. Register to learn how to help advance educational and career pathways in the Midwest.
WEBINAR
Are You Ready? New Licensure Regulations Significantly Impact Student Enrollment, Curriculum Development, and Staff/Faculty Workloads
Thursday, December 7 | 1:00 p.m. CT
The U.S. Department of Education released the final version of Title IV Certification Procedures regulations in late October. These include an expansion of professional and occupational licensure-related responsibilities for institutions, with the need to certify that programs satisfy all educational prerequisites for licensure where students are located. As a result, institutions will need to limit enrollment in certain states, and/or revise curricula to meet specific licensure requirements. Higher Education Licensure Pros LLC will present a webinar to share information about the new regulations, the impacts on institutions, and how to best prepare for the July 1, 2024, effective date.
WEBINAR
Stronger State Community College Finance as a Lever for Student Success
Tuesday, December 12 | 9:00 a.m. CT
Join us for a conversation with HCM Strategists and the Community College Research Center (CCRC) about community college finance systems and the impact of the incentives they drive. The webinar will present findings from a recent report released by these research partners, which maps the community college finance systems in California, Ohio, and Texas. HCM identified and analyzed the policies that control each state's major revenue streams, their implications for institutional behavior, and their effects on equity. Additionally, CCRC researchers will present findings from an institutional analysis conducted at eight community colleges across these three states.
Resources Available from Past Events
CC Certificate: Open Licensing Training Opportunities & New Alumni Network! In this webinar, MHEC hosts the Creative Commons (CC) certificate team who shares an overview of the CC courses and debuts the new alumni program, which will harness the network of more than 1,500 graduates in 65 countries. The team shared ways to engage with the materials and to get involved in smaller-scale training opportunities when time is limited!
Critical Considerations Before Contracting with a Teletherapy Vendor As campuses continue to address the mental health needs of their students, institutions have increased their support services through teletherapy options. In this webinar, MHEC hosts the Jed Foundation and the American Council of Education for a panel discussion on the selection of a teletherapy vendor based on their research. The University of Wisconsin-Whitewater provided a campus perspective.
Programs
TAO Connect Modules Offers Options for Investing in Student Wellbeing
MHEC's agreement with TAO Connect presents a new assignment series or Success and Wellness Library, which is designed to integrate into curriculum, offering modules that reward students for mastering key stress reduction, communication, and adaptation techniques.
By integrating these modules, colleges and universities invest in student well-being, leading to improved retention rates and higher graduation rates.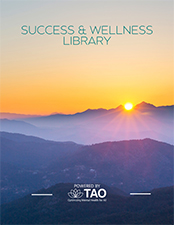 Don't miss out on this transformative opportunity!
Contact TAO for more information.
Team Updates
Staff Acknowledged for Service During the Commission's annual meeting, MHEC [staff were acknowledged for their service to MHEC:
10 Years: Nathan Sorensen, Director of Government Contracts,
10 Years: Jenny Parks, Vice President, Policy and Research
25 Years: Mary Roberson, Senior Director of Communications and Marketing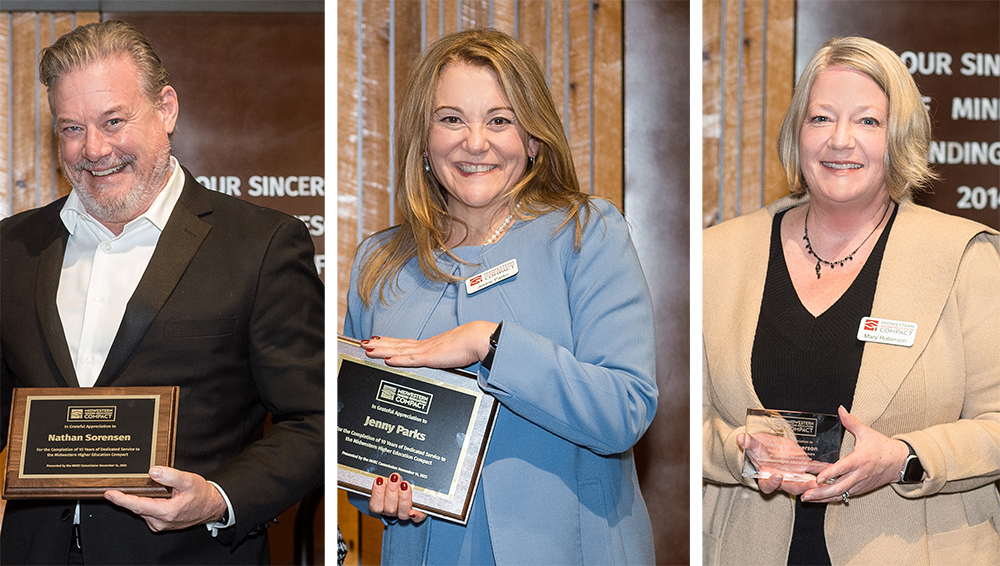 L to R: Nathan Sorensen, Jenny Parks, and Mary Roberson.
HLC State Partner Meeting
Jenny Parks, vice president, and Beth Ellie, associate director of policy initiatives, attended the Higher Learning Commission (HLC) State Partner Meeting on November 16-17. Ms. Parks co-presented with Zach Waymer, HLC, and Jared Abdirkin, New England Board of Higher Education on transcript holds.

Career Opportunity
MHEC is Hiring
Vice President Programs and Services
MHEC seeks an accomplished, driven, and entrepreneurial leader to help the organization drive its strategic priorities. Reporting to the President, the Vice President will provide visionary leadership across MHEC's various platforms to best serve its members. The new leader is an outstanding listener, quick learner, excellent communicator and relationship builder. Learn more about this open position.
Articles and Resources of Interest
The Next Phase of Dual Enrollment Policy
College in High School Alliance | November 10, 2023
The FAFSA Form is Changing. Education Groups Want a Release Date
The 74 | November 7, 2023
University of Nebraska-Lincoln Partners with SkillStorm to Train Tech Talent Across the Midwest
Campus Technology | October 31, 2023
U.S. Department of Education Releases Final Rules on Financial Responsibility, Administrative Capability, Certification Procedures, Ability To Benefit (ATB)
Federal Register | October 31, 2023
Biden Signs Sweeping Order Regulating Artificial Intelligence
Bloomberg Law | October 30, 2023
The U.S. Department of Education Releases New Rules on Institutional Accountability, Including Withholding Transcripts
American Council on Education | October 30, 2023
National and State Impacts of FAFSA Simplification
SHEEO |October 23, 2023