MHEC News summarizes key policy and research, convenings, programs, contracts, articles of interest, and updates for members of the Midwestern Higher Education Compact. We welcome your feedback and suggestions.  
Interactive Dashboard Update: College Location
MHEC's Interactive Dashboard now provides the latest data on the college location of first-time students in the Midwest. College location shows the percentage of recent high school graduates in each particular state who enroll at an in-state postsecondary institution, an out-of-state postsecondary institution within the Midwest, and an out-of-state postsecondary institution outside of the Midwest. College enrollment only includes high school graduates who enrolled at a public or private postsecondary institution during the fall immediately following high school completion.
The figure below shows that the majority of college students enroll at in-state institutions, and a larger share of college students enroll within region than out of region in most states.  MHEC's Interactive Dashboard  provides additional ways to visualize this data using bar charts, line graphs, maps, and tables. Selected demographic indicators are also available for MHEC states in the report, Higher Education in Focus.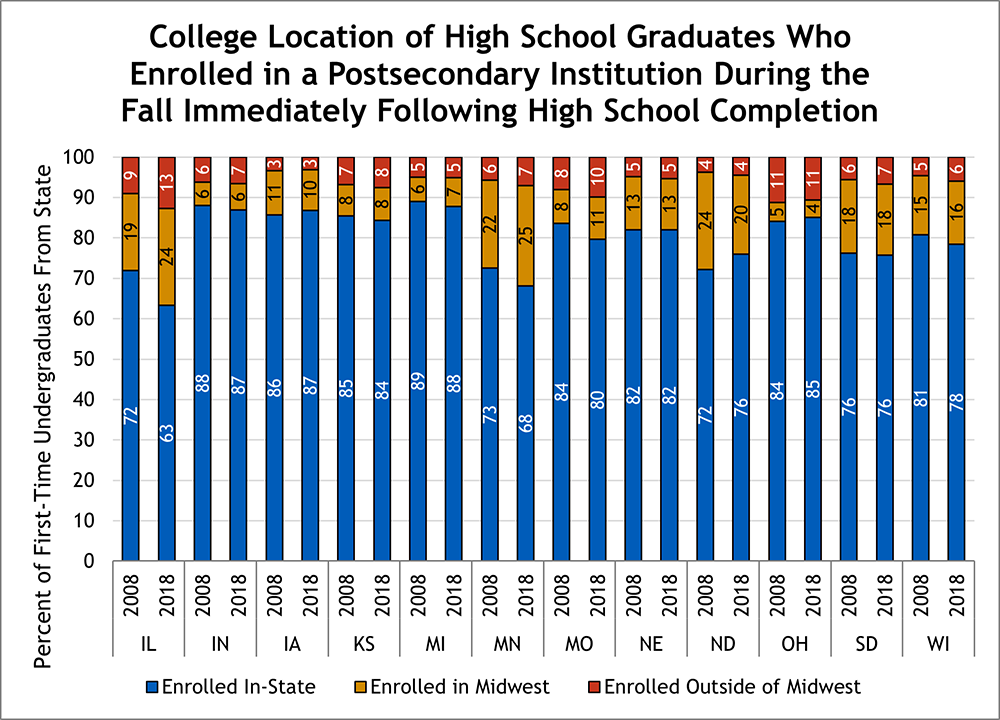 Source: National Center for Education Statistics. (2008, 2018). IPEDS: Fall Enrollment File.
New Report Explores How Open Educational Resources Can Expand Equitable Access
The number of high schools offering dual enrollment or concurrent enrollment courses has grown significantly over the past decade. However, gaps in student access and participation persist. OER in Dual Enrollment: Leveraging Open Educational Resources to Expand Equitable Access, a report from MHEC and the Southern Educational Board examines how the use of open educational resources, or OER, can make dual enrollment courses more cost-effective and increase college access for more students. The report provides an overview of policies and case studies across states and recommendations on OER adoption and usage.  
Brief Outlines Progress Toward Credential Transparency and Career Pathways The Midwest Credential Transparency Alliance Pathways Action Team comprised of higher education and workforce professionals is making progress in identifying existing career pathways in the Midwest. The team is also investigating how these pathways could be improved through credential transparency. The emerging challenge is to ensure that these pathways are consistently articulated, well connected, and supported by policies, practices, communications, and role responsibilities. To help guide these developments, the action team articulated a pathway model for the Midwest region in this newly published brief.
Questions about Navigating ArmyIgnitED?
October 26, 2021 | 1:00 p.m. CT
Many military-connected students and postsecondary institutions are finding it challenging to use the new tuition assistance application, ArmyIgnitED which replaced GoArmyEd earlier this year. ArmyIgnitED is the platform used by Army students (including active-duty Army, Army Reserve, and Army National Guard soldiers) to request tuition assistance. While the Army is dedicated to supporting postsecondary institutions with this change in platforms, many students, colleges, and universities across the country have raised questions about how to engage with the new system. Join Joshua Rider, executive director for the Center for Adult and Veteran Services at Kent State University, and Rick Williams, associate director for the Office of Veterans Affairs at Youngstown State University, as they share insights and tips on how to better serve military-connected students and postsecondary institutions utilizing the ArmyIgnitED application.  
REGISTER 
Resources Available from Past Events
OER in Dual Enrollment In this webinar, researcher Jennifer Zinth explored state and institutional initiatives that are spurring increased interest in the use of open educational resources, or OER, in dual enrollment courses. Panelists included Paul Preimesberger, dean of enrollment management and student success at Central Lakes College in Minnesota, and Zachary Adams, director of postsecondary coordination and alignment for the Tennessee Board of Regents. This research was conducted in collaboration with the Southern Regional Education Board, with generous support from the William and Flora Hewlett Foundation.
Student Reciprocity Programs and MSEP in the 21st Century  In this recorded webinar, MHEC staff shared findings, conclusions, and recommendations from the recent report,  Student Reciprocity Programs and MSEP in the 21st Century. MHEC researched the history of the Midwest Student Exchange Program (MSEP) and reviewed student exchange programs in other compact regions. They also researched the decline of the out-of-state tuition model, and the increase in number of non-traditional and traditional underserved populations. For more information on the MSEP, contact Sara Appel.
Increasing Ransomware Attacks Trigger Major Shifts in Cyber Insurance  What risk controls can your institution implement to mitigate cyber risk and meet the underwriting expectations of insurers? This webinar provides an update on cyber insurance trends, including sample losses in the education marketplace, premium and coverage changes over the last twelve months, and risk mitigation tools to better protect institutions. For more information on MHEC's cyber insurance program contact Carla Ahrens.  
Latest Contracts and Renewals Security Services
LUCY Security Services from Envoy (training);
Pondurance  (Threat Intelligence, Security Information and Event Management, Managed Security Services, consulting, and training); and
Secureworks from Dell (Threat Intelligence, Security Information and Event Management, Managed Security Services, consulting)
Contact Deb Kidwell, MHEC consultant, with any questions.
Midwest Student Exchange Program Releases 2020-21 Data Report
In 2020-21, students and families in Midwest states saved more than $60 million through MHEC's Midwest Student Exchange Program, which provides more affordable opportunities for students to attend out-of-state institutions and serves as the Midwest's largest multi-state tuition reciprocity program. Currently, more than 80 colleges and universities in Indiana, Kansas, Minnesota, Missouri, Nebraska, North Dakota, Ohio, and Wisconsin participate. The 2020-21 MSEP Data Report offers a snapshot at enrollment and savings statistics. Contact msep@mhec.org with additional questions.
[2020-21 MSEP Data Report]
New Appointments & Reappointments
Kansas
Allen Schmidt Member, Kansas Board of Regents
Term: 9/16/2021 to 6/30/2022
North Dakota
Tim Mihalick Board Member, State Board of Higher Education
Term: 7/1/2021 to 6/30/2025
MHEC Commission to Hold Hybrid Annual Meeting in Grand Rapids, Michigan Commissioners will meet in-person in Grand Rapids, Michigan, on November 8-10, for their Annual Commission Meeting. A virtual meeting experience will also be available. Chair David Eisler, president of Ferris State University in Michigan, will preside over the meeting, with Vice Chair Rick Carfagna, Ohio state representative and assistant majority floor leader; Treasurer Devinder Malhotra, chancellor, Minnesota State; and Past Chair Olivia Madison, Iowa governor designee.
Highlights of the meeting will include a report and recommendations from the MHEC Strategic Planning Committee, led by consultants Kathy Graves and Brigitte Parenteau of Parenteau Graves. The meeting will also include a national update from Dr. Tom Harnisch, State Higher Education Executive Officers, a Midwestern legislative recap and 2022 session preview from Mike McCabe, Council of State Governments, Midwest Office, and a keynote presentation from Quentin Messer, chief executive officer, for the Michigan Economic Development Corporation. Commissioners will hear updates on pressing topics related to student migration and data trends, demographic changes and the implications to higher education, collaboration between higher education and workforce, and credential transparency.
Sara Appel, MHEC associate director for policy initiatives, was a panelist with the other regional compacts at the NACAC Conference. The session We're All Winners Here: How Regional Tuition Reciprocity Programs help Students, Institutions, and States Achieve their Goals  aired for attendees on September 25.
Jenny Parks, MHEC vice president, is participating in the Open Education Conference this week with two sessions Building OER Capacity in the Midwest: Supporting Grassroots Efforts and Statewide Collaboration and Scaling Regional OER and Equity: National Consortium of Open Educational Resources (NCOER). MHEC's work is being conducted under a grant from the William and Flora Hewlett Foundation and in collaboration with the other regional compacts. Ms. Parks recently participated in a webinar on OER Funding and Impact Measurements on October 13. The session was hosted by the Community College Consortium for OER.  
ARTICLES AND RESOURCES OF INTEREST  
College Enrollments Sink in the Midwest, Causing Budget Trouble for Schools
Bloomberg | October 18, 2021
New State Goal for FAFSA Completion Will Help Minnesota
Minnesota Office of Higher Education | October 15, 2021
2021 Equity in Missouri Higher Education Summit
Missouri Department of Higher Education & Workforce Development | Oct. 26-28
Micro-credentialing Gaining Popularity in Iowa, Helping People Acquire Job Skills
The Gazette | October 6, 2021
MO Columbia College Receives $1.16 Million Grant to Help Adults Continue Higher Education
Lake News Online | October 5, 2021
Iowa Explores Universal FAFSA Completion
Education Commission of the States | October 4, 2021
Credential Transparency: An Essential Part of Attaining State Goals
Credential Engine | October 2021
Modeling State Investment in America's College Promise
SHEEO | September 27, 2021
GRCC Officials Say MI State Programs Helped Enrollment Numbers Increase by 4.4%
Fox 17 | September 21, 2021
Rural Perspectives: Enhancing Education and Training Support for Rural Residents
Education Commission of the States | September 20, 2021
Kansas Offers Free Community College To Some Students If They Stay For 2 Years After Graduating
KCUR | September 17, 2021
Ohio Launches 5G and Broadband Workforce Development Program
Government Technology | September 16, 2021
Covid-19 Resources for State Leaders
Council of State Governments
[Stories from the Educational Underground: The New Frontier for Learning and Work
Peter P. Smith | 2021