MHEC News summarizes key policy and research, convenings, programs, contracts, articles of interest, and updates for members of the Midwestern Higher Education Compact. We welcome your feedback and suggestions.
Several Midwest States Rank Above the National Benchmark in Public Effort to Fund Higher Education
The latest update to MHEC's Interactive Dashboard shows that funding per $1,000 of personal income in the Midwest was below the national level in 2020. For every $1,000 of personal income in Midwestern states, $5.37 was allocated to higher education, compared to $5.50 nationally. However, Illinois, Kansas, Nebraska, North Dakota, and Wisconsin ranked above both the national and Midwest benchmarks in state funding effort.
For this specific metric, a state's overall effort to fund higher education includes state and local fiscal support for higher education per $1,000 of personal income. State and local fiscal support consists of state tax appropriations, local tax support, additional non-tax funds such as lottery revenue that support higher education, and funds appropriated to other state entities for specific higher education expenditures or benefits.
State and local appropriations recognized for this indicator are used for general operations, agriculture-related programs, public student aid, medical education, and support for independent institutions or students attending them. Personal income includes income received by all people from participation in production, government and business transfer payments, and government interest. For more information, see MHEC's research brief, Evaluating State Funding Effort for Higher Education.
MHEC's Interactive Dashboard provides additional ways to visualize this data using bar charts, line graphs, maps, and tables. Selected finance indicators are also available for MHEC states in the report Higher Education in Focus.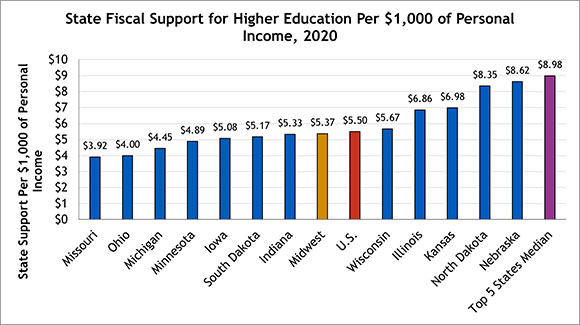 Source: SHEEO. (2022). State Higher Education Finance: FY 20.
Out-of-State Tuition is Topic of MHEC's Newest Report in the Affordability and Finance Series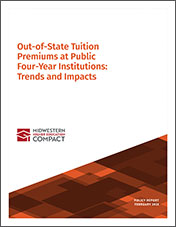 MHEC's newest publication in the college affordability and finance series, Out-of-State Tuition Premiums at Public Four-Year Institutions: Trends and Impacts, was released in early February. Drs. Olena Horner from University of Minnesota, Shaun Williams-Wyche from MHEC, and Christopher Marsicano from Davidson College, examine the prevalence and typical size of out-of-state tuition premiums, defined as the additional amount of tuition and fees charged to nonresident students. The authors also summarize regional and institutional approaches to lowering out-of-state tuition premiums, and provide a synthesis of research on the effects of tuition premiums in such areas as enrollment and institutional finances. The report concludes with four policy options that can be weighed when evaluating differential pricing for resident and nonresident students.
CONVENINGS
WEBINAR - Professional Licensure: Moving Beyond Minimal Compliance
February 28, 2023 1:00 p.m. CT .
MHEC continues to build upon its work in compliance and credentialing by extending support in the area of professional licensure with assistance from Higher Education Licensure Pros, LLC (HELP).
MHEC staff will host Kris Maul, JD, and Nan Kalke, PhD, principals of HELP, who will explain why an institution's courses and programs leading to professional licensure need careful attention and monitoring for compliance purposes. The Professional Licensure: Moving Beyond Minimal Compliance webinar will include:
Review of the current compliance requirements under current federal regulations, SARA policy, and potential future federal regulations.
Processes and policies every institution needs to comply.
This webinar will be recorded and made available on MHEC's website.
New Contract for Creative Commons Learning Opportunities
MHEC has renewed the Oracle (MHEC US-OMA-1164550) contract through February 5, 2025, including an amendment updating the pricing exhibit. The Oracle contract features programs, software update license and support, hardware, hardware and systems support, training, consulting services, cloud services and managed cloud services. The contract is available to all public and not-for-profit higher education institutions. Access the
list of available contracts and eligible entities on the MHEC website or contact Nathan Sorensen, director of government contracts, with additional questions at (612) 677-2767.
Policy Modification Process Begins, First Public Forum on March 1
NC-SARA's new policy modification process began on January 3. This process was created to ensure transparency, collaboration, consistency, and clear and open communication among regional compacts, states, institutions, NC-SARA, and other stakeholders. M-SARA's Regional Steering Committee (RSC) submitted 18 out of the 63 total proposed policy modifications. The substance of the proposed modifications primarily address the functional responsibilities of SARA states and ensuring definitions of terms are clear and understandable.
M-SARA's and the other region's proposed policy modifications are posted online. The next step in the process is the first of two public SARA Policy forums. In those forums, those who submitted proposals will introduce them. Registration is open for the first forum is on March 1, from 11 a.m.–3 p.m. CT.
Kansas Board of Regents' Jennifer Armour Leads M-SARA Regional Steering Committee
Jennifer Armour, associate director for academic affairs at the Kansas Board of Regents, was recently selected by members of the M-SARA Regional Steering Committee (RSC) to serve as its new chair. Jennifer has been working at the Kansas Board of Regents since 2014 and previously held the positions of regulator, and business analyst for private and out-of-state postsecondary education. She has worked in higher education for more than 20 years. Chris Foley, associate vice president for the Office of the Vice President for Regional Campuses and Online Education at Indiana University Bloomington, now in his second term is vice chair. MHEC is grateful to Betsy Talbot, manager of licensing and registration for the Minnesota Office of Education, for her two years of service as RSC chair.
Upcoming State Visits Susan Heegaard, MHEC president, will be joined by executive officers and MHEC staff at upcoming state visits with state higher education, legislative, and executive branch leadership in Wisconsin on February 15-16, Illinois on February 23-24, Nebraska on March 1-2, North Dakota on March 8-9, Iowa on March 14-15, and Michigan April 19. Over the last few weeks, staff have connected with commissioners and leaders in South Dakota, Kansas, Minnesota, and Missouri. Dates are pending in Indiana and Ohio.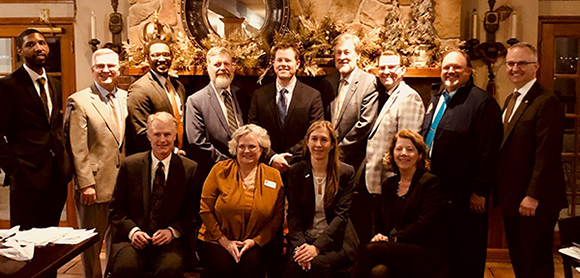 MO State Visit - Front Row (L to R): MHEC staff Rob Trembath, COO/General Counsel; Deb Kidwell, Dir. of Technology Initiatives; Jennifer Dahlquist, VP; and Susan Heegaard, President. Back Row (L to R): Rep. Kevin Windham; David Pearce, executive director for government relations, University of Central Missouri; Gerren McHam, Special Assistant for External Relations, Missouri Department of Higher Education & Workforce Development (DHEWD) Leroy Wade, Interim Commissioner, DHEWD; Cliff Judy, Director of Professional Development and Member Engagement, Missouri Community College Association, Rep. John Black, Rep. Travis Wilson, Rep. Ed Lewis, Rep. Doug Richey.
Rep. Katie Stuart (reappointment)
State Representative; Member, Higher Education Committee
Illinois General Assembly
Term: 1/25/2023 to 1/2/2025
Sen. Jeff Taylor
State Senator; Vice-chair Education Committee
Iowa Legislature
Term: 1/22/2023 to 1/12/2025
Sen. Cindy Winckler (alternate)
State Senator; Member, Education Appropriations Subcommittee
Iowa Legislature
Term: 1/22/2023 to 1/12/2025
Minnesota
Sen. Omar Fateh
State Senator; Chair, Education Committee
Minnesota Legislature
2/10/2023 to 1/7/2025

Rep. Gene Pelowski, Jr.
State Representative; Chair, Higher Education Finance and Policy
Minnesota Legislature
Term: 1/30/2023 to 1/7/2025
Missouri
Sen. Andrew Koenig
State Senator; Chair, Committee on Education and Workforce Development
Missouri General Assembly
Term: 1/25/2023 to 12/31/2024
Nebraska
Sen. John Cavanaugh (reappointment) State Senator
Nebraska Legislature
Term: 1/11/2023 to 1/1/2025
Sen. Lynne Walz (reappointment) State Senator; Member, Education Committee
Nebraska Legislature
Term: 1/11/2023 to 1/1/2025
South Dakota
Nathan Lukkes
Chief of Staff
South Dakota Board of Regents
Term: 7/1/2022 to 6/30/2026
Wisconsin
Sen. Joan Ballweg
State Senator; Majority Caucus Vice-Chair
Wisconsin State Legislature
Term: 1/30/2023 to 1/6/2025

ARTICLES AND RESOURCES OF INTEREST
Lumina set a bold goal for a better-educated country 15 years ago. It worked.
Lumina Foundation | January 31, 2023
Class of 2022 Left $3.6B in Pell Grants Unclaimed
Inside Higher Ed | January 31, 2023
A Look at the Year Ahead with Research Center Executive Director Doug Shapiro
National Student Clearinghouse | January 26, 2023
Malhotra: College enrollment decline threatens state's economy
Pioneer Press | January 25, 2023
Free Report: What Employers Are Saying About Higher Ed
The Chronicle of Higher Education | January 19, 2023
A Harbinger for 2023? Presentation College to Close
Inside Higher Ed | January 19, 2023
‌