MHEC News summarizes key policy and research, convenings, programs, contracts, articles of interest, and updates for members of the Midwestern Higher Education Compact. We welcome your feedback and suggestions.  
Interactive Dashboard Update: Ability to Pay by Family Income MHEC's Interactive Dashboard now provides the latest data on ability to pay by family income in the Midwest and across the nation. The ability to pay for college is measured by the percentage of family income needed to pay the net price of full-time enrollment at public two- and four-year institutions. The average net price is calculated as the total cost of attendance (tuition and fees, books, supplies, and room and board) minus the average institutional, local, state, and federal grant aid. To assess the degree of affordability for students of different income levels, this indicator is presented for families with median income and low income, which is defined as an income equal to the federal poverty level for a family of four ($25,100 in 2018).
The figure below shows that two-year college attendance in the Midwest for students from median-income families requires 13 percent of family income, compared to 26 percent of income for students from low-income families. Four-year college attendance in the Midwest for students from median-income families requires 19 percent of family income, compared to 41 percent of income for students from low-income families. Similar differences in college affordability are seen across the nation.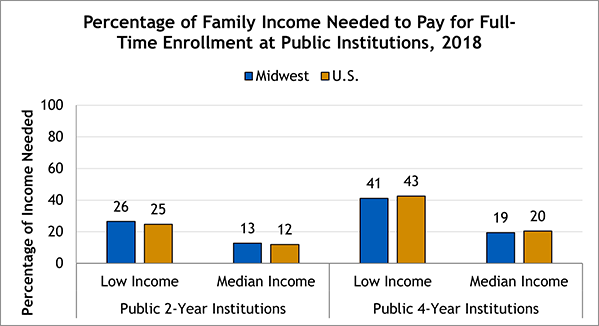 Source: Jaggars, S. S., Motz, B. A., Rivera, M. D., Heckler, A., Quick, J.D., Hance, E. A., & Karwischa, C. (2021). The Digital Divide Among College Students: Lessons Learned From the COVID-19 Emergency Transition. Midwestern Higher Education Compact. For additional ways to visualize this data or view other indicators, see MHEC's Interactive Dashboard. An earlier version of this indicator is available for MHEC's 12-member states in the report,
[2020 State Performance Update.
Midwest Credential Transparency Alliance Panel to Discuss Examples of Advancing Transparency in MHEC States
The Midwest Credential Transparency Alliance (MCTA) will meet for the second time on August 19. The MCTA is a regional alliance supported by a grant from Ascendium and focused on advancing credential transparency in service of learners, workers, educators, employers, and policymakers across the Midwest. MCTA's focus is to maintain and share accurate information about credentials including diplomas, degrees, licenses, certificates, badges, and certifications. MCTA also has established a [working charter to guide the work <https://www.mhec.org/resources/mcta-briefing-booklet-august-2021>] being done in MHEC member states.
At Thursday's meeting, panelists will share examples of how their states have advanced credential transparency. Panelists are Marcia Black-Watson, Michigan Department of Labor and Economic Opportunity-Workforce Development; Ken Sauer, Indiana Commission for Higher Education; and Tracy Korsmo, North Dakota Information Technology. Dan Tesfay from Ewing Marion Kauffman Foundation, who is working on data related to the Kauffman's Real World Learning initiative, will also share best practices for pathways in the Midwest focused on connecting high school students, postsecondary education, and workforce development.
If you would like to participate, please indicate your interest by [signing up for the MCTA list server <https://www.mhec.org/mcta-list>] to stay informed. View the MCTA's kick-off meeting summary from May for additional background information.
MHEC Awards Sponsorship Agreement to META Teletherapy for Student Mental Health Counseling Services
This agreement comes at a time when demand for mental health support for students has increased during the pandemic.
MHEC has awarded a sponsorship agreement to [META Teletherapy <https://www.meta.app/mhec/>] to provide mental health counseling services at a pre-negotiated, affordable rate to public and private not-for-profit post-secondary institutions in MHEC's member states and its sister compact states.
META Teletherapy provides institutions of higher education with access to a nationwide network of licensed mental health providers. Institutions that implement META augment their mental health services by instantly improving their student-to-counselor ratio and expanding available times for counseling to include days, evenings, and weekends. META providers hold the industry's best response time, averaging a reply to initial messages from students in under six hours.
Council Discusses Midwest Student Exchange Program Revisions Based on Recent Report
The Midwest Student Exchange Program (MSEP) Council agreed on new and refreshed goals at its July 22 meeting. The Council agreed to continue its focus on opportunities and cost savings for students and a means for enrollment management at colleges and universities in the MHEC region.
Members also discussed a major revision to transform MSEP into a clearinghouse that includes all institutions in the Midwest. Currently, MSEP only provides information on institutions that agree to charge students no more than 150% of the in-state resident tuition rate and private institutions offering a 10% reduction on their tuition rates. At the next MSEP Council meeting in September, members will review a draft policy and process manual that will provide transparency of roles and responsibilities for institutions, states, and MHEC. The manual would include items such as the process for institutions to join MSEP, data collection, and more.
These proposed changes come as a result of MHEC's report Student Reciprocity Programs and MSEP in the 21st Century.
WEBINAR: Creating More Consistency in Cost Savings and ROI Metrics to Build the Case for OER
August 18, 2021
1:00 p.m. CT
Join MHEC and Katie Zaback, of Zaback Consulting, for a discussion on the progress of a national group of leaders in Open Educational Resources (OER) who are exploring recommendations for reporting cost savings and return on investment of OER for students, institutions, and states. They will discuss what they have learned and provide some initial findings from the research that will help inform the final release in early 2022. They will also provide a framework that organizations can adapt to their own context.
WEBINAR: MHEC and META Teletherapy Demonstration
August 23, 2021 3:00 p.m. CT
Join a meeting to see a live demonstration of the META Teletherapy platform and learn more about the MHEC agreement that provides institutions affordable access to a mental health provider marketplace where students can connect with school counselors or META teletherapists through a mobile app for private, secure video, audio, and chat therapy sessions.
WEBINAR: Student Reciprocity Programs and MSEP in the 21st Century
October 7, 2021 1:00 p.m. CT
Join the Midwestern Higher Education Compact's staff as they share findings, conclusions, and recommendations as presented in the report [Student Reciprocity Programs and MSEP in the 21st Century <https://www.mhec.org/resources/student-reciprocity-programs-and-msep-21st-century>] . The MHEC Policy and Research team spent two years researching the history of the Midwest Student Exchange Program (MSEP), as well as looking at student exchange programs in other compact regions, the decline of the out-of-state tuition model, and the increase in number of non-traditional and traditional underserved populations.
Resources Available from Past Events
[Creative Commons Professional Learning Opportunities for Regional Consortia Members <https://www.mhec.org/convening/creative-commons-professional-learning-opportunities-regional-consortia-members>] The Creative Commons (CC) contract offers a discount for existing and custom Creative Commons licensing professional learning opportunities to staff and institutional members of the Midwestern Higher Education Compact and its sister compacts. Through workshops, consultations and their CC Certificates, CC helps community members develop open licensing expertise, and a deeper understanding of recommended practices for sharing. Cable Green, director of open education at CC, answers questions about these new open education learning opportunities.
Opportunity from Lumina Foundation: Stronger Nation Webinar
Progress Toward a More Talented and Equitable Nation
August 17, 2021 1:00 CT
Join Lumina Foundation for a first look at its new Stronger Nation searchable data tool. Lumina staff will explore where the nation, states, and even counties are in the country's quest to help more people secure valuable education and training after high school.
Latest Contracts and Renewals
Professional Learning Opportunities
Creative Commons (CC) for existing and custom CC licensing Contact Jenny Parks, MHEC vice president, with any questions.
Security Services
BerryDunn (consulting);
CampusGuard  (consulting and training);
Infosec  (training); and
RK Consultancy Services, Inc. (consulting).
Contact Deb Kidwell, MHEC consultant, with any questions.
Software
Commvault  from Arrow Electronics, renewed through June 30, 2022
Printers and Peripherals
Xerox , renewed through June 30, 2025
Instructional Design and Instructional Training Services
Virtualization and Data Center Modernization
Contact Nathan Sorensen, MHEC director of government contracts, with any questions. 
MHEC Commissioner Appointments and Reappointments
Jon Ford
Senator; Majority Member, Appropriations Committee
Indiana General Assembly
Term: 6/14/2021 to 7/1/2023
Ronald S. Rochon
President
University of Southern Indiana
Term: 7/1/2021 to 6/30/2025
Olivia Madison
Professor Emerita and Dean Emerita of Library Services
Iowa State University
Term: 6/29/2021 to 4/30/2023, Serves At the Pleasure of the Governor (reappointment)
Tim Fitzgibbon
Senior Vice President
First National Bank
Term: 6/29/2021 to 4/30/2023, Serves at the Pleasure of the Governor (alternate, reappointment)
Mark Wiederspan
Executive Director
Iowa College Aid
Term: 7/1/2021 to 7/1/2023 (alternate)
Brandy Pyle
State Representative; Member, Higher Education Committee
North Dakota Legislative Assembly
Term: 6/28/2021 to 6/30/2023
MHEC Presents to North Dakota Higher Education Committee MHEC General Counsel and Chief Operating Officer Rob Trembath presented to the Higher Education Committee during the 67th interim session of the North Dakota's 67th Legislative Assembly. The committee, led by Rep. Mark Sanford, met August 9-10, in Valley City, N.D. Mr. Trembath provided an update on MHEC policy and research work, programs, and contracts. He identified challenges and opportunities resulting from the pandemic, including those that had an initial impact on higher education and those that will impact the fall semester. He also discussed COVID-related legislation around the nation and presented a number of statistics related to changing demographics in the Midwest, and North Dakota's attainment enrollment, completion rates, college affordability, access to technology, and projected fall enrollments.
MHEC Internship
Policy Academic Initiatives Internship
Job Description
Please send cover letter, resume, a writing sample, and two references to Erin Frahm.
Applications will be accepted until the position is filled, but full consideration will be given to those received by August 23. .
ARTICLES AND RESOURCES OF INTEREST
Colleges Are Going Big To Incentivize Student Vaccinations
NPR | August 17, 2021
Minnesota Office of Higher Education Launches New Podcast to Help Students Considering College
Minnesota Office of Higher Education | August 10, 2021
College Textbooks: The Final Blow of Higher Education's Affordability Crisis
The Michigan Daily | August 10, 2021
Military-Connected Students Who Change or Withdraw Classes May Incur Potential Debt
GI Bill Student Newsletter | August 10, 2021
Rounding Out Changes Started August 1
GI Bill Student Newsletter | August 10, 2021
Research Analyst Measures Students' Access to Higher Education
News Tribune | August 7, 2021
Sixty-Six Institutions Selected to Participate in New AAC&U Institute on Open Educational Resources (OER)
Association of American Colleges & Universities |
July 29, 2021
Credential Transparency and Informed Decision-Making in Indiana
WCET Frontiers | July 16, 2021
Capacity to Protect: A Survey of State Authorization Agencies and Offices
SHEEO | July 2021
NSF and USDA to Fund Rural Broadband Test Site in Iowa
State Scoop | June 22, 2021
State, Local Governments Highlight Cybersecurity Funding Needs
Government Technology | June 18, 2021